When Jackbox loads onto your screen, you know it's about to be a party. 
Over the last few years The Jackbox Party Pack series has been a staple when I have friends over. It's an easy way to keep everyone entertained without the hassle of pulling out board games or controllers. The best part is that all of the games are playable on a smartphone or computer. This means that whoever you invite over will probably already have everything they need to play. 
Each Jackbox Party Pack includes five separate games with their own rules and game mechanics. Most of the time, they're easy to learn which makes them great for a big group of people. The games might involve answering trivia questions, tricking your friends somehow, drawing on your phones or tonnes of other activities that almost always result in uproarious laughter. 
The most recent iteration of the series, The Jackbox Party Pack 7, includes Quiplash 3, The Devil and the Details, Champ'd Up, Talking Points and Blather Round. It has become normal to expect that only two or three of the Party Pack games will be worth playing. Unfortunately, this time around, only one truly impresses. Let's dive in and talk about each one a little bit more. 
Quiplash 3 (3-8 Players)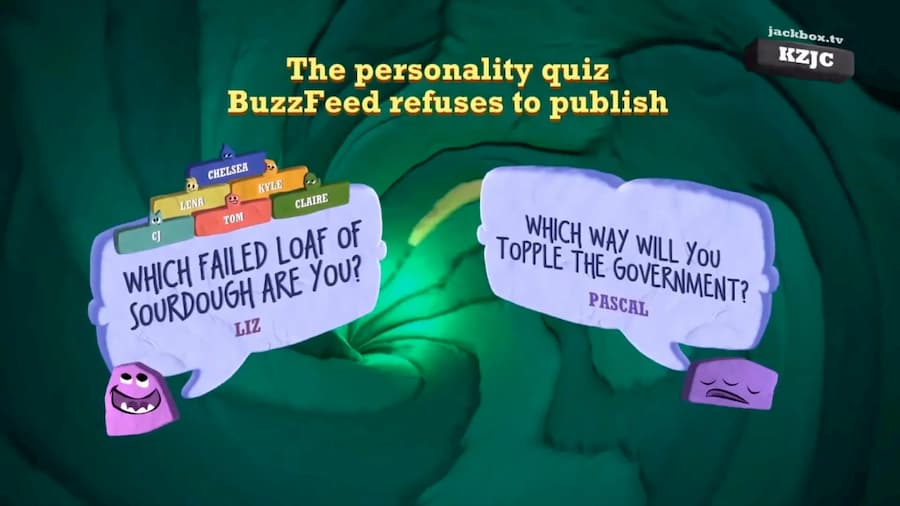 Returning yet again to The Jackbox Party Pack is Quiplash 3. In the game, players are given prompts like, "The name of a perfect perfume for dogs" and two players try to create a funny answer to the prompt. The other players then vote on which prompt they like the best. Perhaps "Butt Stuff" gets a few more likes then "Peanut Butter and Bacon." The player with the most votes gets the points and play continues.
Unique to Quiplash 3 is that, in the final round, players must write three separate answers to the same prompt. My first prompt during the final round was, "3 different items that are in your Aunt's bathroom right now." You pick your three responses (sticky 5-year-old magazines, a "Live Laugh Love" sign, and enough toilet paper to get you through the apocalypse) and everyone votes for their favourites. 
Quiplash has remained mostly the same since it was first included in the The Jackbox Party Pack 2. While it's usually a party favourite, after three iterations it feels a bit stale in comparison to some of the other top hits. I'd like to see more content from games like Patently Stupid from Jackbox 5. 
The Devil and the Details (3-8 Players)
Outside of Quiplash 3, the other four games in The Jackbox Party Pack 7 are brand new to the series. The Devil and the Details involves co-operating (or not co-operating) with all of the other players. You are each a member of a family of devils who have just begun their lives on the surface of Earth. You're tasked with completing every day chores that humans do every day. Go shopping, clearing clutter off of your counters and making dinner are just some of the many, many tasks you'll have to try and complete.
What's the catch? Some of the tasks require you to work together with your family members to complete them. When you go to the grocery store for example, one player has a list of all the ingredients you need to pick up. The other player grabs those items from the correct place. At the end of the day, if your family doesn't reach a specific score you fail and have to start over. Your goal is to make it through an entire week. There are even more rules put in place to make things difficult. You see, players can be selfish and complete selfish tasks to earn themselves bonus points. There are also special tasks that give the entire family bonus points. 
The Devil and the Details is fast-paced, hectic and confusing at best. The concept is pretty fun, but in practice just mostly involves yelling at your friends. And that's not really fair considering they're probably just as confused as you are. It's hard to tell what you're meant to be doing, and if just one or two people decide to be selfish you can bet that you're going to fail the day. I played the game with three people and can't imagine the mayhem and frustration that having up to eight might cause.
Champ'd Up (3-8 Players)
A bit like Tee K.O. from Jackbox Party Pack 3, Champ'd Up has players drawing "champion fighters" and pitting them against each other in the ultimate battle experience. And by "ultimate battle experience", I really mean "lacklustre battle experience." The first round of Champ'd Up I played was an unmitigated disaster. The instructions that you're given in the game is to draw a fighter. Then, your fighter is given to another player and you have to "access your opponent's character and draw someone to rival them." 
I drew "The Champion of Instagram Likes." My interpretation of this was a duck girl taking a selfie. My dad, who happened to be my rival, drew "Duck Chef Joe." We figured the perfect rival to take out the duck girl was a duck chef. When it came time to go out into the battlefield the announcer asks the audience to vote on who they think the best "Champion of Instagram Likes" would be. Now, my father's adorable Duck Chef didn't fit the prompt. 
A lack of understandable instructions really let us down the first time around. Even after figuring out what the real rules were, Champ'd Up still disappointed. During the final rounds you're given random prompts and you can pick one of the previous champions you drew to compete against the others. Unlike Tee K.O., Champ'd Up doesn't allow for enough randomness and hilarity and ends up really bringing down the party.
Talking Points (3-8 Players)
Definitely my least favourite game in The Jackbox Party Pack 7 is Talking Points. Described as an "on-the-spot-speaking game", Talking Points has one player giving a speech to the others. Another player acts as that speaker's "assistant", and chooses pictures to accompany the speech. The game encourages the speaker to just keep talking even if what you're saying doesn't make any sense. Right off the bat, the concept of Talking Points is strange. As you start the game you're able to fill in prompts that will then become the "talking points" of the speech-giver's presentation.
My first speech prompt was "I went to a music festival and everyone fell in love with me." As you begin your speech your assistant is able to choose pictures from a random bank of photos. These photos will have absolutely nothing to do with your speech topic. There aren't really any rules that say that you even have to use these photos in relation to your speech, but we did. 
The speech-giver is also able to type or draw on the slides. The rest of the players – the ones who aren't giving the speech or acting as the assistant – are able to give a thumbs up or thumbs down all throughout the speech depending on how they feel. Whoever gets the most thumbs up gets the most points. But the players that are able to vote can do so as many times as they like. They could easily spam the down vote and make it so you receive as little points as possible with no rhyme or reason.
Much like Champ'd Up, Talking Points has a terrible way of explaining the rules. The rules definitely aren't the only problem with this one, though. 
Blather Round
Blather Round might be the only worthwhile game to pull out of The Jackbox Party Pack 7. It gives players a word or phrase to get the other players to guess. The problem is that they're only given a small word bank from which to describe their word.
One of my clues was "Beauty and the Beast."  Blather Round gives you a sentence that you fill in from the word bank. My phrase was, "It involves a _____  ______" and I filled it in "Ugly" and "Creature" in the blank spots. From there, the other players are able to guess what the clue is. You can use other players' guesses to help them along too. Someone guessed "Shrek" for example, and I was able to say "It is nothing like Shrek." 
Blather Round's cleverness comes from the players' abilities to only use only a few words or phrases. It's a good laugh and the saving grace of this pack.
---
I wish I could say more good things about The Jackbox Party Pack 7, but overall I was disappointed by this selection. I've come to expect that one or two of the games might not be great, but with three of the games here being complete duds, this is probably the poorest Party Pack yet.
In its favour, The Jackbox Party Pack 7 is presented as nicely as any Jackbox game always is, and it remains as easy as ever to play with friends. But when six better games in the series exist, this one's a hard sell. You can play Quiplash elsewhere, making Blather Round the only worthwhile title – but I'm not sure it's worth buying the entire game for.
The Jackbox Party Pack 7 is available on PC, PS4, Xbox One and Switch. We reviewed the game on Xbox One with a code provided by the publisher.