With today's launch of the PS5 across Europe, next-gen is well and truly here. But if you've missed out on picking up a PS5 or Xbox Series X/S, be aware that you can still play one of their best launch titles.
Having received code late, we're still working on our review of Assassin's Creed Valhalla. Rest assured, however, that it's going to be glowing. Placing you in the boots of a Viking called Eivor, it allows you to roam the British countryside while building your own settlement. And of course, there's plenty of raiding to be done for that sweet, sweet loot.
It's a violent, expansive affair, with a story that will have you gripped. And while it once again toys with the traditional Assassin's Creed formula, some will be happy to find that it takes a step back with regards to some mechanics. Eivor can "blend in", for example, concealing themselves within their cloak to allow them to avoid detection. And they can once again assassinate opponents without worrying about their power level.
Whether you pick up Assassin's Creed Valhalla on PS5 or Xbox Series X/S you're in for a good time, with the visuals looking more realistic than ever. Performance is improved across the board, too, with the PS5 and Xbox Series X even able to hold a steady 60fps for most of the time. PC is still the best place to play it, of course, providing you have a monstrous rig.
Though there is another choice if you have none of those: Google Stadia.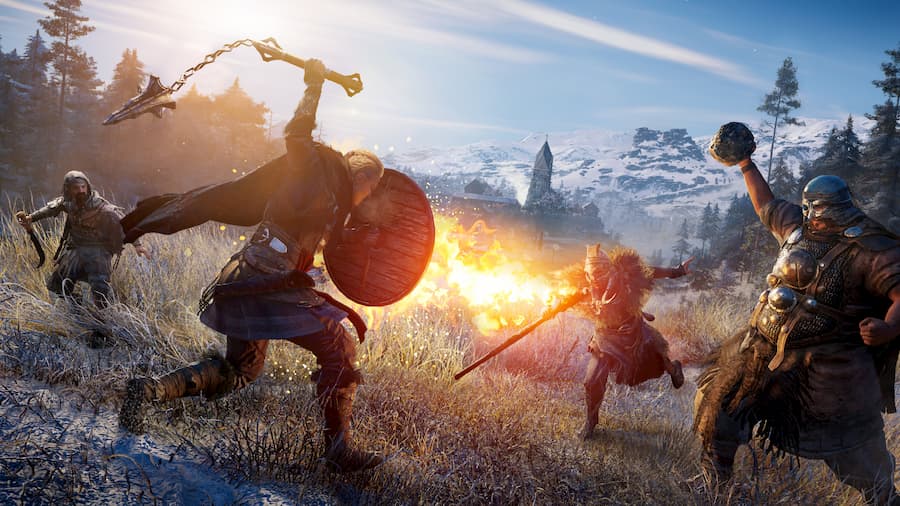 I've spent some time with the Google Stadia version of Assassin's Creed Valhalla, and I've been impressed. If your internet is up to speed, you'll have about the same experience as you would on a next-gen console. But with Stadia, you also have some additional advantages. You don't have to download the game for one, which means you can begin playing it literally as soon as you buy it, and you don't have to worry about storage. It's quite a sizeable game, after all.
The other benefit to buying Assassin's Creed Valhalla on Google Stadia is that you can play it pretty much anywhere. If you've got a Chromecast Ultra you can play it on your living room TV. If you've got a laptop you can simply go to Stadia.com and play it via your browser. You can do that on your PC, too. And if you've got an Android phone, you can download the Stadia app and play it on there. No matter where you go or what device you play on, you'll also find that your progress follows you. There's no need to worry about uploading your saves to the cloud.
As ever with Stadia, however, there's the drawback. While you can play your console copy of Assassin's Creed Valhalla offline should your internet go down, with Stadia you'll be left twiddling your thumbs without any resulting action on-screen. Also, depending on how stable your internet connection is, or if other people in the household are also using some bandwidth, you might experience a degradation in image quality. It might even become unplayable. It's a good idea to test some games via Stadio Pro first to see what performance might be like.
A console will always be the best way to play games for those who like to balance cost, performance and convenience, but with next-gen units being scarce and storage space being at a premium, picking up something like Assassin's Creed Valhalla on Stadia makes a lot of sense if you have a good internet collection. The truth is, you don't need a next-gen console to play all next-gen games. It may not be quite as exciting delving into the cloud rather than picking up a sturdy new DualSense controller, but the outcome is the same: fun.
Assassin's Creed Valhalla is available on PS4, PS5, Xbox One, Xbox Series X/S, PC and Google Stadia.