I've never had as much fun with a rally game as I have had with DIRT 5.
With so many DIRT games available, unless you've been closely following the development of DIRT 5 you might not be sure exactly what it is. Well, let me tell you: it's not the latest entry in DiRT Rally, Codemasters' hardcore rally series, and while its name might suggest it's a follow up to 2017's DiRT 4, it's perhaps got more in common with 2012's DiRT Showdown. Does that clear things up?
Probably not. But the gist of it is that DIRT 5 is a jolly good time. It's challenging but not overly demanding, and with most of its events being circuit races, it presents the challenge of off-road racing but with traditional racing sensibilities. There's a huge number of tracks here, but they're more memorable than they are in, let's say, DiRT Rally 2.0 thanks to how alive they are because of their trackside detail. And to conquer the competition, especially if you turn the difficulty up, you need to learn them like the back of your hand.
With the main feature of DIRT 5 being its Career, you get the feeling that it's a game aimed primarily at the single-player racer. You'll make your way through five chapters of races, charting your own path from beginning to end. There are over 120 events in total, but to see the credits roll you need to beat just less than a third of them. Chances are though, that you'll go back to complete the others if you haven't already been doing so, because each event in DIRT 5 is a pleasure to compete in.
It all comes down to the sheer variety of what's on offer. Events take part across ten locations, including the likes of Brazil, China, Norway, and South Africa. Then you have a multitude of event types to add into the mix; traditional circuit and point-to-point races are broken up by less conventional events such as Ice Breaker where you're racing on, er, ice, and Stampede, where the terrain is terribly unforgiving. The icing on the cake is the huge number of cars in which to compete spread across ten classes. You'll go from racing rally classics to muscle cars to buggies, and even something that looks like it has torture devices for wheels.
It's rare that you feel like you're treading old ground in DIRT 5. You can sit playing it solidly for multiple hours, competing one event after another, without the feeling of repetition ever creeping in. And that's quite the achievement. It helps greatly that the game has both dynamic time and weather systems. You can start a race in broad daylight, with the skies looking clear. Then, moving into the third lap, the floor could be covered in snow, and darkness means visibility is even further reduced. You're always kept on your toes.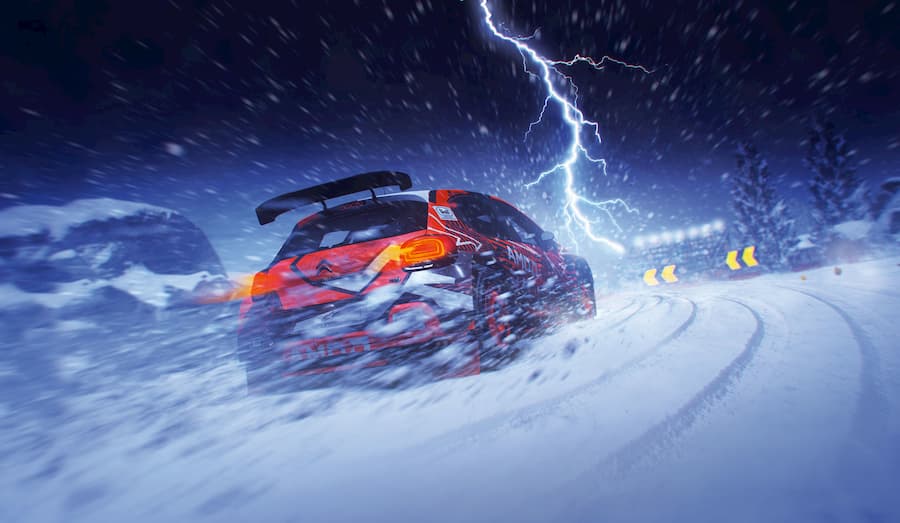 The only real disappointment you're likely to experience with the game's career is if you were hoping for an engaging story. Much has been made of Troy Baker's and Nolan North's involvement, but DIRT 5's story boils down to little more than them barking at you between events. Will you listen to what they have to say? I wasn't inclined to; I was usually too keen to get back into the action, weighing up my next event options or checking out my available sponsors to see if any of them were more lucrative than my current one.
Once you're done with or want a break from DIRT 5's Career, Playgrounds Mode seems set to provide some serious long-term entertainment. You can create your own events within three arenas, choosing from three event types – Gate Crasher, Gymkhana, and Smash Attack. It may seem daunting at first, but throwing together your own courses is actually pretty simple. Though there is enough depth to reward those that really want to be inventive and create innovative challenges.
You don't need to be creative to enjoy Playgrounds Mode though. Players from around the world can upload their creations for others to enjoy, with online leaderboards providing the impetus to compete for the best times or scores. Already there are many hugely impressive events to get stuck into, with a rating system allowing players to bring the best to the forefront for others. It's just a shame that, taking part in enclosed arenas, they don't offer the best scenery.
While jostling for leaderboard positions is entertaining enough, some will want more direct competition. DIRT 5's local multiplayer options are brilliant, allowing up to four players to take part in the game's career. Arcade Mode, where players can create their own events right down to how fast time progresses, also allows for four player split-screen. Online multiplayer, however, is likely to disappoint. You go online, you invite friends into your session if they're available, and then you matchmake for a playlist focused on race or part-based events. And that's about it at this point. If you were hoping to create your own lobbies or leagues, you're out of luck.
Needless to say, if you're the type of player that gets most of their fun out of the online aspects of racing games, DIRT 5 probably won't be for you. Well, unless you count leaderboard chasing. Those who like sprawling single-player Careers with events that are exciting from start to finish, however, will love it. And so will those who have a fondness for split-screen multiplayer.
DIRT 5 is one of the most joy-inducing racing games of this generation. Nothing quite compares to hurtling around a muddy track in an exotic locale, using the handbrake to get the back end out around sharp corners and trading paint with opponents as you fight for positions, all while navigating bumps and breath-taking jumps. The dirt being thrown up by tyres realistically accumulating on your vehicle until it's a mess only adds to spectacle of it all. This is a showy game, but one that also has perfectly-honed physics, making it challenging but accessible to all. And while some of that magic is lost when you make your way into Playgrounds, the sheer creativity it offers is more than enough compensation.
DIRT 5 is available on PS4, Xbox One and PC. It will also soon be available on Xbox Series X/S and PS5. We reviewed it on Xbox One X with a code provided by the game's publisher.