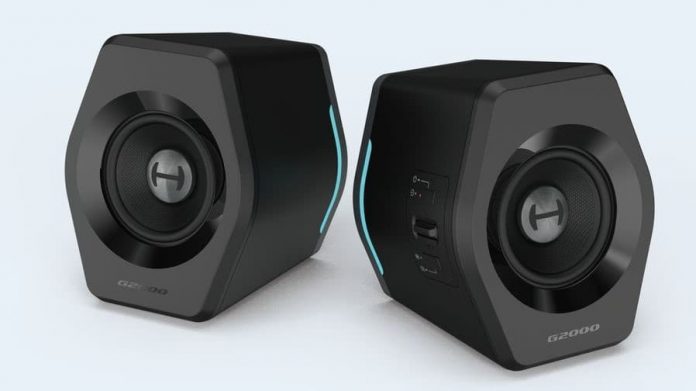 Wouldn't it be great if, every time you turned on a piece of gaming kit, you were greeted by the sound of an engine revving?
No, it wouldn't. Hitting the power on your surge protector would make the room sound like a motorbike club meetup. You'd have your neighbours banging on your wall before you could pick up your mouse.
But that's the worse thing I can say about the Edifier G2000 gaming speakers. Once you're done cringing at the noise they make when you turn them on and off (with no way to disable the noise) you'll start to appreciate just how much power these stylish little speakers have. At only five inches tall, the G2000s belt out 32 watts, easily enough to fill a mid-sized room. Close up, if you perch these either side of your monitor, you'll get great sound with a mere 5% PC volume. Plugged into my TV output, I was nowhere near maxing out their power.
The speakers aren't cheap; at between £80 and £120, they're a little pricier than your average PC speakers. But the quality you get is worth the price of admission. With the volume up high there's no obvious distortion, though my eardrums were at risk of bursting. There's an output for a subwoofer too, but even by themselves the G2000s deliver plenty of bass. They easily outclass the Logitech speakers I was previously using, twice the size of the G2000s. The default "game" mode is fine for shotgun-heavy and survival horror games, but a little too bass-heavy for music or more chilled-out titles. But switching to movie or music mode dials the bass back to make the speakers spot-on for general audio use.
The rear LEDs are a neat touch, too. Instead of illuminating the front of the speakers, there are LED lights in either side. You can set these to cycle, but since mine ended up sitting either side of my PS4, I set them to blue to compliment the PS4's own lighting scheme. Though be warned: if you are placing these within easy reach, there's nothing to stop small fingers poking the cones in.
There is one thing missing from this package, however, and that's a remote. You can connect via Bluetooth or line in (there's a USB port, but it's only for USB soundcards) but being able to turn on the speakers remotely, as well as fine-tune the equalizer settings would have been a welcome addition.  There's an accessibility issue here, too; you can activate your console and TV from the sofa but you have to touch the G2000s to turn them on, switch modes or change the master volume.
If you can stomach that issue, the Edifier G2000 speakers are a great pair of compact speakers, offering quality and power that belies their size. They're particularly handy if you're short on space, sitting neatly (as mine are) between the shelves of a TV stand, and you can't fault their style. They're not cheap, compared to similar-sized speakers, but in the case of the Edifier G2000s you more than get the performance you pay for.
Just don't blame me when your landlord thinks you're running a motorbike maintenance shop in your bedroom.