It's a shame that we've had to wait until PS4 and Xbox One are at the end of their lives to get to play a Katamari game on them.
But it was worth the wait: Katamari Damacy REROLL is now available on both consoles. And thanks to backwards compatibility, it's also playable on PS5 and Xbox Series X/S. A remaster of 2004's Katamari Damacy, first released on PC and Switch back in 2018, Katamari Damacy REROLL undoubtedly shows its age, but that doesn't mean rolling up the world is any less fun.
If you've already played REROLL on PC or Switch, you won't find anything new here. It's exactly the same, so if you've already spent a significant amount of time with the Prince, rolling up items to put the stars back into the sky, there's little reason to return. Unless, of course, you're desperate to play a Katamari game on your console of choice. As I was. It's disappointing we've had to wait an extra two years to get the game on Xbox or PS4, but no matter. It's here now.
As a remaster, Katamari Damacy REROLL isn't groundbreaking; scrappy textures and polygonal objects show the game's age. But it looks nice enough; it's bright, bold and colourful. It isn't a game that needs cutting-edge visuals to be fun (though a brand new Katamari game would be nice, let's face it) – it instead thrives on its wacky charm. Even after 16 years, there's still no other game quite like it.
If, for some reason, you're yet to acquaint yourself with the wonder of Katamari, let us enlighten you. In it, you play the Prince, the tiny son of the King of All Cosmos. Unfortunately, the very same King has accidentally destroyed all the stars in the sky. So it falls to you, tiny Prince, to fix it. And how does one put stars back in the sky, you ask? By rolling up random objects you find on Earth, of course.
As the Prince, you're in control of rolling a ball, known as a Katamari, around an environment. That ball will pick up objects smaller than it, eventually growing larger and larger the more items you roll up. Starting with a tiny centimetres-wide Katamari, you'll roll up things like paperclips and pin tacks. But as it grows, you'll roll up more and more items: tables, chairs, dogs, cats, people – eventually whole buildings, bridges and islands. It's terrifying, actually. But when you're in control of rolling the Katamari, it's oh-so fun.
There's a wide selection of levels in Katamari Damacy REROLL, each with slightly different goals. There are eight numbered levels, and numerous levels named after constellations. The numbered levels all have the same goal: make a Katamari as big as possible. You'll start with a random-sized Katamari, and you'll be given a target to reach within a set time limit. Though once you've reached that target, you'll then be tasked with making it as big as possible.
The constellation-based levels are all slightly different. Your score in Gemini, for example, is based on how many sets of twins you manage to roll up. Another asks you to stop when you think your Katamari is 10 metres wide. It means there's a nice variety of challenges, and you're not always judged solely on how large you've managed to grow your ball. Every level can be played again and again, too – beating your own score is impetus enough.
Even if you don't really care about beating your scores in Katamari Damacy REROLL, you'll likely still be drawn back to play once in a while. If the brilliantly bizarre gameplay isn't enough to entice you, the game's excellent soundtrack will be. There's nothing else that compares to Katamari's wonderful score; there's a mixture of Japanese and English lyrics, all equally catchy thanks to twinkly, upbeat melodies that will definitely get stuck in your head for days. It's a delight.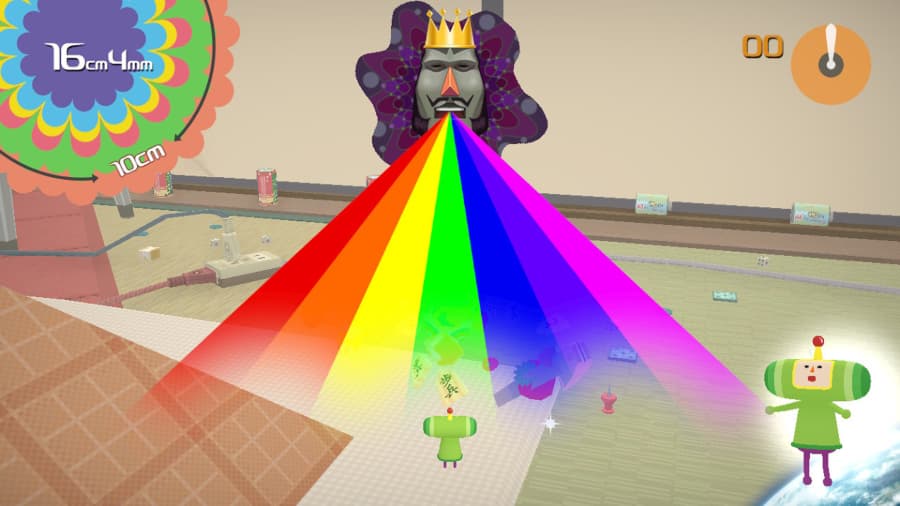 One thing that may put off new players is Katamari Damacy REROLL's controls: they take some getting used to. To move your Katamari around, you need to use both analogue stick. It's unusual, and can be fiddly to begin with. You'll also find yourself fighting against the camera sometimes, which isn't always very well positioned – a sign of the game's original age. You'll soon adjust though; even if you end up getting your Katamari stuck in some awkward corners until you do.
Whether you've never played Katamari Damacy before, or if you've already played it a thousand times, Katamari Damacy REROLL remains an absolute delight. PS4 and Xbox One players can now join in the fun, finally, and it's just as good as ever. The world needs more games like this; weird and wonderful experiences that are nothing but pure joy. Well, apart from the poor people who end up getting rolled into your Katamari. They've undoubtedly had better days.

Katamari Damacy REROLL is available on PC, PS4, Xbox One and Switch. This review is based on the Xbox One version of the game, facilitated by a code provided by the publisher.