I remember Criterion Games' 2010 Need for Speed: Hot Pursuit as one of finest games in the series. 10 years later, it took only a few events for me to realise that it still is. Need for Speed: Hot Pursuit Remastered is a blast from the outset.
With the series turned open world, Need for Speed: Hot Pursuit's return to the more traditional formula was a breath of fresh air back then, and it is even more so now. From a map, there are 78 racer events for you to eventually unlock and complete, and 63 cop events. That's quite a lot, and if you truly want to conquer Need for Speed: Hot Pursuit Remastered, you'll want to get the gold medal or distinction in each and every one of them. Initially that might not seem too hard, but trust me, as you progress further into the game, the difficulty really ramps up.
On the racer side you'll be competing in standard races, hot pursuit events where you also need to worry about cops, one-on-one duels, time trials, and more. It's a mix that keeps you on your toes, holding your interest in even the most prolonged of gaming sessions. And on the cop side, rapid response events test your ability to drive cleanly at great speed to reach your destination in the required time, while interceptor and hot pursuit events challenge you to take down racers and spoil their fun.
Initially your car selection playing as both the cops and racers will be slim, but as you complete events you'll earn bounty, unlocking vehicles that get ever more desirable. And faster too, of course. Eventually you'll have a wide range of cars to choose from in each event, and being more than a cosmetic choice, the one you select could mean the difference between victory and defeat. Ultimately though, it's down to your skill as a driver, and maybe perhaps your use of the equipment available to you.
They're not available to you in all events, but cops and racers each have access to four pieces of equipment that can be used to come out on top. Both racers and cops can make use of deployable spike strips, useful for slowing down or taking out opponents behind them, and an EMP device that lets them interrupt the electronics of a car ahead of them. The latter is particularly useful for cops, as they can then also ram the affected car in an effort to take it down.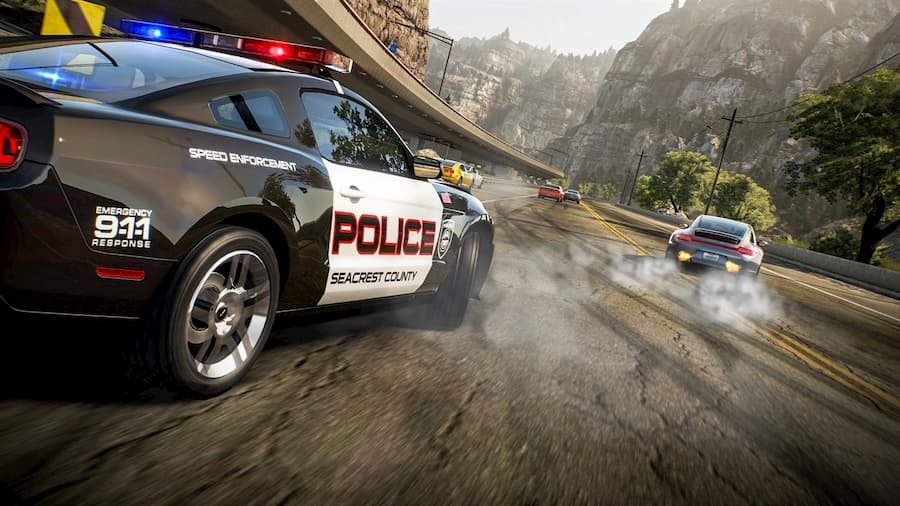 Racers eventually gain a way to counter the EMP though; the jammer allows them to interfere with its signal. A dose of turbo can also allow a racer to quickly put some distance between them and the cops, or catapult them ahead of their competition. To try and stop them in their tracks, cops exclusively have access to road blocks, and can call in helicopter support. If they mix a few of them up, racers can be in for a very bad time indeed.
It's because of all this equipment, and the variety of cars of offer, that Need for Speed: Hot Pursuit Remastered's events remain so exciting and unpredictable, even after you've poured hours into the game. The tracks, too, also play their part, thanks to the beautiful coastal scenery they provide, and the many shortcuts they dangle in front of you like a carrot. A good amount of time can be saved if you manage to effectively cut a corner, but veer off the well-worn path and you'll either lose speed or maybe even slam into an immovable object. That's never good.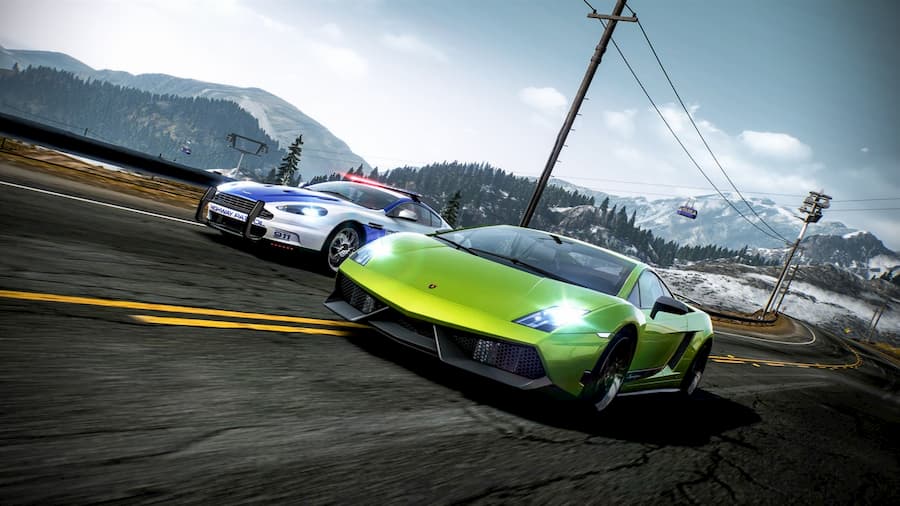 Outside of Need for Speed: Hot Pursuit Remastered's career, players will be happy to find that there's online multiplayer, with all the features you'd expect. Event types include Hot Pursuit, Interceptor and standard races, and thanks to all of the game's DLC being included, Arms Race and Most Wanted can also be selected. They're all fun, too, whether you take part part as a racer or a cop. And to really give Need for Speed: Hot Pursuit Remastered's multiplayer a chance at success, crossplay can be enabled, making it easier for players to get together.
You don't need to play online to have serious competition in Need for Speed: Hot Pursuit Remastered though, not when there's the Autolog. If any of your friends are playing the game, regardless of the platform if you have crossplay enabled, you'll be made aware when they've beaten your time in an event. If you're the competitive type, you might then choose to tackle that event again, until you're back on top. Thanks to the bounty system, you'll be rewarded for your efforts, too. It's infectious.
The final thing to note is that Need for Speed: Hot Pursuit Remastered looks and plays fantastic. Or at least the Xbox One X version I tried does. Whether you choose to prioritise visuals or framerate, gameplay remains smooth and the graphics detailed and crisp. Favouring the framerate is obviously the way to go though; gameplay at 60fps is just that bit more responsive. It's just a shame that the snazzy new in-game visuals make the pre-rendered videos and loading screen images look a little out of place.
If you fondly remember Need for Speed: Hot Pursuit from back in the day and fancy another crack at it, this remaster won't disappoint one bit. And if you've never played it before and fancy a racing experience that's a little more old-fashioned and focused, Need for Speed: Hot Pursuit Remastered should be considered a must-have. One of the best Need for Speed games ever made has been on the receiving end of the remaster treatment, making its cops versus racers gameplay more enjoyable and stunning to look at than ever. What's not to love about that?

Need for Speed: Hot Pursuit Remastered is available on PS4, Xbox One, Switch and PC. We reviewed it on Xbox One X with code provided by the game's publisher.