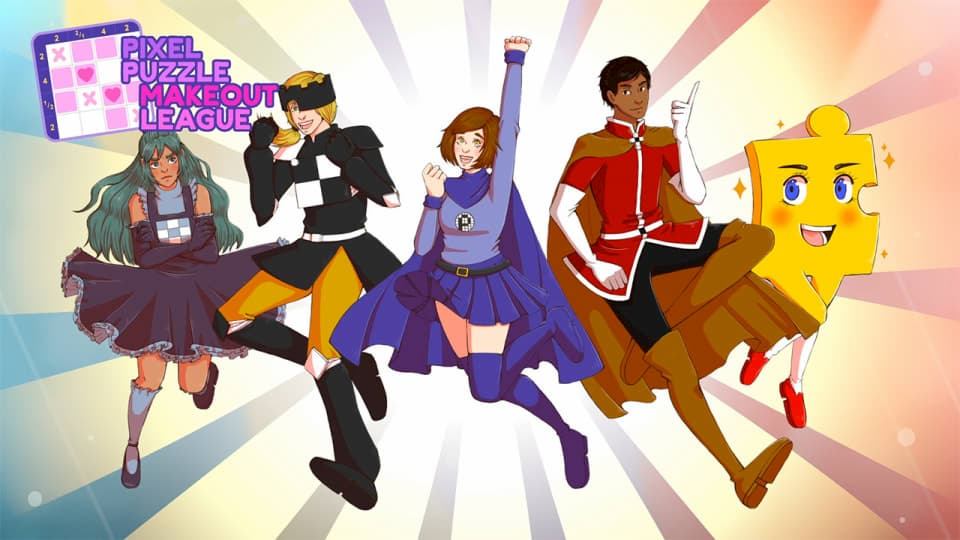 Out now on Switch and PC, Pixel Puzzle Makeout League is a must-play if you find yourself in the centre of a Venn diagram that charts a love for picross puzzles and dating simulators.
Perhaps a niche Venn diagram, granted, but that doesn't mean Pixel Puzzle Makeout League is any less worth your time. I'm a sucker for a good picross game, and this is up there with the best. A cute story filled with quirky and lovable characters makes it stand out from the crowd; and even if the puzzles are the main attraction for you, you'll find yourself getting sucked into its bizarre but entertaining narrative.
You see, you take on the role of superhero Pixel Girl and, along with your colleagues in the Puzzle League, your superpower is the ability to solve puzzles. Picross puzzles, specifically. Your co-workers each have their own puzzle-based powers, including crossword solving, jigsaws, sudoku and chess. While you won't get to solve any of these types of puzzles, each character communicates with you in a way that's representative of their puzzle type – and if you're a puzzle nerd (guilty as charged), you'll get a kick out of it.
As superheroes, of course, you've got superhero-type activities to do, and that includes saving the world from a dastardly villain. Your pixel puzzle solving skills will come in handy with that; all throughout the narrative you'll break off occasionally to solve a puzzle. There's a nice balance between story and puzzle-solving – you're never more than a few minutes away from a puzzle. The difficulty level is a mixed bag, however. You may jump from a 15×15 puzzle back to a 5×5 puzzle; if you're an advanced Picross player, the lack of challenge may disappoint you. It's a shame you can't set a difficulty level at the outset to ensure all puzzles are appropriate for your skill level.
Dating fits in amongst the storytelling and puzzle-solving too, and it's nicely integrated. As certain points in Pixel Puzzle Makeout League you're able to choose one of your League-mates to tag along with. Spend more time with a particular character, and you'll potentially form a relationship with them. But who you want to date is entirely up to you; man, woman or weird alien puzzle piece – it's your choice.
For just £11.39/$14.99, Pixel Puzzle Makeout League packs in a lot of puzzles and a hugely entertaining story. It's not going to be everyone's cup of tea, but if you're a puzzle nerd, you'll get a huge kick out of this.