The holidays are almost upon us, and that means buying gifts for loved ones!
That's easier said than done in some cases – some people can be awkward to buy gifts for. But if your friend or family member happens to be a big fan of retro gaming, we have some gift ideas here to suit almost every budget.
Anyone who grew up gaming in the 80s and early 90s is sure to love any of these gifts. As will someone who still appreciates early video games.
Evercade
Evercade truly takes gaming back to its early days; it's a handheld console that accepts chunky Game Gear-style game cartridges. There's around 20 cartridges available for it right now, each with a selection of classic titles on. No matter what retro games your loved one enjoys, there'll be a cartridge for them: Atari, Data East, The Oliver Twins Collection, Namco – they're all here, and more. The Premium Starter Pack comes with three cartridges, containing a total of 30 games, so it's everything needed to start playing right away.
The console itself is surprisingly nice to use too. It's premium quality with a large, bright screen, and well-placed buttons make it really comfortable to hold.
Capcom Home Arcade
The Capcom Home Arcade is very much premium-priced, but any retro game fan will absolutely love it. It's a full-size competition-quality arcade stick that plugs directly into a TV, with 16 pre-installed games. The games are from Capcom's arcade ROMS, and this is the only way you can still play some of them.
The included games are 1944 The Loop Master, Alien vs Predator, Armoured Warriors, Capcom Sports Club, Captain Commando, Cyberbots, Darkstalkers, Eco Fighters, Final Fight, Ghouls n' Ghosts, Gigawing, Mega Man The Power Battle, Progear, Street Fighter II Hyper Fighting, Strider and Super Puzzle Fighter II Turbo.
SEGA Genesis/Mega Drive Mini
For the SEGA fan in your life, you won't get a better gift than the Genesis Mini (or Mega Drive Mini, as it's known in Europe). It's a small replica of the iconic 90s console, pre-loaded with 42 of the system's base games.
The games are: Ecco the Dolphin, Castlevania: Bloodlines, Space Harrier 2, Shining Force, Dr. Robotnik's Mean Bean Machine, Toe Jam & Earl, Comix Zone, Sonic the Hedgehog, Altered Beast, Gunstar Heroes, Earthworm Jim, Castle of Illusion, Shinobi III, Contra: Hard Corps, Sonic the Hedgehog 2, World of Illusion, Thunder Force III, Super Fantasy Zone, Streets of Rage 2, Landstalkers, Beyond Oasis, Ghouls 'n Ghosts, Alex Kidd, Golden Axe, Phantasy Star IV, Street Fighter 2, Mega Man: The Wily Wars, Sonic Spinball, Vectorman, Wonderboy in Monster World, Virtua Fighter 2, Alisia Dragoon, Columns, Dynamite Headdy, Strider, Kid Chameleon, Light Crusader, Monster World IV, Eternal Champions, Road Rash II, Tetris and Darius
NEOGEO Mini International
Shaped like a tiny arcade cabinet that can fit in the palm of your hand, the NEOGEO Mini International comes packed with 40 classic NEOGEO titles. Complete with an arcade-style stick and four input buttons, it's the perfect device to keep on your desk when you need a bit of a distraction. Any retro gamer will get a kick out of this super cute cabinet.
The games included are as follows: Metal Slug, Metal Slug 2, Metal Slug 3, Metal Slug X, Metal Slug 4, Metal Slug 5, King Of The Monsters, King Of The Monsters 2, Sengoku3, Magician Lord, Blue's Journey, Shock Troopers, Shock Troopers 2nd Squad, Robo Army, Crossed Swords, Mutation Nation, 3 Count Bout, The King Of Fighters '95, The King Of Fighters '97, The King Of Fighters '98, The King Of Fighters 2000, The King Of Fighters 2002, Art Of Fighting, Fatal Fury Special, Real Bout Fatal Fury, Garou: Mark Of The Wolves, Samurai Shodown, Samurai Shodown, Samurai Shodown Special, The Last Blade 2, World Heroes Perfect, Kizuna Encounter, Ninja Master's, Top Player's Golf, Super Sidekicks, Football Frenzy, Blazing Star, Last Resort, Ghost Pilots and Puzzled.
My Arcade Pixel Classic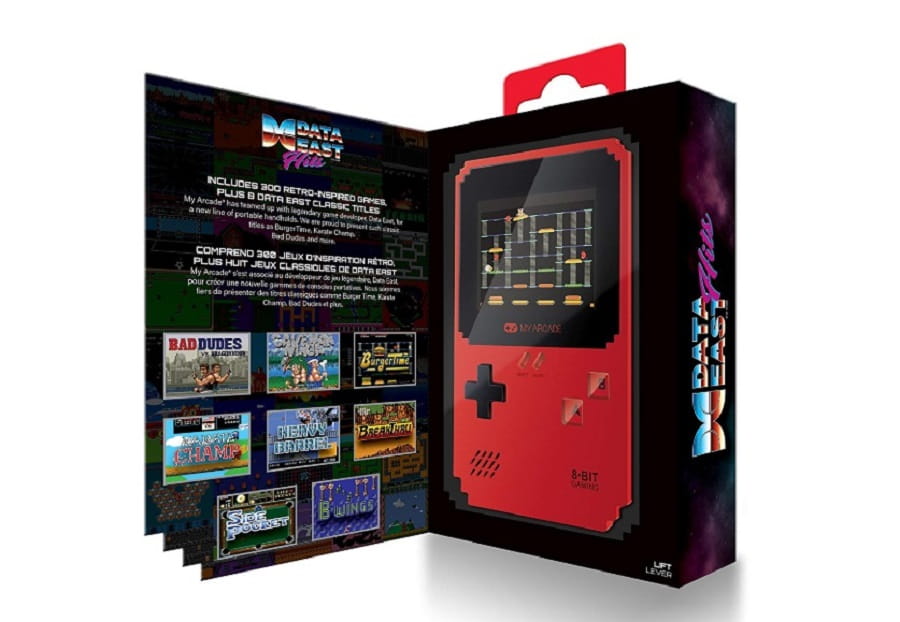 Shaped like a Game Boy, the My Arcade Pixel Classic is a cheap stocking filler that any retro fan will love. There are over 300 games on the device, though there's a serious mix of quality. What makes it stand out, though, are the eight licensed Data East games on there, including Bad Dudes, BurgerTime and Karate Champ. They're worth the asking price of the console alone. It's lightweight with a nice screen, and hardy enough that you can just shove it in a bag and take it with you anywhere.
C64 Mini Console
Yet another mini console – this time it's the Commodore 64, or C64 Mini. The only downside is it's teeny tiny keyboard isn't real – it's simply moulded. But with 64 games pre-installed, it's a must-have for anyone that grew up with this console in the 80s. And unlike other mini retro consoles, this one also supports software updates via USB. And it comes with a retro-style joystick.
8Bitdo SF30 Pro Controller
Modelled on a classic SNES controller, the 8Bitdo SF30 Pro controller can be connected wirelessly to Windows, Mac, Android and Nintendo Switch. It gives any modern game that retro feel, though the addition of triggers and analogue sticks means it's kept up to date. It's the perfect additional Switch controller, and being able to sync it to an Android phone makes it ideal for playing streamed games or retro downloads.
Streets of Rage T-Shirt
Everybody knows that the Streets of Rage series is one of the best retro game franchises ever made. So what could be better than a t-shirt emblazoned with iconic Streets of Rage art? Available in a range of sizes and at a budget price, it's the ideal gift for someone who loves retro video games.
Retro Gaming: A Byte-sized History of Video Games
Retro Gaming: A Byte-Sized History of Video Games by Mike Diver is the ultimate go-to guide for everything retro gaming. With information presented in easy-to-digest chunks, all beautifully illustrated, it makes the perfect stocking filler for any retro game lover. It talks about specific games from over the years as well as the consoles they were on. There's even a section for games peripherals that you probably forgot ever existed; like the NES Power Glove, or Konami's LaserScope. It's an information goldmine.
---