Forget the story and all the missions in Watch Dogs Legion. Well, for a bit at least. These are the weird and wonderful things you should be doing in its recreation of London.
Watch Dogs Legion's map is huge. If you've ever been to London, you'll recognise a lot of it, and you'll know there's so much to see and do. While you might not be able to visit the London Dungeons or step into Madame Tussaud's in the game, there's still plenty you can do.
Here's six time-wasters you should definitely engage in while playing Watch Dogs Legion.
Ride the London Eye
The London Eye, or the Millennium Wheel, is one of the most unique landmarks in London. A huge slow-moving ferris wheel, it takes pride of place on the shore of the Thames, and it's a popular tourist attraction for visitors hoping to get a bird's eye view over the city. Well, it's there in Watch Dogs Legion – and you can ride it too. Better yet, it's free, and you don't have to queue up for an hour to get on it. Bonus.
In the game, the area surrounding the London Eye is under construction, but you can walk right through it. Walk up to the London Eye, and walk into a pod. It'll automatically start moving. You'll be able to enjoy a view across the city for as long as you like. Sit back, and take in the impressive sights.
Drink in a pub
It wouldn't be a true London experience without having a pint in your local. There are numerous pubs dotted across Watch Dogs Legion's London, each one as authentic feeling as the last. Simply walk up to the 'drink' icon at the bar, and your operative will enjoy a nice brew. You can even have a game of darts in most pubs, too – though it's not advised after you've been drinking. It gets rather tricky.
See the tourist hotspots
Many of the main tourist hotspots feature in Watch Dogs Legion. The Shard, Buckingham Palace, Tower Bridge, Westminster – they're all there. Take yourself on a tour to see the sights, and take some selfies outside of them in true tourist fashion.
We tried to hop onto the top of a bus to have the full open-top bus tour experience, but it didn't quite work. The bus just refused to move with our character stood on top of it. Shame.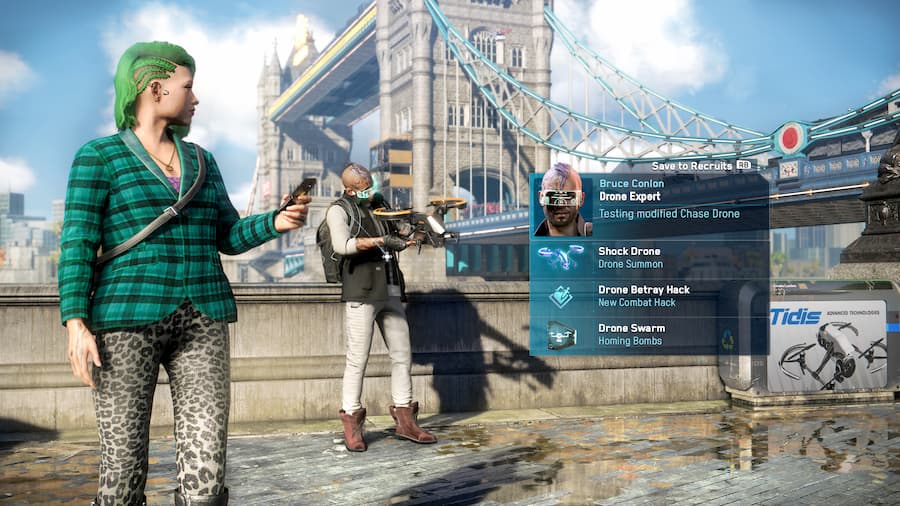 Autodrive in a car
The perfect way to see the sights of London in from the comfort of your vehicle. You can take control of the wheel, if you like, but this is the near future; most cars have autodrive enabled. Hop in a vehicle, set your waypoint on the map, and enable autodrive. Now all you have to do is sit back, enjoy the radio, and take in the sights of London. It's a great way to see everything Watch Dogs Legion's world has to offer.
Ride a boat down the Thames
Just like you can take control of almost any road vehicle, you can also take control of vehicles on the river, too. And any tourist knows that seeing London from the Thames is the best way to experience it. So take a boat for a spin and see what the city looks like from the water. Just be careful not to sail outside of the game's boundaries – you'll find yourself reset back to elsewhere in the city.
You can also swim in the Thames – but it's as brown and murky as it is in real life, so we wouldn't recommend it.
Take a cargo drone for an aerial tour of London
You'll have a construction worker as part of your DedSec crew who can command a cargo drone. You'll also find them in random locations across the city. Hop on one, and take to the skies. If it's your own drone, it has an unlimited range, and it's an excellent way to see London from a new perspective. So enjoy a rather daring and dangerous flight across London – it's a spectacular view.