Despite its name, The Sims 4's latest expansion, Snowy Escape isn't just about escaping to a winter wonderland. It's also a Japanese-inspired oasis.
Set in Mt. Komorebi, The Sims 4: Snowy Escape might just be the game's most beautiful expansion yet. Split into three distinct neighbourhoods, you can enjoy the cultural sights of its Japanese-feeling town, or you can enjoy the thrills of taking part in extreme winter sports on top of the mountain. Whether you decide to move your sims to Mt. Komorebi permanently or simply take them there on a vacation, it's one of the most varied Sims 4 locations yet.
It's also the first time a Sims 4 expansion has been both residential and a vacation spot. There are rental lots so Sims can take a holiday here, and there are residential lots so you can start new families or move existing households to the area. With tonnes of new Japanese-inspired furnishings and decor new to the expansion, the houses here are beautiful; there's a very different feeling from The Sims 4's other areas. Designing a house with flavours of the orient is a real delight; be it tatami mats or shoji doors, there's everything you need to create a true relaxing retreat.
In the town of Mt. Komorebi there are four community lots that your Sims – either locals or holidaymakers – can visit and unwind in. There's a Japanese park, beautifully designed and perfect to take a relaxing stroll in. There's the happening Izakaya Ippai bar, where you can down your favourite cocktail and mingle with the locals. There's also the Hazakura lounge, if a more laid-back evening out is your style. Perhaps the most unique location in Snowy Escape, though, is the Sutefani Onsen bathhouse; indulge your Sims by letting them relax in the hot springs. Just make sure you adhere to the traditions of showering before you get in, otherwise your Sim will find themselves very embarrassed.
Up on the mountain is where most of the true Snowy Escape action takes place, though. Here, your Sims can don skis or a snowboard and hit a number of slopes. They'll need to start off on the bunny or beginner slopes though; it takes a lot of practice to make it to the bigger slopes. But as your Sims ski, they'll level up in the skill, learning new tricks and becoming a winter sports whizz.
Even if the adrenaline-fuelled activities aren't for you, there's plenty to enjoy on the mountain. Your Sims can make snow angels or build snowpals, which is just a delight to see. Be careful though; the weather can change quickly, and being caught in a blizzard isn't ideal.
All of these activities are available to your Sims whether they're simply vacationing in Mt. Komorebi or if they've chosen to settle there. There's of course a different feeling if you're simply vacationing; there's none of the usual Sim pressures of making sure you're ready for work or getting the kids off to school on time. You're simply able to enjoy all the facilities, whenever you want. But there's something special about having a household settle here, nestled in beautiful surroundings. Constantly being a click away from skiing down the mountain, or relaxing in the hot springs is a Sims lifestyle to be envied, don't you think?
Along with a new location, The Sims 4: Snowy Escape also adds new personality and relationship effects. First are sentiments, which are a new way to tell you how Sims feel about each other. They'll develop over time, based on past experiences. A pair of Sims in a committed relationship, for instance, both have the sentiment of 'deeply connected', but Sims who have a history of arguing will likely have much less positive sentiments.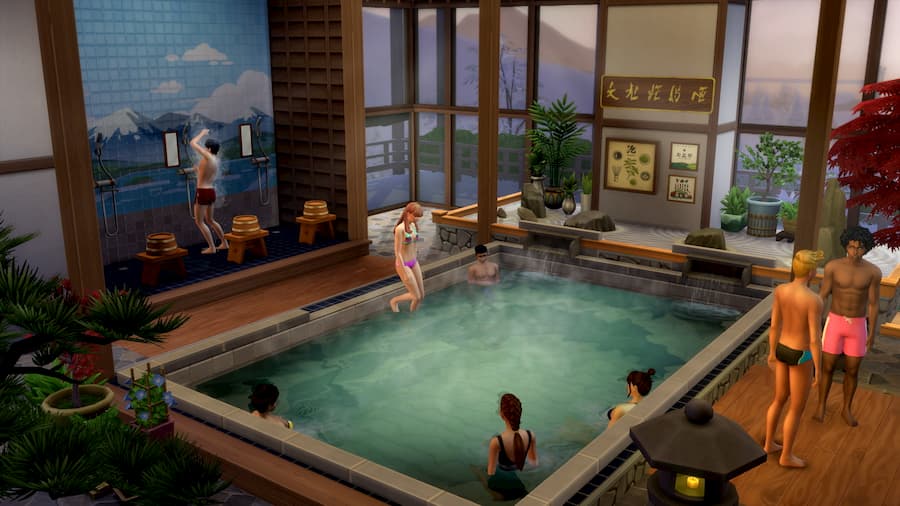 Also new to Snowy Escape is lifestyles. These are a reflection of your Sim's habits over time. You don't get to choose a lifestyle; it's based on how your Sim acts and the activities they do. You'll have no lifestyle to begin with, but after a while one will develop for your Sim. For instance, they could become a junk food fiend, an outdoorsy type, or a people person. There are over a dozen different lifestyles, and each has various effects on your Sim. If you end up with a lifestyle type you're not happy with, you'll just have to work hard to change your Sim's routine.
Like almost all of The Sims 4's expansion packs, Snowy Escape adds plenty of content, making this a worthwhile addition to any collection. The new location of Mt. Komorebi might just be the prettiest yet, and seeing your Sims try (and often fail) at skiing and snowboarding is wonderful. The new Japanese-inspired furnishings are the cherry on top, allowing you to create homes in a completely new style. If you're a regular Sims player, you won't regret walking into this winter wonderland.

The Sims 4: Snowy Escape is available on PC, PS4 and Xbox One. You'll need the base game to play. We reviewed it on PC with a code provided by the publisher.