Move over Kiryu, there's a new dragon in town. And you know what? He might even be more likeable.
The latest Yakuza game finally makes its way to the West, and a new protagonist is just one of the major changes it features. Ichiban Kasuga lies at the heart of Yakuza: Like a Dragon; a likeable fellow whose obsession with Dragon Quest has inspired him to become a hero. His playful personality won me over after just minutes of play, but like Kiryu, he can also be direct and serious. Perhaps what's most striking about Kasuga, however, is how he leans on his friends to help support him.
And that leads me to Yakuza: Like a Dragon's second major change: its combat system. This may primarily be Kasuga's story, but he doesn't make his way through it alone. At any one time Kasuga may be accompanied by three of his friends, who will follow him around town and help out in combat. As such, the real-time fisticuffs of previous Yakuza games is thrown out of the window, replaced with a turn-based battle system that wouldn't feel out of place in a modern-day Final Fantasy.
Your first few hours with Yakuza: Like a Dragon will be spent in a familiar location – Kamurocho. But after an event that seriously impacts Kasuga's life, the focus is relocated to Yokohama. It makes for a nice change of scenery, though it's still very much an urban jungle. As usual there are a wealth of side activities to engage in and sub-stories to seek out, each offering some brief respite from the usual gameplay cycle as well as plenty of humour along the way.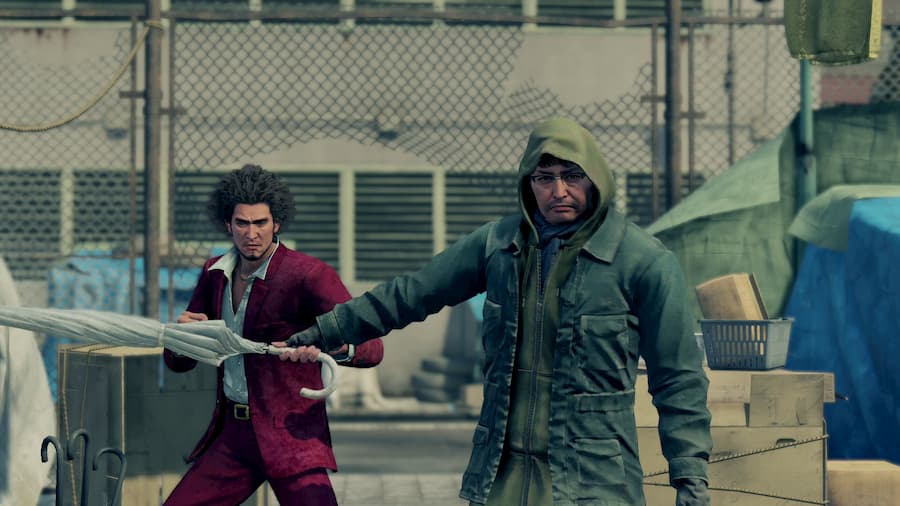 You might find yourself being vigilant for a serial pisser polluting the river, for example, or helping a civilian who's being shaken down for his baby formula. And in addition to the usual Yakuza timewasters such as batting and karaoke, you'll find thrilling kart races that take place on the city streets, and can collecting that's a lot more exciting than it sounds. You don't have to engage in any of this side content if you don't want to, but it adds variety to the game, and the occasional story scenes it provides round out Ichiban as a character.
Anyone jumping into Yakuza: Like a Dragon that has previously played a Yakuza game will find that it flows pretty much the same. With a story split into many chapters, it's up to you to either press on with it or spend some time enjoying your surroundings. Or at least try. You see, whether you're in Yokohama, Kamurocho or wherever else your journey finds you, there are thugs, ruffians, yakuza and more who will attack you if you get too close.
You travel seamlessly from exploration into battle, with all characters making use of the space they have. As such, they move around of their own accord until it's their turn to make an action, at which point you have the usual options such as attack, defend, and use special skills; the game even has what are effectively summons. It's actually a really good combat system, with nice touches like being able to capitalise on enemies that have been knocked to the floor, inflicting extra damage.
You're rewarded for paying attention and having good timing, too; many skills have quick time event elements that allow you to power them up if successful, while pressing the correct button just as an enemy attacks will lower the damage you receive. Though if you're fed up of battling small fry, an auto-battle option lets you turn your attention elsewhere while letting your characters just get on with it. You can define how they act, too, with four preset routines.
There are some aspects of Yakuza: Like a Dragon's combat that might rub you up the wrong way though. Pathfinding is one of them; get into a battle in a location that's not simply an open space, and you might find your characters running into a car or a wall until the game simply warps them where they need to be. The ability to change each character's job, while appealing from the outside, also comes with a caveat; chances are you'll be underpowered in your new job until you've done some serious grinding.
Though like in most RPGs, you'll generally find yourself having to grind anyway. While Yakuza: Like a Dragon's difficulty level is fair for the most part, if you head straight through the game's story you might encounter a few hair-raising difficulty spikes. They're made more troublesome by your options if all of your characters fall in battle; basically, you need to either pay a huge amount of cash to retry, or return to the title screen and reload from your last save. If you've just spent an hour or so making your way through a "dungeon" only to die to a boss, it can be infuriating.
Luckily, such irritations are few are far between. For the most part, you'll absolutely love your time with Kasuga and co., learning more about them and unravelling a story that, in true Yakuza style, really steps up a gear about the midway point. It helps that Yakuza: Like a Dragon might be the best-looking Yakuza game yet, and, for the first time, there's an English voice over option. The music is pretty good too; I really found myself getting into its boss battle tracks.
Ultimately, despite all the changes that have been made, Yakuza: Like a Dragon feels very much like a Yakuza game. The combat may now be turn-based, and the scenery might be different, but this is still a game full of drama, thrilling battles, and a huge amount of side content, all smothered with an ample amount of humour. And I never thought I'd say this, but I didn't miss Kazuma Kiryu one jot while playing it; Ichiban Kasuga is simply a more likeable fellow with more depth. So, if you like the Yakuza series, consider Yakuza: Like a Dragon a must-have.

Yakuza: Like a Dragon is available on PS4, Xbox One, Xbox Series X/S and PC. We reviewed it on Xbox One X with a code provided by the game's publisher.