2020 might have been a burning pit of doom in most other areas, but in terms of video game releases, it's been stellar.
That means more games than usual have been awarded our highest score; a 10/10. Though all very different, each and every game on this list wowed us in unexpected and special ways. None of them are perfect, but they're the cream of the crop; some of the best examples of video games that have come out of 2020.
It's a different story to 2019; again, a lot of excellent games came out, but only three of them managed to nab our highest score (Resident Evil 2, Knights and Bikes and Catherine: Full Body). So few that we didn't even do a round-up last year. In stark contrast, we had an unprecedented week in August this year where three games within the space of a few days each scored 10/10, and each from a different member of the team (Microsoft Flight Simulator reviewed by Rich, Tell Me Why reviewed by Kim and Crusader Kings III reviewed by our occasional contributor Rob Gammon).
In total, we've scored 11 games 10/10 in 2020. That sounds like a lot, but we also reviewed a staggering 350 games in total, meaning just over 3% of the titles we've covered have received the highest score. That feels about right.
Scroll on down to see the games we awarded 10/10 in 2020. Or click through to see our 10s of 2018, 2017 and 2016.
Nioh 2
"Undoubtedly set to be one of the highlights of 2020, Nioh 2 is a confident follow-up that leaves the core of the game intact, renewing the experience by adding yet another rewarding layer. With its Yokai abilities, it further distances itself from the Souls-like genre, making combat deeper and more exciting then ever. This is effectively Ninja Gaiden cranked up to eleven with RPG elements and your own custom created character; one that has a demonic past that inexplicably provides them with otherworldly abilities. And if that doesn't make you want to play Nioh 2, I don't know what will."
DOOM Eternal
"To call DOOM Eternal anything other than phenomenal would be blasphemous. It makes DOOM 2016 feel like a trial run – a warm up to the main event, and that's what a sequel should do. DOOM Eternal has bigger environments, a wider variety of demons, and more combat options. Its battles are more hectic, more challenging, and ultimately more rewarding. As the credits rolled after a final boss fight to remember, all we had in our minds was "that was epic". And that's exactly what DOOM Eternal is: epic."
Final Fantasy VII Remake
"Final Fantasy VII Remake is the best JRPG from Square since Final Fantasy VII. It takes a classic, carefully builds on it, and although certain changes made to the story may not be as well-received by all players, overall there's no denying that it's a massive success. As the credits rolled I felt fulfilled, and excited for what comes next. That's probably the worst thing about Final Final VII Remake, actually: the wait for what comes next. It's going to be excruciating, but judging by what's already been delivered, it's going to be worth it."
If Found…
"I absolutely adored my time spent with If Found…. I knew within the first few minutes that it was going to be something truly special, earning a place in my favourite games of all time. The art from Liadh Young is stunning, the music sounds and feels like a dream and its story is unique, provocative and wonderful. Very few video games have made a true and permanent mark on my heart, but If Found… has done just that. I can't wait to see what is next for the DREAMFEEL team."
The Last of Us Part II
"The Last of Us Part II is Naughty Dog's magnum opus; the result of years spent mastering its craft. It has visuals that defy the generation, audio design that is simply sublime, and a story that is genuinely thought-provoking. It's more than a game; it's a work of art. Never before has an interactive experience been so gripping, with combat so dynamic and unpleasantly realised. But above all, it's how The Last of Us Part II will make you feel that deserves the most praise. Panicked, emotionally exhausted, stressed; these aren't normally good things, but when the subject matter's so grim and serious, it only feels apt."
F1 2020
"F1 2020 is the best F1 game ever made, of that I have no doubt. The mighty fine engine at the heart of Codemasters' F1 series has been fine-tuned over these last few years and now it's at peak performance. Even better, what surrounds it – the bodywork – has been substantially upgraded for this release, making it fuller, richer, and more desirable than ever. F1 2020 is racing perfection. The question is, where does it go from here?"
Microsoft Flight Simulator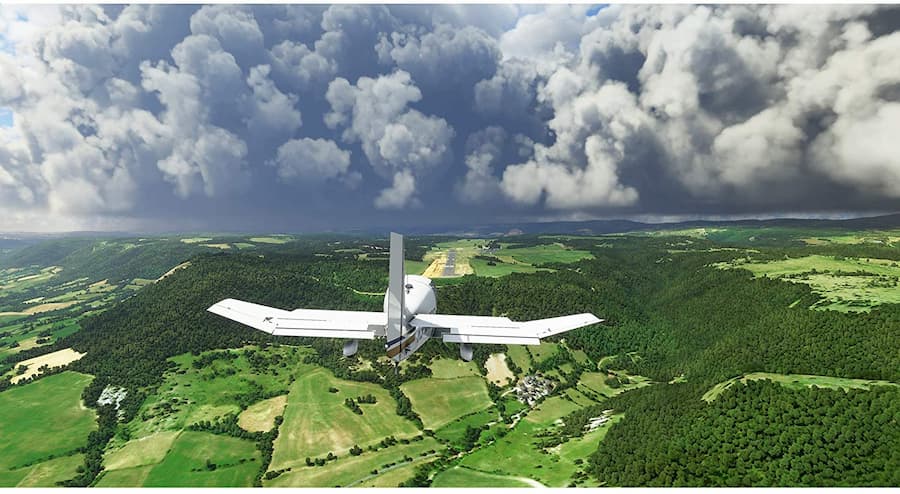 "If you've ever wanted to fly a plane or are simply fascinated by air travel, Microsoft Flight Simulator is a must-have. But for those with Xbox Game Pass for PC, it's also worth a download simply for the window to the outside world it delivers. Never been to Egypt and seen the pyramids? It's not quite the same, but flying over them in Microsoft Flight Simulator will still let you appreciate their grandiosity. Upset that you haven't been able to go on holiday to your favourite location abroad this year? You can at least visit it in digital form while sipping a nice cocktail. Microsoft Flight Simulator is back, and thanks to modern technology it's really come into its own."
Tell Me Why
"I've no hesitation in saying that Tell Me Why is Dontnod Entertainment's best game yet. Its narrative may be somewhat small in scope, but the subject matter it deals with packs a punch much greater than any tall tale of time manipulation ever could. Its characters are some of the most well-realised I've come across in a game yet, and their story is one that's not going to leave me any time soon. Dontnod deals with difficult subject matter bravely and commendably, but that's not why Tell Me Why is so special. It's the combination of everything altogether – its characters, actors, visuals, story – that makes this an experience I'm not soon going to forget."
Crusader Kings III
"Every detail of Crusader Kings III feels like the perfect evolution of the series. The refined systems and better UI don't take away from the complexities of a campaign; they just make it easier to have fun. Every worry I had of this being a watered-down Crusader Kings II experience faded away with the sheer amount of content available. With a larger world, more refined systems, gorgeous visuals and deep character mechanics, Crusader Kings III is everything fans of the series could have hoped for – and more."
Spider-Man: Miles Morales
"Perhaps I've been dismissive of Spider-Man: Miles Morales in calling it a standalone expansion, because while it may indeed be shorter than Insomniac's first Spider-Man outing, it's not just a simple continuation of the story designed to wring out a bit more moolah from your wallet. Think of it as a more focused sequel instead, as that's what it actually feels like. It's free of story bloat, and the gameplay has most definitely been expanded upon and improved. Plus, since when has an expansion looked so much nicer than the game it's building upon? This is a timely release that demonstrates the power of the PS5 with style, and if you aren't picking it up alongside your console, you're simply doing things wrong."
Cyberpunk 2077
"Cyberpunk 2077 isn't perfect, but it is ambitious. It marries a gripping story with a huge open world absolutely dripping with atmosphere; one in which, after fifty hours of gameplay, I still feel like I've only scratched its surface. Even now I'm itching to jump back in and complete yet more side jobs, not only because they're enjoyable, but also just in case they offer V more options when it comes to ending their story. I'm even contemplating starting over anew to change the outcome of some events with the benefit of hindsight. If you were expecting a light-hearted affair full of futuristic hijinks then you might not find what you want here – though it does let its hair down every once in a while. Instead, what Cyberpunk 2077 delivers is a surprisingly serious story that's genuinely touching at times, with gameplay that lets you be in charge of your destiny. If you want your experience in Night City to be as polished as possible, perhaps hold back until a patch or two has landed to iron out some kinks, but you'll definitely want to visit soon. Phenomenal, that's what Cyberpunk 2077 is."