2020 is very nearly over. And good riddance, we say.
Amongst all the awfulness of 2020, however, there's been some great video game releases, which has perhaps made the year much more bearable.
We've put our heads together and come up with a list of games which we think are the cream of the crop of 2020. We might not have given these games the best scores at the time, but these are the ones that have stuck with us, that we've returned to time and time again.
We could have attempted to assign an order to our picks of the best games of 2020; counting down to one ultimate game of the year. But frankly, it would be impossible to do in any meaningful way. Each of us has our own favourites for different reasons, and every game on this list is as worthy as a GOTY award as the next. So we've presented them in alphabetical order.
Wthout further ado, here are our best games of 2020. How many have you played?
Among Us
Available on: Switch, PC, Mobile
Chris says: Yes, Among Us was originally released in 2018 but if The Game Awards can get away with making it a 2020 game, we're sure as hell going to. Certainly, this asymmetric betray 'em-up was entirely off our radar until streamers shoved it into the limelight. There's joy to be had, sabotaging your 'fellow' players efforts, dispatching them one by one, but it's also fun figuring out who the impostor is, holding your breath for that moment when you discover you're right or wrong.
Even though there are only three maps (right now), no two matches are the same; the human factor makes sure of that. And the growing sense of paranoia you feel leads to mistakes being made – was Yellow really following you, or was that just coincidence? Maybe you should follow them to check… but then what if people think you're the impostor? You might end up cursing as, rightly or wrongly, you're ejected from the spaceship, but Among Us is never boring.
Animal Crossing: New Horizons
Available on: Switch
Kim says: Launching on 20th March this year, Animal Crossing: New Horizons arrived at the time when we all needed it most. Just as most of the world was going into lockdown for the first time thanks to Covid-19, New Horizons offered us all a colourful escape. Gone were worries of viruses, furlough and government mess-ups. On our Animal Crossing islands, all we had to worry about was getting up early enough on a Sunday morning to buy some turnips.
Animal Crossing: New Horizons was destined for success anyway, but its timely arrival meant it's been an integral part of everyone's yet. Bright, colourful and relentlessly cheery, it's been the perfect antidote. We've all made new anthropomorphic friends, we've visited new islands and we've built ourselves a new home – all without ever leaving the couch. Honestly, no other game could have offered such an ideal escape in 2020.
Read our review of Animal Crossing: New Horizons
Buy Animal Crossing: New Horizons on Amazon
Buy Animal Crossing: New Horizons on CD Keys
Assassin's Creed Valhalla
Available on: PS4, PS5, Xbox One, Xbox Series X/S, PC, Stadia
Kim says: Only Ubisoft could release three huge open world games in the space of a month. And, to the developer's credit, all three of them have been excellent – and all three scoring a place on our list of best games of 2020. Perhaps the best of the three, though, is Assassin's Creed Valhalla. It's certainly the biggest and most technically impressive of the them.
Taking the Assassin's Creed series back to England, in a time where Vikings were invading and claiming the land for themselves, you'll take on the role of Eivor as she sets out from Norway to find a new life in England. The map is huge, and the amount of quests you'll discover is overwhelming, but the freedom to approach the game however you wish has never been greater. You could spend hundreds of hours here and still not see everything the game has to offer, but each moment you do spend with Assassin's Creed Valhalla will embrace you like no other.
Read our review of Assassin's Creed Valhalla
Buy Assassin's Creed Valhalla on Amazon
Buy Assassin's Creed Valhalla on CD Keys
Disc Room
Available on: PC, Switch
Becca says: Who knew that a game about killer discs could be so captivating? I certainly didn't. And yet, I can't stop going back to Disc Room to try it again and see how far I can make it in the brutal world. In Disc Room, you play as a scientist who has ventured into an intergalactic slaughterhouse. You travel from room to room attempting to dodge the ever-changing killer discs that will cut you into a thousand pieces again and again… and again.
Don't get me wrong, it's infuriating – but it is possibly one of the most addictive games I've ever played. It's difficult to put it down because you think, "Just one more go, I'll definitely get it this time." Little do you know that soon, three hours have passed and you've made only the slightest bit progress. There's something ingenious about its simplicity, and that's what makes it one of the best games of 2020 in my opinion.
DOOM Eternal
Available on: PS4, Xbox One, Switch, PC, Stadia
Chris says: DOOM Eternal is a stonking shoot 'em up which builds on the grand accomplishments of the original, er, remake. It pours on a lot of lore but does so without stifling the monster-blasting shenanigans and the addition of non-demonic enemies shakes things up.
The previous game made it clear that the Doom Slayer didn't give a toss about anything but killing demons, and DOOM Eternal doubles up on that. How many other games let you hijack a space cannon and use yourself as a projectile? And, for the most part, it has the same overwhelming sense of momentum that DOOM had; you stay still, you die.
While the platform sections weren't as big a pain as we thought they'd be, there were a couple of sections where we wanted to take a lesson from the Doom Slayer and put our fist through the screen. Still, if shoot-em-ups are your thing, you'd be hard pressed to beat DOOM Eternal.
Read our review of DOOM Eternal
Final Fantasy VII Remake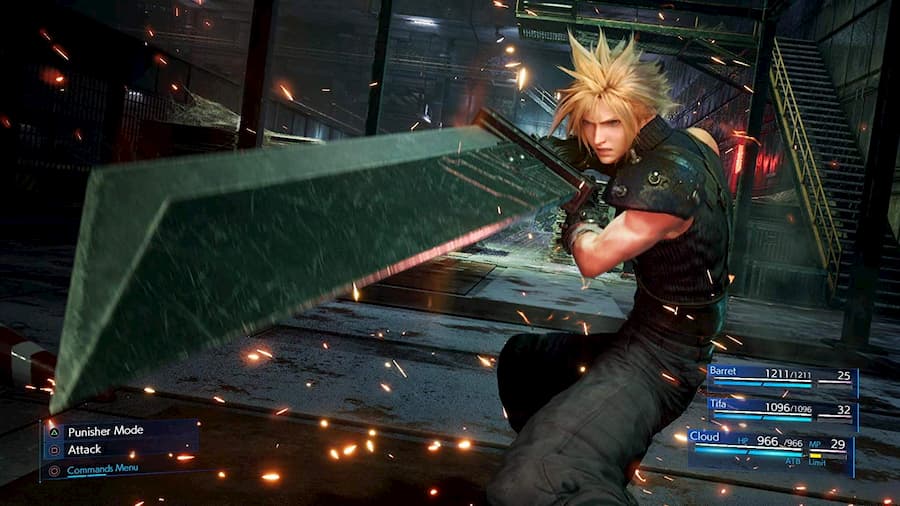 Available on: PS4
Richard says: I am one of the many who consider PlayStation classic Final Fantasy VII to be one of the best games of all time. And so I was apprehensive of Final Fantasy VII Remake. With recent entries in the Final Fantasy series being far away in terms of mechanics from those that I loved in my youth, I was worried that in remaking Final Fantasy VII, Square Enix would strip it of its identity. Thankfully, that didn't happen.
Final Fantasy VII Remake turned out brilliantly, taking the first major chapter of the original game's epic story and rounding it out to get you more attached to its characters and world. Changes have been made here and there, sure, but the heart of Final Fantasy VII still feels intact, making the game just as enjoyable for old fans as it does newcomers. And then there's the twist, which I won't spoil for those who haven't played it yet, that elevates the game to the next level and makes you eager to find out what happens next. Hopefully we won't have to wait too long.
Read our review of Final Fantasy VII Remake
Buy Final Fantasy VII Remake on Amazon
If Found…
Available on: Switch, PC, Mobile
Becca says: I haven't stopped thinking about If Found… since I played it earlier in the year. I started it late in the evening, thinking I'd play a bit and get back to it the next day. Not so: once I started, I was hooked, finishing it one sitting. The story of Kasio and her friends manages to be unique and captivating, but also a tale that many of us are all too familiar with. It's about learning to feel confident in your own skin in spite of the negativity in your life. It's about feeling like you belong; like you're wanted and appreciated.
But If Found…'s story isn't the only thing that makes it one of, if not the, best game I've played this year. Its art style is gorgeous, and the way you interact with the game is almost magical. Erasing backgrounds as you move through the story is pleasing, almost therapeutic in nature. It's an engaging, heart-breaking and wonderful story told in an incredibly beautiful way.
Immortals Fenyx Rising
Available on: PS4, PS5, Xbox One, Xbox Series X/S, Switch, PC, Stadia
Richard says: Perhaps it's because I wasn't expecting much of Immortals Fenyx Rising, but it's turned to be one of the year's best surprises. It's a game that I haven't been able to put down since launch, the urge to go back to do one more quest or solve one more puzzle always in the back of my mind. And even further to its credit, despite now putting tens of hours into it, there's still so much for me to to do.
Taking clear inspiration from The Legend of Zelda: Breath of the Wild, Immortals Fenyx Rising takes the Assassin's Creed template and changes it in a myriad of meaningful ways. the combat is more fantastical and energetic, for example, and a stamina meter alters your approach to getting around its world. Its biggest changes are instantly obvious, however; it has a very different visual style, a playful sense of humour and a massive emphasis on puzzles. Needless to say, if you've ever found yourself charmed by a Zelda game, you should give Immortals Fenyx Rising a try.
Read our review of Immortals Fenyx Rising
Buy Immortals Fenyx Rising on Amazon
Buy Immortals Fenyx Rising on CD Keys
The Last of Us Part II
Available on: PS4
Richard says: The Last of Us is one of the best games of all time. No doubt about it. And so people were apprehensive when a sequel was announced. Would it live up to the hype? Where could the story go? Would it feel forced? Ultimately, anybody posing such questions were left with egg on their face, because The Last of Us Part II is absolutely phenomenal, blowing even the original game out of the water.
Challenging players to think about revenge and how it leads to nothing more than a circle of violence, The Last of Us Part II is a gruelling journey. It masterfully blends stealth with heart-pounding action sequences, harrowing set-pieces and a story that will truly leave you thinking. Never before has a game been so dark, so violent and so disturbing. Yet, you'll not be able to peel yourself away from it until the credits roll. And after then, it'll still be on your mind. You don't so much as play The Last of Us Part II as you experience it. And it might just change how you view video games forever.
Read our review of The Last of Us Part II
Buy The Last of Us Part II on Amazon
Necrobarista
Available on: PC (coming to consoles next year)
Becca says: I'll be honest, I didn't go in expecting much from Necrobarista. The story sounds a little strange on paper. The game takes place mostly at "The Terminal", a kind of halfway point between this life and the next. Folks that have just passed make their way to The Terminal to spend their last 24 hours there before moving to the afterlife – or whatever it is that comes after death.
Necrobarista's story focuses on the people who run The Terminal. Each character has an incredible depth to them, which makes it easy to fall in love with them so quickly. What I like most about the game, though, aside from its fantastic story and unique art style, is just how much I was able to connect with the characters in my short, four-hour playthrough. Not many games can pull off that kind of connection in such a small amount of time.
Read our review of Necrobarista
Neon Abyss
Available on: PS4, Xbox One, Switch, PC
Kim says: As as Rogue-like action platformer, Neon Abyss borrows several ideas from the likes of The Binding of Isaac. But it makes them its own, while also introducing many new ideas at the same time. Colourful, brash and addicting, Neon Abyss is the sort of game you sit down to play for just half an hour, but end up dragging yourself away, wide-eyed and energised, several hours later. You see, its gameplay loop, as simple as it is, keeps you going back for more. Just one more boss, you'll say. Just one more run. It keeps you going back, because every time you play is so different.
With a huge range of collectibles to pick up in any run, no two games of Neon Abyss ever feel the same. You'll amass pets, all offering various perks (and the odd debuff) alongside various weapons and power-ups. In one run, you might be able to fly while firing giant bullets. Another run might let you triple-jump. Other times you might not be so lucky and the odds might be stacked against you – but that's all part of the fun. As Rogue-likes go, it's one of the best, and one I've gone back to time and again this year.
Ori and the Will of the Wisps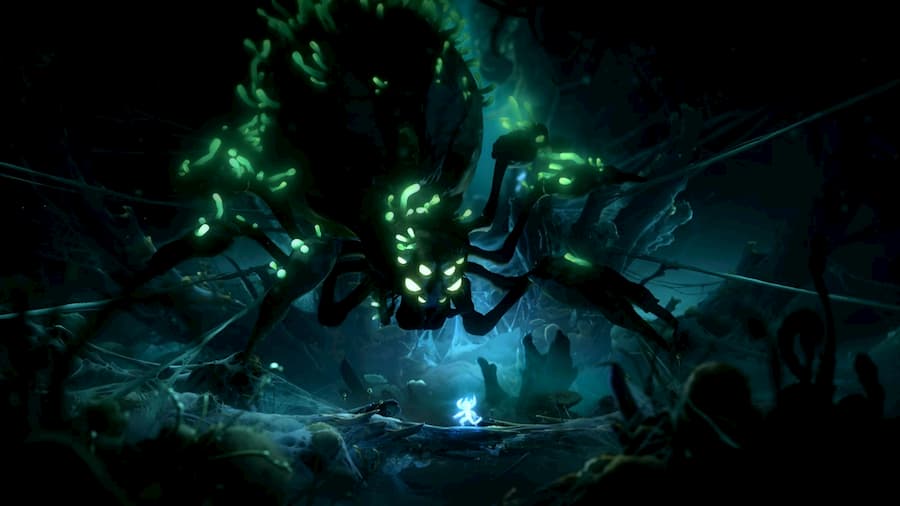 Available on: Xbox One, Xbox Series X/S, Switch, PC
Richard says: Ori and the Blind Forest had some issues, but it was still was one the best Metroidvanias around when it launched in 2015. A year later, the Definitive Edition eradicated some of those issues to make it even better. Its sequel, Ori and the Will of the Wisps, released in March this year, improves by leaps and bounds on both, however. Its combat is deeper, its visuals are richer, and its story, somehow, is more heart-wrenching. You will cry at some point playing this game.
Like a lot of games this year, though, Ori and the Will of the Wisps launched with numerous bugs and technical issues. Thankfully, most have been eradicated since, leaving the only blight on the experience to be a less than impressive final area. With 90% of the game or so being so amazing, however, it just had to make our list of the best games of 2020. Thanks to an impressive port, Switch gamers can enjoy it, too, while those who have fancy Xbox Series X or S consoles will find that it looks and performs better than ever. the icing on the cake is that if you're an Xbox or PC Game Pass subscriber, you can play it without forking out any additional money.
Read our review of Ori and the Will of the Wisps
Buy Ori and the Will of the Wisps on Amazon
Buy Ori and the Will of the Wisps on CD Keys
Sackboy: A Big Adventure
Available on: PS4, PS5
Kim says: I usually don't have too much time for 3D platform games. It takes something really special to grab my attention, and Sackboy: A Big Adventure is just that. It ditches the creator aspect of LittleBigPlanet, leaving behind only its too-cute-for-words protagonist and his thirst for colourful adventure. Swapping out 2.5D levels for full-on 3D ones, Sackboy: A Big Adventure is endlessly endearing, incredibly creative and very well put together.
There's a huge range of levels on offer, all giving you something different. One minute you might be rounding up random animals into a pen, another you might be bouncing along to the sound of David Bowie. The musical levels are a real highlight, but even when you're not bopping to an eclectic collection of licensed music, you'll be grinning at the beautifully-realised environments, textures so realistic-looking you just want to touch them, and the excellent voice work from Dawn French and Richard E. Grant. Honestly, it's the joyous game we all needed in 2020.
Read our review of Sackboy: A Big Adventure
Buy Sackboy: A Big Adventure on Amazon
Spider-Man: Miles Morales
Available on: PS4, PS5
Richard says: Upon grabbing a next-gen console at launch, you want something that really shows it off, don't you? For those lucky enough to have grabbed a PS5, Spider-Man: Miles Morales is exactly that game. Building on the gameplay of Insomniac's first Spider-Man outing, you know it's going to be a lot of fun swinging through New York City, fighting crime along the way. But what you won't initially anticipate is how good the visuals are while doing so.
Spider-Man: Miles Morales is quite simply one of the best-looking games available right now. Perhaps even the best. Three graphical settings are now available in the game, with Fidelity Mode offering all possible bells and whistles including ray tracing at 30fps. Needless to say, it looks phenomenal. For those who must play at 60fps, a ray tracing performance mode has been added since launch, while the original performance mode takes ray tracing out of the equation but allows the game to still run at an impressive resolution. It's not just Spider-Man: Miles Morales' impressive PS5 visuals that get it a spot on our list, however, it's the overall package. It looks great, plays great, and has a great story. What's there to not love about it?
Read our review of Spider-Man: Miles Morales
Buy Spider-Man: Miles Morales on Amazon
Star Wars: Squadrons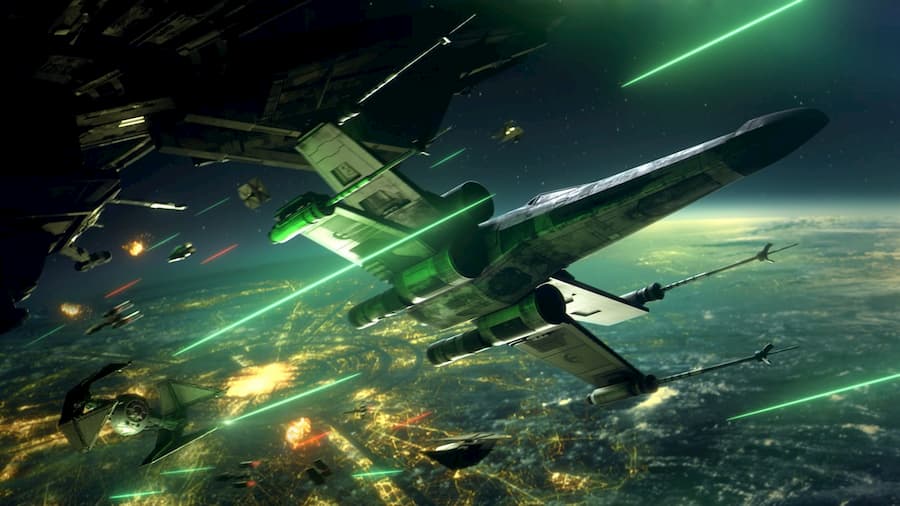 Available on: PS4, Xbox One, PC
Chris says: X-Wing is back! Sort of. It might not quite have the depth or campaign length of Lucasgames' original Star Wars sims, but it's a close second. Flying an X-Wing is fun, but what really sells us on Squadrons is jumping into the cockpit of a Tie Fighter. These are the ships that were mere cannon fodder in the Star Wars Saga and here you're expected to survive against all the Rebel Scum.
VR mode takes things to a whole new level, making you feel even more vulnerable as you soar between asteroids and debris. Multiplayer mode is fun but, for us, single player mode is where it's at. You end up balancing your objective with just staying alive, frantically tweaking your shields and so forth which, admittedly, is fiddlier on a joypad. But the sheer rush you get when you take out the Rebel Scum is worth all the edge-of-your-seat moments.
Read our review of Star Wars: Squadrons
Buy Star Wars: Squadrons on Amazon
Buy Star Wars: Squadrons on CD Keys
Streets of Rage 4
Available on: PS4, Xbox One, Switch, PC
Richard says: Having spent much time in my youth hammering goons across multiple Streets of Rage titles, I was absolutely overjoyed when Streets of Rage 4 was announced. Although also cautious. Many of SEGA's properties have been revived over the years and failed to hit the mark. Some failed miserably. And so I hoped Streets of Rage 4 would turn out differently, but I prepared myself for the worst. My fears were allayed, however, when I tried the game at EGX in 2019. Within minutes of play, I was reassured that it was going to be great.
With Streets of Rage 2 used as a base for its gameplay, then built upon in meaningful ways, Streets of Rage 4 is an absolute treat. It's got a meaningful pace and, while easy to pick up, the combat's got a great deal of depth to it. It's the type of game you can replay over and over again without ever getting bored, especially given that it's got a solid cast of characters, along with unlockable retro variants and more. The icing on the cake is one hell of a soundtrack, composed by Olivier Deriviere and guests including Yuzo Koshiro. If you have any love for the side-scrolling beat 'em up genre, this is an absolute must-have.
Read our review of Streets of Rage 4
Buy Streets of Rage 4 on Amazon
Buy Streets of Rage 4 on CD Keys
Tell Me Why
Available on: Xbox One, PC
Kim says: From Dontnod, the studio behind the excellent Life is Strange, Tell Me Why is a narrative adventure in a similar vein, but with an altogether more grounded story. Sure, protagonist twins Alyson and Tyler might have some sort of strange psychic connection, but it never goes as far as Max's ability to change time. Instead, Tell Me Why's story focuses on the twins' relationship, their lost mother, and the difficulties involved in returning to your childhood home for the first time in 10 years.
There are a lot of heartfelt moments squeezed into Tell Me Why, and it's hard not to sympathise with each of its main characters as you move through its three chapters. The way it touches on important topics, such as LGBT representation and inclusion, is dealt with beautifully, too. It never feels shoehorned in; it's just a natural part of the narrative, as it should be. It helps that it's a beautiful-looking game, too; set in small-town Alaska, it's a world that begs to be explored. It's a shame we can't see as much of it as we'd like, but the taste we do get is mesmerising.
Read our review of Tell Me Why
Watch Dogs Legion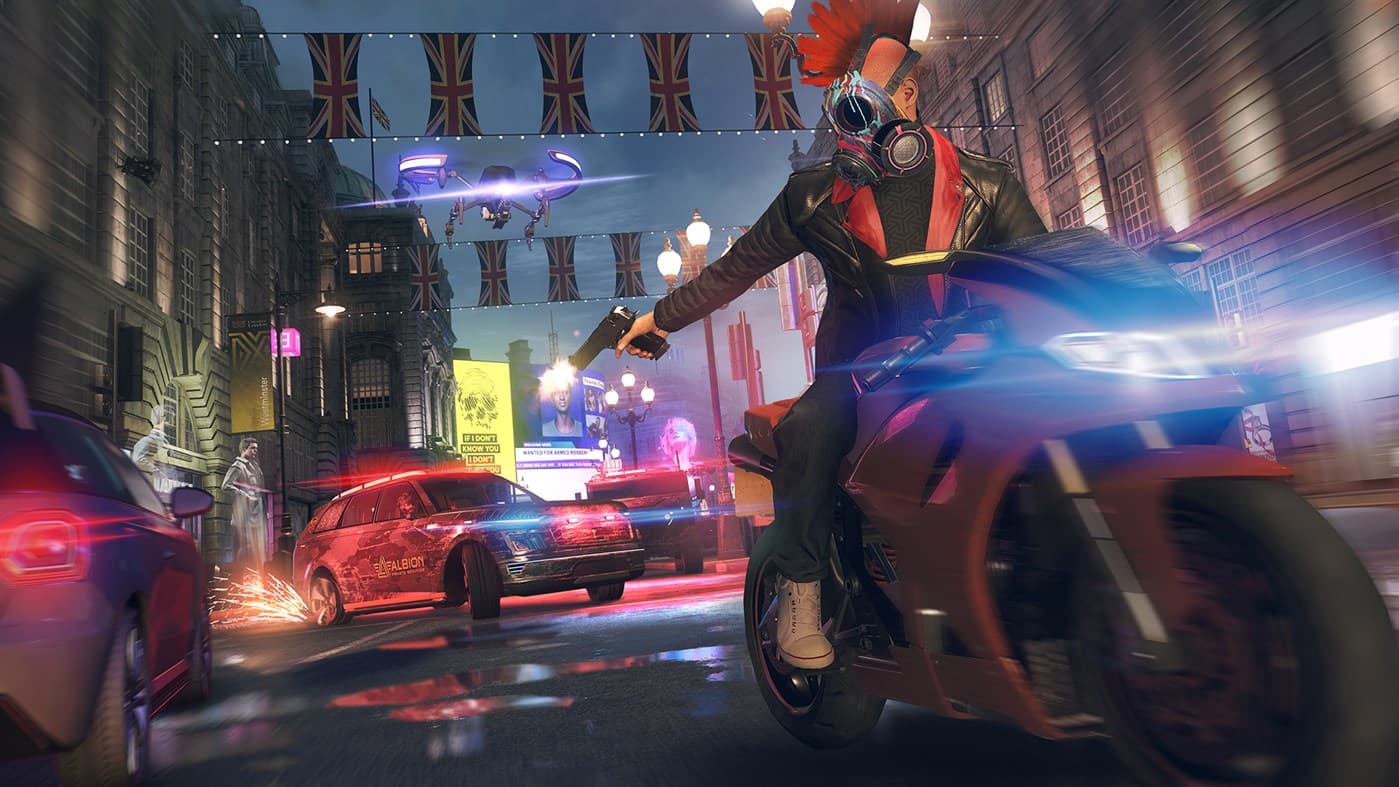 Available on: PS4, PS5, Xbox One, Xbox Series X/S, PC, Stadia
Kim says: I loved the first two Watch Dogs games, so it was a no-brainer that I'd also love Watch Dogs Legion. Perhaps moreso, with this third entry into the series being set in London, a city I'm familiar with and have spent many hours wandering around. But as fantastic as Watch Dogs Legion's recreation of England's capital is, it's not the main draw of the game. That would be its bizarre option to omit a central protagonist.
Instead, Watch Dogs Legion allows you to recruit just about anyone you want, making a team of dozens of DedSec operatives that you can switch between on a whim. Some of them are perhaps slightly devoid of personality, but others are brimming with sass or swagger; you'll undoubtedly get attached to one or two of them. It means that no two playthroughs of the game will feel identical, as different characters offer up a different experience, along with a huge number of ways to tackle missions. It's huge, it's adventurous, and it's a heck of a lot of fun. It's certainly one of the most memorable games I've played this year (not to mention it looks absolutely fantastic on next-gen hardware).
Read our review of Watch Dogs Legion
Buy Watch Dogs Legion on Amazon
Buy Watch Dogs Legion on CD Keys
Welcome to Elk
Available on: PC, Xbox One
Becca says: Like most of my favourite games this year, the incredible Welcome to Elk took me by surprise. It has a unique and adorable art style that I fell in love with instantly. It takes place on the small island of Elk where everyone knows each other – and in this case, that isn't necessarily a good thing.
As you play, you'll meet a host of characters, but none of them are unimportant; each one of them has their own story that you'll discover as you play through the game. The most interesting part of Welcome to Elk, though, is the fact it's based around true stories told to the game creator by friends, family members or acquaintances. Some of these stories are fun, while others are more serious. It's an incredibly charming and wonderfully weird game that provides a unique look at the human condition – and I can't recommend it enough.
Read our review of Welcome to Elk
Yakuza: Like a Dragon
Available on: PS4, Xbox One, Xbox Series X/S, PC
Chris says: Ichiban Kasuga is Like a Dragon. No, he doesn't get murdered by a Greek saint who everyone in the UK pretends is British. Instead, this fuzzy-haired badass takes over the reigns from Kiryu Kazuma and demonstrates that the series can survive a substitute dragon.
The open world you explore isn't anywhere near the size of Grand Theft Auto 5 or Assassin's Creed Valhalla, but it feels like a real, living world. What makes Yakuza: Like a Dragon such a joy, apart from the superb storyline, is that Kamurocho is somewhere you'd actually want to be, gangsters or otherwise.
And, as a protagonist, Ichiban is just perfect. After seven games, Kiryu's po-facedness was starting to get old and Ichiban is the perfect antidote. And, without Kiryu's reputation to fall back on, Yakuza: Like a Dragon makes your enemies seem dangerous again. The wonderfully ridiculous turn-based combat is just the icing on the cake.
Read our review of Yakuza: Like a Dragon
Buy Yakuza: Like a Dragon on Amazon