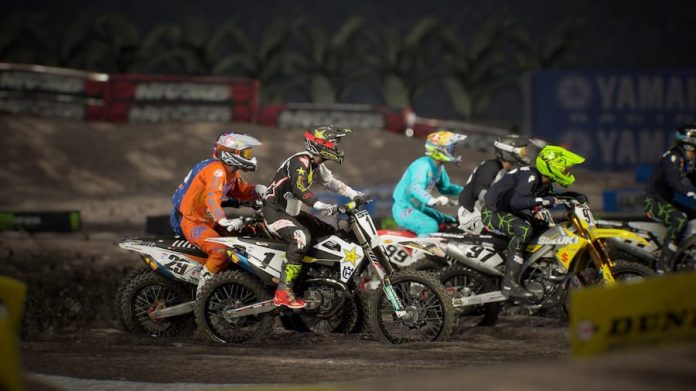 Milestone just doesn't stop – mere months after the release of MXGP 2020, it's also readying up its next entry in the Monster Energy Supercross series.
Monster Energy Supercross 4 launches 11th March on PS4, Xbox One and PC. It's also making its way to PS5 and Xbox Series X/S, and unlike MXGP 2020, there'll be no wait. So, of you're a supercross fan, 11th March is going to be a very good day. But what exactly is there to look forward to?
We've been hands on with a preview build of Monster Energy Supercross 4, and while our general thoughts are that it's more of the same, there are some notable changes and improvements. For a start, those picking up the game on a next-gen console will likely be in for a visual treat. Playing at max settings on PC, it's clear that Milestone has taken steps to ensure that this is the most realistic and atmospheric Monster Energy Supercross release yet.
Textures are a bit crisper, the crowds more dense, and the lighting that bit more natural. It all makes for a an experience that's more immersive and pleasant on the eyes. We'll have to wait and see, but it should lead to the next-gen versions of the game also providing serious eye-candy. If they're anything like MXGP 2020, they'll run at 60fps rather than 30fps, too, allowing for more fluidity and responsiveness to your inputs.
In terms of how the game controls on PC though, it's currently hard to discern any difference from last year's release. That's not so much of a bad thing, as Monster Energy Supercross 3 impressed more than ever in that regard. It's just a shame that there's currently no noticeable improvement; with development still under way, however, that could change before launch. The A.I. in the build we played wasn't final, for example, resulting in our fellow racers being a bit stupid at times, especially when bunched up.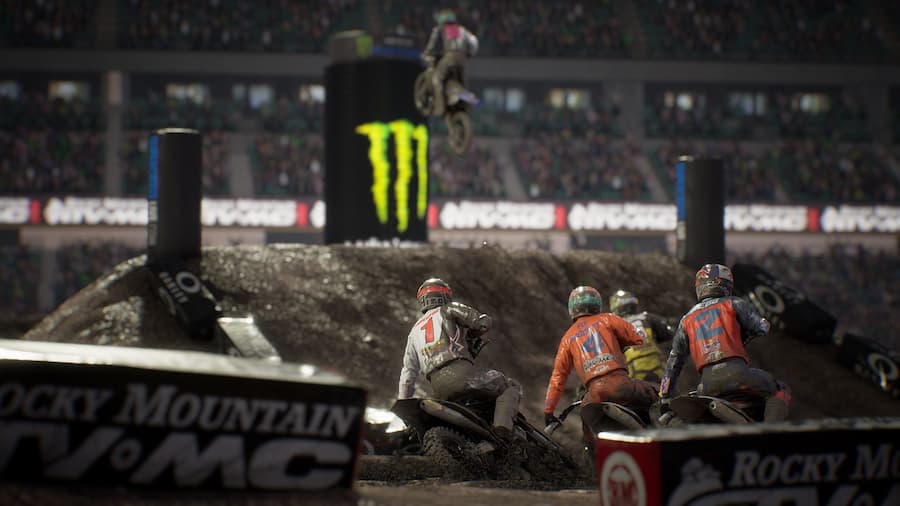 Perhaps the biggest change we've noticed in our hands-on time with Monster Energy Supercross 4 is that its rewind function now can't be used so carelessly. It now appears to have a cooldown timer of sorts attached to it, meaning you can't use it quickly in succession. So, those who do like to rewind time in order to correct their mistakes must now think twice. Of course, players should try to avoid using the rewind button at all, especially if they want to reap the most rewards while playing, but those who have used it as a crutch in past games will find themselves more tested.
Aside from that though, Monster Energy Supercross 4 doesn't appear to make any major strides forward. It's got all of the 2020 season's official tracks, over 100 riders, and all of the modes from last year's release make a return. So, alongside brilliant features such as the track editor and dedicated servers for online play, there's going to be a new compound to enjoy, allowing players to simply enjoy roaming an open environment or take part in challenges.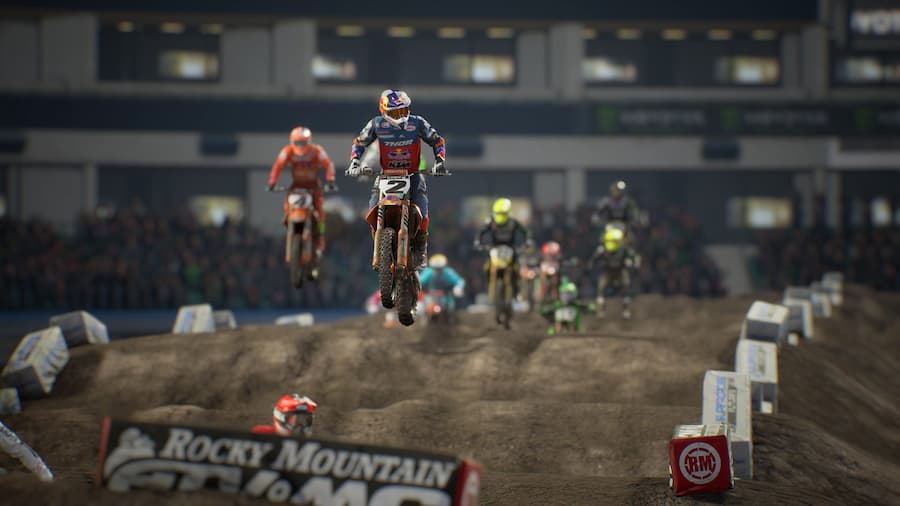 Unfortunately, what wasn't available in the preview build is access to Monster Energy Supercross 4's new career mode. The game's Steam page describes it as a Super Career, that will "put your abilities to the test in order to bring out the champion inside you". With Monster Energy Supercross 3's career being a bit of a step back from previous entries, we're hopeful it means that this one will have a bit more to it. It certainly sounds like so with its distinct Future, Rookie and Pro categories and mention of skill trees.
It seems clear then, that from a gameplay perspective, Monster Energy Supercross 4 isn't going to be much of a departure from what has come before. It certainly doesn't feel like there have been any sweeping changes to its physics system. Further improved visuals, however, as well as a tweak to the rewind system and updates to bring the game in line with the 2020 season, will no doubt pique the interest of fans. And the real dark horse is the new career; if it can add some variety and depth to the player's trajectory from newcomer to champion, this could be the best Monster Energy Supercross game yet.
Monster Energy Supercross 4 launches 11th March on Ps4, PS5, Xbox One, Xbox Series X/S and PC