You, me, in front of the TV on Valentine's Day? Nothing could be more romantic.
For us here at GameSpew, we love to game on the holidays. What could be better than hanging out with the family beating each other to a pulp in something like Super Smash Bros.? But what about a holiday like Valentine's Day? You and your significant other both like to play video games, but what can you play to entertain you both on Valentine's Day?
Thankfully, there are tonnes of excellent co-op games out in the universe just begging to be played. We've put together a list of some of the most fun co-op games we could think of. These are perfect for you and your loved one to pick up and play in-between dinner, gift giving and a few Valentine's Day smooches.
A Way Out
It might not be the most romantic game (although we totally ship Vincent and Leo), but A Way Out is a great co-op adventure to play with your loved one. A Way Out tells the story of two prisoners who decide to work together to escape jail and make it back home to their partners. What's unique about the game is that players control the two different characters simultaneously even when they are in totally different areas with their own separate goals.
What we really love about A Way Out is all of the mini-games you can play in-between the more intense story moments. Challenge your valentine to a game of Connect 4 or battle it out in the video game classic Pong. There are a handful of these short, fun mini-games to play during the game and, since the adventure is only a few hours long, you could probably finish it in one sitting.
We Were Here Together
The We Were Here series is a series of puzzle games that have players solving puzzles both together and apart. The puzzles take on a wide range of difficulty levels and you really have to be able to communicate in order to come out the other side unscathed. Part of what makes We Were Here really challenging is the fact that the characters don't speak and there's no hints so all, you have to help you is your partner.
That's the real appeal of these games. No other puzzle game we know of forces you to rely so heavily on your partner. It's a great way to practice communication and it's just a nice, fun way to stretch those brain muscles that might be getting a bit dusty. We Were Here Together is the most recent title in the series, but there are two others to try if you're looking for a few games to play with your love this Valentine's Day.
Read our review of We Were Here Together
PHOGS!
PHOGS! is such a fun, adorable game we had to include it on our list. In the game you play as two dogs who are linked together, CatDog-style (90s kids will get that reference), by their belly. The game will have you barking, biting and bouncing around dozens of obstacles in order to complete the game's 24 levels.
What we love most about PHOGS! – other than the fact that it's just gosh-darn adorable – is that it requires lots of co-operation. You've got to communicate in order to complete the challenging puzzles and get to the end of the game. And we guarantee you'll find yourself laughing the whole way through.
Stardew Valley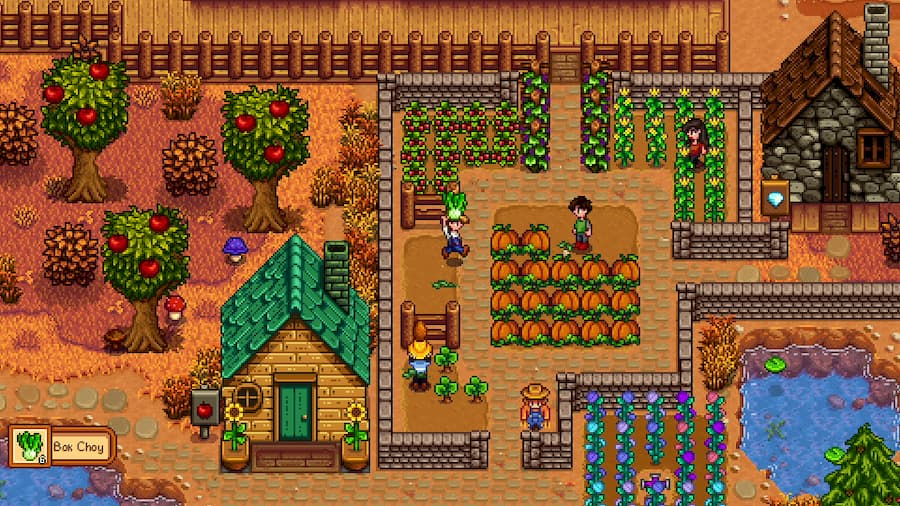 Stardew Valley was already a pretty romantic game when it was single-player, but when co-op was added in it became even more romantic. In the game, you've been given your grandfather's old farm and it's up to you to revamp it so that it can thrive again. Along the way you'll meet and romance some of Stardew Valley's many suitors. In single-player you can give these NPCs gifts and eventually get engaged and ask them to marry you. But play in multiplayer, and you can marry your fellow player!
Rather than going through the motions of giving each other dozens of gifts, simply wait for the traveling trader to come into town and grab yourself the recipe for the Wedding Ring. With that you can ask your fellow farmer to marry you and enjoy your quiet, quaint life of farming 'til death do you part.
Read our review of Stardew Valley
Snipperclips
Snipperclips was a launch title for Nintendo Switch, and we were obsessed. We still find ourselves going back to play it with new friends because of how much fun it is. In the game you play as two shapes – Snip and Clip – who can rotate their bodies and be safely snipped by their partners to create different shapes.
The game has players trying to solve a variety of puzzles by snipping and clipping their bodies into a variety of different shapes. We think Snipperclips is a great game to play with your love this Valentine's Day because it's both silly and difficult. It encourages communication and cooperation and it is genuinely a really fun time.
Unravel Two
A perfect puzzle platformer game for our list is Unravel Two. Released back in 2018, this title has players taking on the role of two "Yarnys". Yarnys are creatures made up totally of yarn that they can unravel in order to help them solve puzzles. In the game, the red Yarny is separated from his home, washed away to an unknown place. There he meets the blue Yarny who joins him in his exploration of this new, mysterious island.
The game will have you jumping, sliding and running all while connecting with one another to solve puzzles and try to find a way back home. The story is touching and heartfelt and one of the best games we could think of for you to play with your love this Valentine's Day.
Read our review of Unravel Two
The Dark Pictures Anthology: Little Hope
The Dark Pictures Anthology: Little Hope isn't exactly romantic, but hear us out. In the game, players take control of five characters trapped in a ghost town. As you explore the town you'll discover the truth behind its dark past. Dark and spooky corners, terrifying jumpscares and impossible character choices don't, at first glance, make for a great romantic time.
But, our counter argument is, what could be more romantic than cuddling up with your significant other when they're scared? It gives you the opportunity to sit close to them and get your adrenaline pumping in multiple ways. -wink- And the fact that you're both playing the game and getting scared makes it that much more romantic. You're welcome.
Read our review of Little Hope