Overwatch has been around for quite a long time now.
Since its release way back in 2016 (or 2015 if you count the closed beta) players have fallen in love with Overwatch's characters, its lore and its gameplay. But also, its cosmetics. Everyone loves a good cosmetic.
There are hundreds of games out there that let players customise their characters, and Overwatch is among the best of them. It has a huge number of different skins for players to unlock, regardless of their favourite character. But which ones are best?
Let's find out, shall we? We've put together a list of some of the best Overwatch skins we've ever laid eyes on. Everyone has different tastes and opinions, but we're sure that you'll all agree these skins are gorgeous.
Surf's Up Echo
One of the most recent additions to Overwatch comes in the form of this beautiful skin for Echo, the last hero to be added to the Overwatch roster. Her Surf's Up skin gives her a wicked water-like hairdo and surfboard wings. This cosmetic was added during 2020's Summer Games event and we think it is totally tubular.
Cote D'azur Windowmaker
Arguably the second best Summer Games skin is this lovely Cote D'azur skin for Widowmaker. It makes her look like the kind of woman you'd see at the beach tanning while her kids are swimming in the ocean dangerously far out. But she doesn't have a care in the world. And then the hot lifeguard down the beach spots her and joins her for some light conversation. She takes off her sunglasses and he sees the real beauty underneath. Little does he know, she's not interested in his personality – just his rippling abs and bulging biceps.
Ahem. Sorry. Where were we?
Lifeguard McCree
Did we say we were done with the summery skins? Definitely not. Maybe the beautiful lifeguard that Windowmaker has been talking to is McCree in his lifeguard skin. Clad in just some red lifeguard shorts, this is clearly one of the best Overwatch skins for many reasons. Granted, he straw hat might be a little much, but he's got to protect his head somehow. Plus, his little red pistol is absolutely adorable. Excuse us while we go pretend to drown so he can save us.
Snow Owl Ana
Moving away from summertime and into the winter, take a look at this beautiful skin for everyone's favourite Overwatch mom, Ana. Ana's snowy owl skin came as part of a Christmas events and it's still one of the best Overwatch skins in our opinion. Not only is Ana incredibly wise, now she's got the wise eyes of an owl as well. Not to mention how cool her sniper rifle looks with this skin too.
Pajamei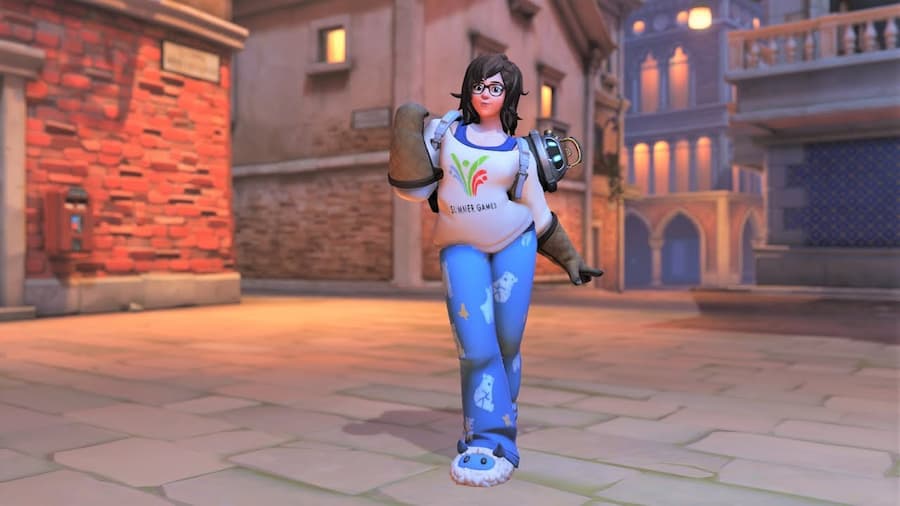 The Pajamei skin came from Mei's amazing cinematic which released back in 2017. In the cinematic, Mei and her team are placed into a cryogenic sleep. The outfit she decides on is the adorable pyjamas you can unlock in the game. She's wearing a Summer Games shirt, adorable polar bear pyjama bottoms and the fuzzy yeti slippers which really make the outfit. This cinematic is also where Mei invents her first ice gun so, in the unlockable outfit, it's made out of bits of bobs she was able to find around the Antarctic station where she was living.
Witch Mercy
This Mercy skin is widely recognised as one of her very best (although we love all of Mercy's skins). Witch Mercy came about during the very first Halloween Event. During the event, players are able to take on the "Junkenstein's Revenge" arcade mode. In the mode, players fight zomnics (zombie omnics) as well as NPC versions of Reaper, Mercy, Junkrat and Roadhog. Symmetra was added in later years as well.
Mercy is called "The Witch" in the Junkenstein's Revenge game mode and players must take her down in order to stop her from healing her fellow dangerous NPCs. One of the coolest parts is that, if you have Mercy's witch skin equipped in-game, instead of saying "Heroes never die" she says "My servants never die" when using her resurrection ability.
Aviator Pharah
We cannot stop staring at this Pharah skin. It's beautiful. Simply amazing. Chef's kiss.
Now that that's out of the way. The Aviator Pharah skin is one of the best Overwatch skins ever, and we're not sure how we lived without it. It's an incredibly informal look for Pharah and we're super into it. The jeans, the sunglasses; what's not to like? It's a bit distracting actually, so if a Pharah on the enemy team has it equipped don't expect us to do much more than drool.
Butcher Roadhog
Roadhog is one of the few characters in Overwatch who has a huge set of fantastic skins. It was hard to pick just one. We were torn between this and Toxic Roadhog – where he literally has a bowl of acid on his head – but in the end, Butcher Roadhog just edged it as one of the best Overwatch skins. He's disgustingly beautiful, because he doesn't look like himself. He's still got his terrifying hook, but he looks like he jumped right out of World of Warcraft. Or like he crawled out of a lava pit and happily began his life of crime. He's gross and therefore, our favourite.
Cultist Zenyatta
Before Cultist Zenyatta, our favourite Zenyatta skin was his Christmas Nutcracker skin. Who doesn't love being able to say "I killed Rehardt with my nuts"? We do. But Cultist Zenyatta is so detailed, with its Cthulu-vibes that it knocked Nutcracker Zenyatta and his nut balls right out of the park. Like Mercy's witch skin, Zenyatta normally says, "Experience Tranquility" when using his ultimate, but Cultist Zenyatta instead says, "Embrace Nothingness." Quite a downer, but we like it.
Totally 80s Zarya
If you've ever wanted to jump right into an old 80s workout video, then you'll likely agree this Zarya Halloween skin is one of the best Overwatch skins there is. Zarya is normally rough, tough and ready to punch you in the nuts, but 80s Zarya has a totally different vibe. This skin has this muscly beauty wearing spandex for god's sake. What's not to love? Not to mention the hair and the sparkling biceps. Let's get physical, alright. Right here, right now.
Dragon Symmetra
Much like Roadhog, Symmetra has a lot of really fantastic skins to choose from, but our favourite just has to be Dragon Symmetra. We love it because it looks as though embers from a fire are burning all over her, just like they would for a real dragon. We keep the dragon skin equipped all year round. How could we not; it's one of the best Overwatch skins of all time.
Yeti Winston
Yeti Winston was added during one of Overwatch's Christmas events as part of a new "Yeti Hunt" Arcade Mode. In the mode, players either take on the role of the yeti or a team of five Meis. The Yeti's goal is to take down the Meis as quickly as he can. Players playing as Mei are trying to take down the Yeti before he gets five kills. This game mode is super fun, and we love seeing Winston shed his gorilla skin and take on a more Christmassy Yeti persona.
Pumpkin Reaper
Another iconic Halloween outfit is Pumpkin Reaper, who came about during the first Junkenstein's Revenge. It feels very much inspired by the headless horseman. Some of the best Pumpkin Reaper content you'll see is outside of the event though, in the form of his victory pose and highlight intro. Watching Pumpkin Reaper crawl out of grave and jump out of a casket are maybe two of the coolest things you'll ever see in the game.
Pink Mercy
This Mercy skin was released during a limited time Overwatch event, where all proceeds went towards the Breast Cancer Research Foundation. The skin has Mercy clad in a gorgeous pink dress with pink ribbons in her hair. Flying through the air, she is the perfect representation of a powerful woman, making this one of the best Overwatch skins we've ever had. The skin has not returned since the 2018 event, but here's hoping she makes a return in the future.
Tyrande Symmetra
Another skin that was only available for a short period of time is the Tyrande Symmetra skin. Tyrande is a character from Blizzard's mega popular MMORPG World of Warcraft, so it's was only fitting that the team gave one of the Overwatch characters a skin inspired by it. Tyrande was unlockable for those who purchased tickets to Blizzcon 2019. We haven't seen it in person ourselves, but we've never stopped thinking about it. Genji also got a World of Warcraft-inspired Illidan skin we wish we could get our hands on.
---
More Overwatch goodness