Another day, another Nintendo Direct.
Announced only yesterday, Nintendo has just streamed its first Nintendo Direct of the year. Didn't manage to catch it live? Don't worry – we've got a round-up of everything that's been announced and shown off below.
Without further ado, here's everything we learned from tonight's Nintendo Direct.
Pyra and Mythra from Xenoblade Chronicles 2 are joining Super Smash Bros. Ultimate. Technically one character, you can switch between either girl freely. They'll be available from March.
Fall Guys is coming to Nintendo Switch, so if you've been itching for some crazy, colourful competition action in handheld mode, you don't have too much longer to wait. It's coming to Switch in summer.
Outer Wilds, the game about exploring the solar system in just 22 minutes, is coming to Switch this summer.
Famicom Detective Club: The Missing Heir and Famicom Detective Club: The Girl Who Stands Behind are two classic titles that are coming to the west for the first time. They'll be available on Switch, separately, from 14th May. Pre-orders are open from today on the eShop.
Samurai Warriors 5, the next entry in the popular Musou series, is coming to Switch. It'll be available this summer.
Legend of Mana, a 20-year old classic, has been updated for a Switch re-release. There's a new soundtrack arrangement, updated artwork and a new minigame. It'll be available from 24th June.
We got a new look at Monster Hunter Rise, which looks absolutely fantastic. It's out on 26th March – not much longer to wait.
There's a new Mario game! It's… Mario Golf: Super Rush. Golfing, Mario style. From more serious tournaments to 'speed golf', and even a story mode, there looks to be a lot of content packed in. What's not to love? It's coming to Switch on 25th June. You can pre-order on the eShop from today.
Telltale Games' classic Tales From the Borderlands lands on Switch on 24th March.
Capcom Arcade Stadium is available from today, which packs in over 30 classic Capcom games. It's a free download, with games available to buy as add-ons.
Stubbs the Zombie: Rebel Without a Pulse comes to switch on 16th March.
Travis Touchdown vs. Aliens… no, wait, No More Heroes 3 got a new trailer, and it looks delightfully crazy. It's coming to Switch on 27th August.
A new game from Annapurna Interactive, Neon White is a card-based combat game about fighting demons in heaven. It's coming to Switch 'winter 2021'.
DC Super Hero Girls: Teen Power brings the famous women from the DC universe to a cutesy action game. Fight evil and… uh, attend school. It's coming to Switch on 4th June.
Plants vs Zombies: Battle for Neighborville Complete Edition is coming to Switch on 19th March. We loved the game the first time around, and the Complete Edition will pack in all additional content for an even better experience. Sold.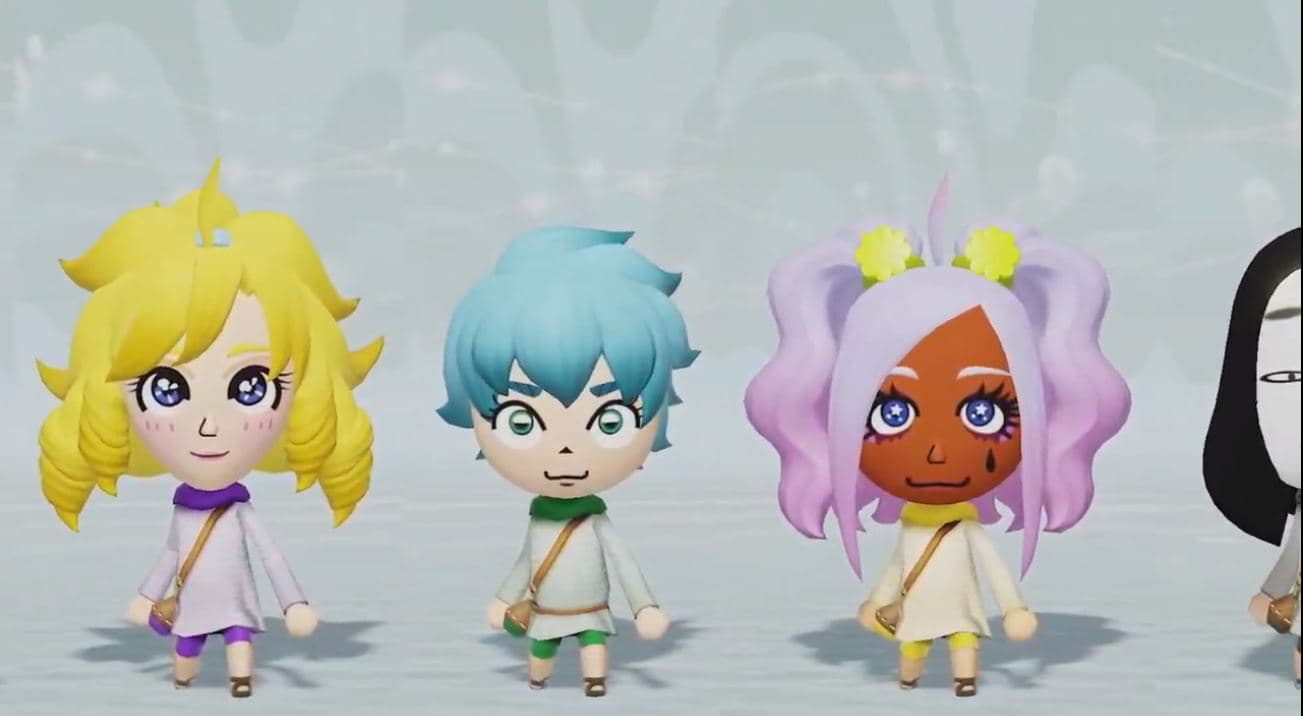 Miis are making a comeback. Miitopia is coming to Nintendo Switch, letting your Miis take part in a fully-featured adventure. It'll be available on 21st May, and pre-orders are open now.
Super Mario-themed items are coming to Animal Crossing: New Horizons. Dress up as Mario and Luigi, and decorate your island with Mario level accessories. Because why not? It'll be available as part of a free update on 25th February.
From Square Enix, Project Triangle Strategy – a working title – is coming to Switch in 2022. It's a tactical RPG that adopts the trademarked 'HD-2D' art style that we saw in the likes of Octopath Traveler. There's a demo available on the eShop today.
Star Wars: Hunters, a free-to-play competitive online game is coming in 2021.
Knockout City is a bright and colourful online multiplayer, coming in May. From EA Originals, it looks like a family-friendly Overwatch meets dodgeball.
World's End Club is coming to Nintendo Switch on 28th May.
The ever-popular Hades is getting a physical release on 19th March.
Ninja Gaiden: Master Collection bundles together Ninja Gaiden Sigma, Ninja Gaiden Sigma 2 and Ninja Gaiden 3: Razor's Edge. It includes all previous DLC game modes and constumes, and it'll be available on Switch on 10th June.
Hyrule Warriors: Age of Calamity is getting an expansion pass, with three waves of DLC set to launch throughout the year.
We got a new trailer for Bravely Default II, which is coming out on 26th February. You can read our preview here.
We got a new teaser trailer for Ghosts n' Goblins Resurrected, which is out next week.
SaGa Frontier Remastered is coming to Switch on 15th April.
Free-to-play battle royale Apex Legends is coming to Switch on 9th March.
There's no news on Breath of the Wild II, but more information is planned for later this year. However… The Legend of Zelda: Skyward Sword HD is coming to Switch on 16th July. The controls have been fully remade for Switch, allowing players to use either motion controls or button inputs.
There'll be a pair of Skyward Sword Joy-Cons to coincide with the launch, too.
To close out the Direct, we got a teaser trailer for Splatoon 3, which looks to be set in a completely new environment. The same paint-filled multiplayer action, of course. It's coming in 2022.
You can watch the full Nintendo Direct in the video below.