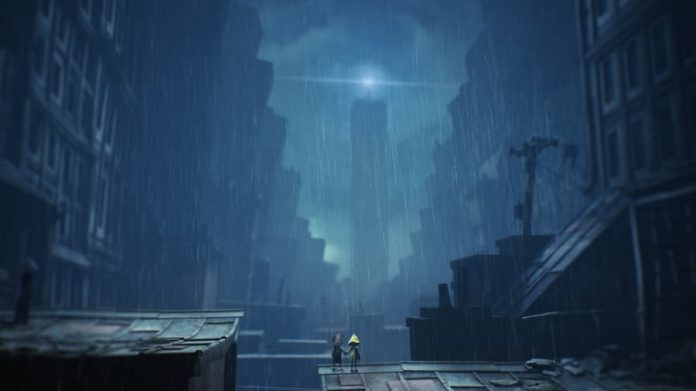 If you found Little Nightmares scary, you're going to want to bring along a spare pair of underwear for Little Nightmares II.
I'm not kidding; Tarsier Studios' follow-up to its wonderfully macabre 2017 platformer doubles down on horror. Little Nightmares II is no longer merely unsettling; sections of the game are true nightmare fodder, taking inspiration from seminal horror game staples such as Silent Hill and films like The Ring. It features the same platform-puzzle gameplay through eerie environments, but expect freakier enemies, more scares and more danger. There's even a bit of combat thrown in for good measure this time.
The protagonist of Little Nightmares, the tiny yellow raincoat-clad Six, makes a return – but she's not at the helm this time. Instead, you take control of equally small Mono. With a bag over his head (though you can change his hat as you find them throughout the game), this initially-faceless boy is somewhat sinister, but you'll quickly care about his wellbeing. The first time you hear his bones crack as he falls to his death, or his flesh tear as a grotesque enemy has their way with him, you'll shudder and reel in horror. You'll do whatever you can to keep Mono safe.
And Mono will, seemingly, do whatever he can to keep Six safe. You see, early on in the game's first chapter, he finds her locked away in a bedroom. She's initially scared, but soon comes to realise that Mono is her only chance of escape. And so, the pair work together in order to navigate Little Nightmares II's escalating terrors.
Despite the two protagonists, this is solely a single-player affair. Six is relegated to AI territory, but she's never a detriment to the player. In fact, her behaviour is so well programmed that you'll sometimes forget she's actually not a living, breathing being. At times, she'll prompt you as to where to go or what to do; you'll follow her lead as you escape a bloodthirsty hunter, for example. Other times she'll hang back, letting you take control as you figure out a puzzle or navigate through a stealth section. She's always on hand, though; if you need to reach a higher ledge, a tap of a button will instruct her to help you. It's flawless. The terrifying world of Little Nightmares II doesn't feel quite so bad knowing you have a companion by your side.
At least, not to begin with. There are times where you become separated from Six; either you'll need to find a separate way to reach a new area, or she'll have been taken from you, and you'll need to find a way back to her. Though if you've played through the first Little Nightmares, you'll know not everything is quite as it seems. Expect some twists and turns as the story unfolds; the last chapter, in particular, will make you question everything you've experienced so far. But to say any more than that will spoil it; just know it'll have you glued to the screen.
The storytelling isn't the only thing that will have you glued to the screen, either. Little Nightmares' cinematography was fantastic, but Little Nightmares II is completely on another level. Every single frame of the game has been meticulously planned out; there's atmosphere in droves from start to finish. Though scarce in Little Nightmares II's dark and foreboding world, light is used to incredible effect. Misty rays shine through gaps in walls, and dusty lightbulbs illuminate the centre of a room just enough for you to make out what's going on. The world may be ghastly, but the atmosphere and ambience created through clever use of shadow is truly mesmerising. You're torn between wanting to look away, lest the next horrifying creature to cross your path lays waste to you, and wanting to explore every nook and cranny; soak up every last macabre, beautiful detail.
It's incredibly claustrophobic at times, too. As you're moving through vents or a recess in the ceiling, you'll only occupy half the screen. A pitch black void will fill the remaining space; the darkness acting as a reminder of how trapped and vulnerable you are, with nowhere to go other than forwards.
The sound is also perfectly designed, adding a great deal to the atmosphere. Whether it's the visceral cracking of bone, the perpetual drip-drip-drip of water or the unmistakeable squelch of a fleshy body, it all adds to the immediate sense of doom that Little Nightmares II exudes out of every pore. This is a game that you want to play with headphones or while wired up to a decent sound system; you want to be able to hear every last tiny sound, because it all adds to the impeccable immersion.
Gushing aside, not all of Little Nightmares II is perfect. New to the game this time around is combat; Mono can wield big, heavy weapons, dragging them behind him with all the grace of Pyramid Head from Silent Hill 2. As visually pleasing as it may be, actually swinging the weapon can be a source of frustration. Understandably with a weapon so heavy, Mono is slow to lift and swing it, so your actions must be perfectly timed against your opponent. The 3D field also adds in an extra obstacle; it's not always clear how far away an enemy is, or if your attack is perfectly lined up. Combat requires precision to be successful, but Little Nightmares II's mechanics don't always allow for accuracy. Miss your swing, and thanks to enemies' one-hit-kill attacks, you'll likely find yourself back at the last checkpoint.
Thankfully, combat only makes up a small part of the game, and you'll really only find yourself needing to battle against enemies in two sections. Compared to Little Nightmares, level design is much more varied in Little Nightmares II. You're not always being pursued by a giant monster; smaller terrors – like prosthetic mannequins that move under the shroud of darkness – can be much more effective. The balance of puzzles, chase sequences, combat and stealth feels well-managed; no single activity ever gets tiring because it's mixed so well.
Little Nightmares II is a true evolution from the first game. Tarsier Studios has done a fantastic job in creating a world that's even more terrifying, brought to life with absolutely sublime art and sound. Sure, there are a few frustrations along the way, but they aren't what will stick with you. What you will remember, long after you've turned off the game, is just how magnificent and macabre Little Nightmares II is.
---
Little Nightmares II Review: GameSpew's Score
Little Nightmares II is available on PC, PS4 and Xbox One (with PS5 and Xbox Series X versions to follow). We reviewed the PS4 version with a code provided by the publisher.