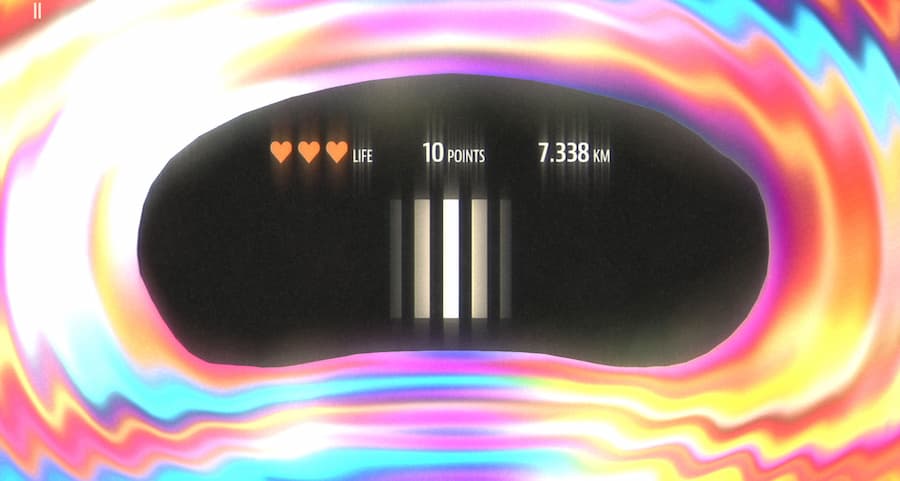 Do you think you could drive with your eyes shut?
You might think yes, if it was on roads that you're familiar with. But what if you were plopped in the middle of the wrong side of the highway? You've got cars rushing towards you at 70+ miles per hour and all you have to rely on is your sense of hearing. Do you think you'd survive?
That's the concept of Blind Drive, an upcoming story-driven game from developer Lo-Fi People. You play as Donny, who has been blindfolded and handcuffed to the steering wheel of a vehicle going the wrong way into incoming traffic. You thought you were just doing some kind of driving science experiment for some cash, but you were dead wrong. A creepy voice on one end of your phone informs you that you'll have to use just your hearing to avoid the incoming traffic.
And therein lies the genius of the game.
Most video games require players to use both their sense of sight and hearing in order to play effectively. Blind Drive challenges the player to forget what they would normally expect from a video game and just hone in on sounds.
In the game, you're looking at a dark screen with a few numbers scattered about. One number is your score. You earn one point per car that you manage to dodge. You'll also see the distance that you've travelled as well as how many lives you have left. There are also a few horizontal lines in the centre of the screen that represent your vehicle. Move to the right and your lines move to the right; move to left and the lines follow suit. It's a great way to represent your movement without taking away from your otherwise total blindness. The sound design is done so well that it really feels like you're in a vehicle dodging traffic.
But Blind Drive's general concept isn't the only part of it that's fun. The narration and voice acting is phenomenal. The demo is very short, but if something manages to impress in such a short period of time, you know it's got to be special. The main character is both cocky and terrified. The antagonist seems to find your pain hysterical. And then, of course, there's your Grandma who calls you to make sure you're still coming for dinner that night. The entire demo is both terrifying and absolutely hilarious.
You can give Blind Drive's demo a try yourself by downloading it from Steam. The full game will be available on 10th March.