We love awesome Nintendo Switch accessories.
And there's a lot out there in the world to love. There are cool controllers, convenient grips, ways to store your games and more. If you think you might need it for your Switch, it's probably out there. But not all accessories are created equal. Some are strange and possibly unnecessary. Yet we still sort of want them.
We've put together a list of some weird and some wonderful Nintendo Switch accessories you may just want to add to your collection.
Cat Controller
We all love a fun controller. We've got Xbox and PlayStation controllers in all the colours of the rainbow. But what about a controller that is shaped like a cat? Don't worry, that exists for the Nintendo Switch. Does it do anything special? Not that we can tell… but it's shaped like a cat. What more could you possibly want?
It has ears just in front of the triggers, and the handles even have little detailing that kind of look like paws. You can find these in a variety of colours and there's even one that looks like a panda if you prefer the bear variety to the feline variety. They're purrrfectly weird for any gamer.
Gun Controller
Now this is a weird one that we can totally get behind. This is a controller that is shaped like a shotgun. As you can see from the photos, you can fit your Joy-Con controllers into the contraption and it looks and feels like you're holding a gun. Just point the gun at your television screen and it's like you just jumped into a real-world arcade.
According to its Amazon page, the gun works with Splatoon 2, Skyrim, Payday 2, Wolfenstein 2: The New Colossus, Resident Evil: Revelations, Big Buck Hunter Arcade, Minecraft and more. There's nothing like reliving the feel of light gun games. It won't be quite the same but we're absolutely willing to give it a go.
Dock Sock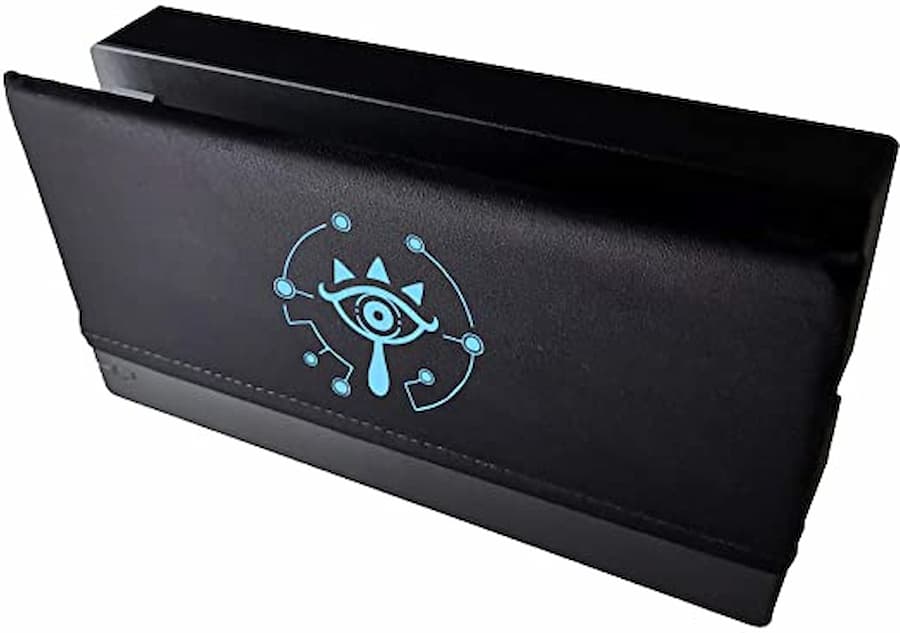 Maybe you've purchased your Switch and you're disappointed that the dock is a little bland. Or maybe you're worried that your Switch screen is getting scratched sliding it in and out of the dock. If either of those are the case then what you'll probably want to grab is a… "dock sock".
A dock sock, aside from having a wonderful name, is a sock that's made to fit perfect over the front of your Switch dock. This particular dock sock boasts being a "great fit" that won't get stuck on the edges of the dock or cover any of the important bits. There are dozens of designs online including this lovely Legend of Zelda one. Sock it to me.
Mini Joy-Con Handles
If you've ever played Mario Kart 8 Deluxe with your friends and heard them complain about the controllers being too small then these Joy-Con handles are exactly what you need. They turn a single Joy-Con into a tiny controller that fits much more comfortably in your hands.
That they even have moulded triggers on the top of them, making the buttons much easier to push. How many times have you been playing Mario Kart with your joy-con and missed what would have been a really satisfying drift because your fingers couldn't properly hit the tiny buttons? Need we say more about this wonderful accessory?
Satisfye Grip
This If you've seen any of our other Nintendo Switch accessory lists then you'll know that we love this Satisfye Zen Grip. The Switch is designed to be played handheld, but doing so for long periods of time can be uncomfortable. That's where the Satisfye grip comes in.
This grip makes it feel like you're holding a controller in your hands. It's comfortable and super easy to slide your Switch in and out of. The grip is available in a number of colours, including the Tropical version which matches the Animal Crossing: New Horizons limited edition Switch.
Dock Cartridge Holder
If you're the sort of monster who doesn't like to keep their Switch games in their respective cases, then this is the accessory for you. This cartridge holder fits to the back of your dock and is the perfect place to store your loose cartridges. You'll never lose a game ever again because they'll be right there on your dock.
This version of the holder is especially convenient because it holds 28 cartridges. Even if you share the Switch with your entire family that's probably still a pretty good amount of spots for all of your games.
Car Seat Switch Holder
The Nintendo Switch is basically the perfect road trip console. But sometimes it's hard to play if you're in the back of the car. You might get a kink in your neck trying to look down at it or get an arm cramp holding it in front of you. That's why this mount, which holds the Switch right in front of you, is the perfect accessory.
If you take road trips often, and have the luxury of being a passenger, this is a must-buy. It hooks to the back of a car seat headrest and easily mounts your Switch for easy viewing. Truly a wonderful accessory if we've ever seen one.