It's almost April! It's sunny outside! What's going on?
We're really not sure where the last three months went. It's spring already, and we're a quarter of the way through 2021. And since another month is upon us, that means another month of video game releases. As usual, we're here to recap any games releasing in April that you ought to have your eye on.
This isn't every game that's releasing in April – and we'll of course be covering more new games over the course of the month – but these are the ones we think are worth watching out for. Happy springtime gaming, everyone.
Outriders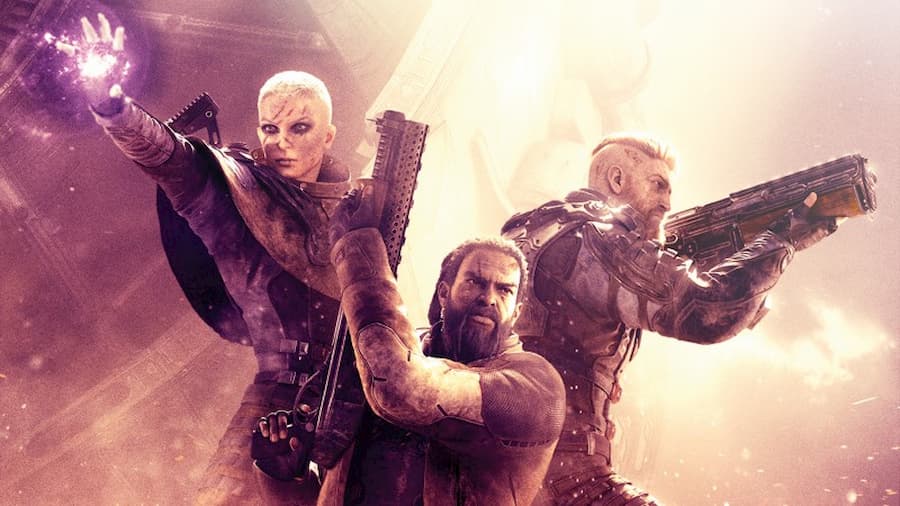 Release date: 1st April
Formats: PS4, PS5, Xbox One, Xbox Series X, Stadia, PC
After being delayed earlier in the year, Outriders is almost upon us. From Square Enix and People Can Fly, it's a co-op RPG shooter that's been described as a cross between Destiny and The Division. In it, you'll take on the role of a titular Outrider, a warrior capable of defeating hostile foes as they travel across a mysterious planet. There's plenty to see and do along the way, and Outriders promises to tell a rich story, too. We were impressed with the game's demo, and we're looking forward to playing more.
Oddworld Soulstorm
Release date: 6th April
Formats: PC, PS4, PS5
Abe's making a return in a brand new adventure. If you were a fan of the PS1 classic Oddworld: Abe's Odyssee and the numerous Oddworld games since, this is definitely one to keep you eye on. It looks fantastic to start with, and promises an engaging adventure filled with puzzles and excitement. Even better, if you own a PS5 and subscribe to PS Plus, it's one of April's included games. A brand new game at no extra cost? Yes please.
Cozy Grove
Release date: 8th April
Formats: PS4, Xbox One, Switch, PC
If you're a fan of Animal Crossing, Cozy Grove is one worth keeping your eye on. Promising similarly laid-back gameplay, Cozy Grove is all about restoring life on an island. Sound familiar? Well, here you take on the role of a scout, and your goal is to help the spirits trapped in Cozy Grove. By completing tasks for them, you'll build your friends, see the island grow and flourish, and unlock new abilities. Oh, and of course there's plenty of fishing and foraging to be done, too.
Poison Control
Release date: 13th April
Formats: PS4 and Switch
The latest game from NIS America, Poison Control is a JRPG that casts you as Poisonette and Soul Mate. As the two protagonists, you'll combine your powers in order to destroy the poisonous creatures that are taking over the world. Along the way you'll meet a colourful cast of characters, learn their stories and, hopefully, end up in heaven. All sounds pretty ordinary, right? If you're a JRPG fan, this one looks to be a promising twist on the ordinary.
MotoGP 21
Release date: 22nd April
Formats: PS4, PS5, Xbox One, Xbox Series X, Switch, PC
This year's entry into the popular motorbike racing series, MotoGP, is almost here. MotoGP 21 promises more thrills than ever, not least since it'll be the first entry on the new generation of consoles. On PS5 and Xbox Series X, it'll look and perform better than ever, too. So if you're a fan of high-octane bike racing, this one's for you.
NieR Replicant ver.1.22474487139…
Release date: 23rd April
Formats: PS4, Xbox One, PC
Okay, so NieR Replicant ver.1.22474487139… might be the most ridiculous title for a game, ever, and we'd be lying if we said we didn't have to copy and paste it from somewhere every time we write out its name. But that doesn't mean we're any less excited to play this latest entry into the NieR series. Essentially a remake of the original release of NieR Replicant, a game that only ever released in Japan, it puts players in the role of Nier as he sets out on a journey to rid his sister of a terrible disease. Expect gorgeous landscapes, thrilling battles and plenty of adventuring. We're looking forward to it – just don't make us type out its name again.
Returnal
Release date: 30th April
Format: PS5
PS5-exclusive Returnal is from Housemarque, the team that brought us the likes of Alienation and Resogun. Although the company has stepped away from its twin-stick shooter roots, we can't help but see Returnal as a third-person Alienation. And we're absolutely there for that. With Rogue-like elements, Returnal sees you make your way across a hostile planet, where just about everything is out to kill you. It looks deliciously action-packed, and we can't wait.
New Pokémon Snap
Release date: 30th April
Format: Nintendo Switch
Want to explore a lush landscape and take pictures of your favourite Pokémon? That's essentially what New Pokémon Snap is about. A sequel to 199's N64 game Pokémon Snap, this new version promises the same basic gameplay but with a completely modern makeover. You'll visit unknown islands to find the Pokémon you're hunting down, and the photos you'll take will be scored based on how well you've captured each creature. It promises to be a fun and relaxing experience – and that's what we all need right now.