Another month is upon us, and that means 31 days of new games releases await.
In theory, anyway. March is a great month if you're looking forward to next-gen upgrades of some of last year's games, but other than a handful of standout titles, it's a fairly quiet month for actual new releases.
Still, here's what's on our radar – here are the games you should be watching out for this month.
Maquette
Release date: 2nd March
Formats: PC, PS4, PS5
A puzzle game-meets-emotional narrative, Maquette from Graceful Decay and Annapurna Interactive will touch your heart and test your brain matter. Set in a 'recursive world', its puzzles are truly mind-bending, though its beautiful visuals and wonderful soundtrack are likely to win you over. Look out for our review later today, and if you own a PS5 you can pick this up as part of your PS Plus subscription from tomorrow.
Monster Jam Steel Titans 2
Release date: 2nd March
Formats: PC, PS4, Xbox One, Switch, Stadia
If you enjoyed the action of 2019's Monster Jam Steel Titans, its sequel should be one to watch. It promises more content than ever, with a variety of events to take part in, more trucks to drive and various environments to traverse. And hey, you get to drive a flippin' monster truck. What more do you want? Read our review to find out what we think of it.
Buy Monster Jam Steel Titans on Amazon
Monster Energy Supercross 4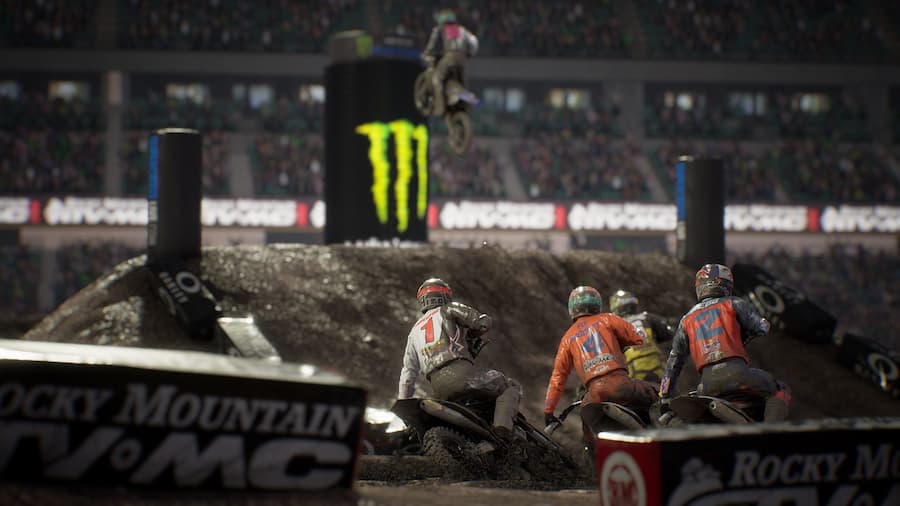 Release date: 11th March
Formats: PC, PS4, PS5, Xbox One, Xbox Series X/S, Stadia
The fourth instalment of Milestone's popular supercross series is almost upon us. If you enjoyed any of the first three, you'll know what to expect here: biking action across a series of supercross tracks. It's available on next-gen for the first time, too, so expect higher framerates and better visuals. You can read our preview here.
Buy Monster Energy Supercross 4 on Amazon
Mundaun
Release date: 16th March
Formats: PC, PS4, PS5, Xbox One, Xbox Series X/S
This hand-pencilled horror has us intrigued. Its striking art style is enough alone to capture our interest, but add in to the mix a promise of challenging puzzles, secrets to discover and scary encounters, and we're in. You can find out more by giving our hands-off preview a read.
Root Film
Release date: 26th March
Formats: Switch, PS4
We loved Root Letter, a visual novel that challenged players to solve a 15 year-old mystery. And so we're very excited for Root Film, the next game in the series that poses another conundrum for us to solve. This time, our protagonists discover that murders across numerous locations are perhaps linked to the TV show pilot they've just revived. Intriguing stuff!
Monster Hunter Rise
Release date: 26th March
Formats: Switch
Perhaps the most anticipated game of this month is Monster Hunter Rise, the next entry into the ever-popular Monster Hunter series. This one is Switch exclusive, though, so you'll be able to hunt those beasts on the go. Expect the usual Monster Hunter action; facing off against an array of deadly giant monsters, and the thrill of finally taking them down. We can't wait.
Buy Monster Hunter Rise on Amazon
It Takes Two
Release date: 26th March
Formats: PC, PS4, PS5, Xbox One, Xbox Series X
The next game from Hazelight, the studio behind A Way Out, It Takes Two follows in its predecessor's footsteps as a game that can only be played in co-op. But instead of escaping from prison, this time you play as one half of a couple navigating a weird and wonderful world while also struggling with their relationship. It looks adorable, fun and moving, and we can't wait to get our hands on it.
Balan Wonderworld
Release date: 26th March
Formats: PC, Switch, PS4, PS5, Xbox One, Xbox Series X
From Yuji Naka, famed for his work on the Sonic the Hedgehog series, comes Balan Wonderworld. A colourful 3D platformer, it lets you explore 12 dreamlike stages in which the costume you wear determines your abilities, and there are over 80 of them. Thanks to two-player local co-op, you can enjoy it with a friend or family member, too.
Buy Balan Wonderworld on Amazon
Games Getting a Next-Gen Update This Month: