Who says quiz games have to be dry and boring? Certainly not Old Apes, the developer of Papa's Quiz.
Yes, at the core of it, Papa's Quiz is a trivia party game. It asks you questions, and you answer them. The person that out-performs their competition by the end of game wins. It's as simple as that. But it's the wonderfully bizarre package that wraps up Papa's Quiz which makes it so lovable.
The slightly robotic-sounding Asian host, Papa, is joined by his assistant Montgomery – an actual robot – to present the quiz to a living room filled with players. You can play by yourself or with up to eight players. The more players present, the more fun you'll have – and, like Jackbox games, you don't need a controller for each player; your inputs to Papa's Quiz are done via your mobile phone. Simply navigate to 'papas.tv' on your browser, and you're ready to go. It's surprisingly responsive and incredibly easy to use.
Even if you don't particularly enjoy trivia games, I can guarantee you one thing: you'll never experience a character creator quite like Papa's Quiz. It's hilarious; finger-shaped characters can be dressed up in a variety of weird and wonderful costumes then given zany names from a word selector. Hearing Papa call out your new name – Sweet Nut or Fat Man, perhaps – is never not funny.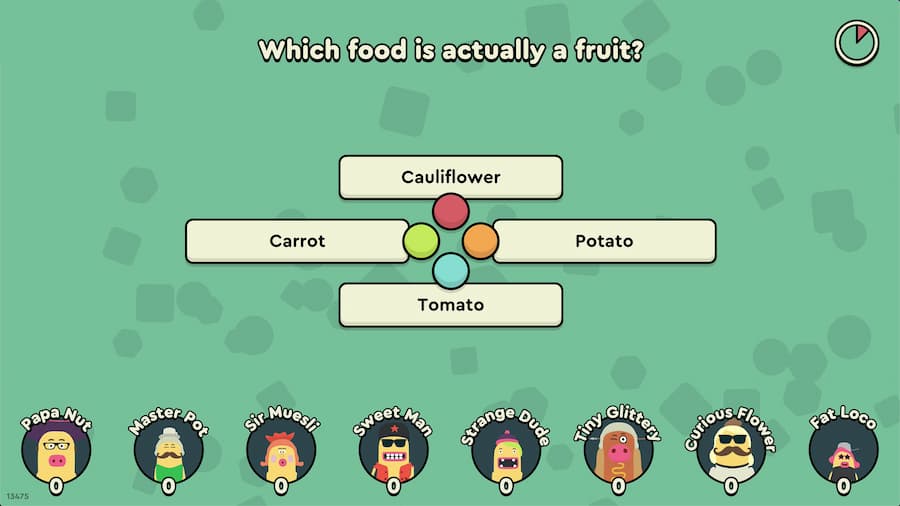 Between every round – unless you opt for the 'quick' mode, which strips out all extraneous content – Papa will instruct one player to stand up and do a dance. Your in-game avatar, I mean. You can do a dance in real life if you wish, but Papa's not going to know about it. There's a random choice of three, including such moves as 'Rodeo Rumble' or 'Shaky Shake'. It's completely pointless and silly – but silliness is the main order of the day in Papa's Quiz. And it really works.
The trivia game itself is rather enjoyable too, if not a little short and prescriptive. Each game is made up of five rounds, and those rounds are the same format every time. You'll begin with a trivia round, then a round that slowly reveals a picture to you. There's also a point-stealing round, and one where you'll need to push a button when the correct picture is on screen. It's always rounded up by 'Final Fight', a general knowledge quiz where all players compete against the clock.
It's a shame there aren't more round types, but there is a wide range of categories to choose from, with a random selection of four being presented each time. It could be something as wide as 'Food' or 'Games', or something more specific, like 'Sharks' or 'Fortnite'. It at least ensures that no two games are the same, and unless you play a lot of rounds, you're unlikely to find yourself answering the same questions again and again.
With a wonderfully silly presentation that won't fail to make you laugh, Papa's Quiz is a delightful take on the trivia genre. Winning comes secondary to having fun, and Papa's Quiz is certainly all about having fun. It's more entertaining the more players you have, and thanks to its intuitive mobile phone control system it's easy to get your friends in on the act.
---
Papa's Quiz Review: GameSpew's Score
Papa's Quiz is available on PC, PS4 and Xbox One. We reviewed the PS4 version of the game (played on PS5) with a code provided by the publisher.