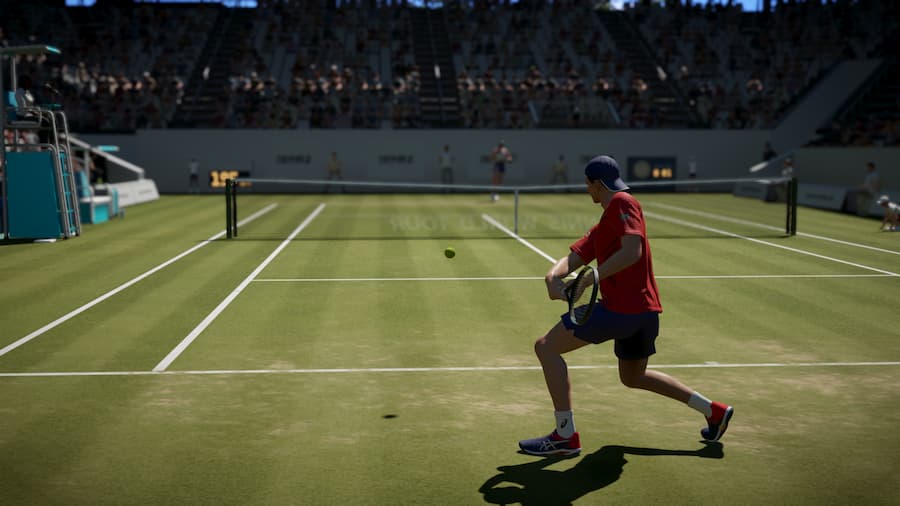 I really wasn't a fan of Tennis World Tour 2 when I played it on Xbox One X last September.
Awarding it a paltry score of just 4/10, I said that its "new timing-based shot system ruins what could have been a decent or even good tennis game". There were other issues too, such as card system that felt unnecessary and unwieldy to use, and erratic opponent AI. Now available on PS5 and Xbox Series X/S, however, I'm glad to report that Tennis World Tour 2 is no longer quite the dire experience that it once was.
On next-gen consoles, Tennis World Tour 2 benefits from all the enhancements you'd expect. Graphically it's still not going to impress you, but it does genuinely look better. Performance is also a little more solid, and loading times have been dramatically reduced. They all combine to make your time with the game that bit more immersive and enjoyable. It's the tweaks to how the game actually plays that now makes it worth a look if you're a tennis fan, however.
Its timing-based shot system appears to have been made more lenient, meaning it's now much less frustrating to play. It's much easier to return shots and, more importantly, direct them to specific areas of your opponent's side of the court. It's still easy to slip up in the heat of the moment, but on the whole the change is transformative. Venture into the game's career and simple things such as training sessions are no longer a struggle to complete unless you have the accuracy of a ninja.
Another important change is that you're no longer forced to use the game's card system in career mode. You're able to enable or disable it at the start of each season, and with it disabled I feel the game is much better. It lets you simply focus on the game of tennis at hand, without any boosters adding an extra layer of unpredictability. In conjunction with the tweaks made to the timing-based shot system, Tennis World Tour 2's career mode is now actually enjoyable from the outset. Previously, you had to torturously grind out some upgrades to make it even slightly bearable.
New content and features are to be found in the next-gen version of Tennis World Tour 2, too. As you make your through your career you'll now be able to take part in both official tournaments and doubles tournaments. And, essentially being the Complete Edition of the game, there are more real-life professionals to play as outside of the game's career mode, as well as additional stadiums, outfits and accessories. Even a new Champions Pack DLC is included, allowing players to finally take control of fan-favourites such as Andy Murray and Maria Sharapova.
There's are still some aspects of Tennis World Tour 2 that hold it back from being considered a "good" tennis game, however. Mechanically, it's still a bit hit and miss. Sometimes you'll get into a rally, and upon moving towards the ball and pressing a button to return it, your player will simply do nothing. More problematic, though, is the AI of your opponents. As before, it's still very erratic; in the early stages of your career they'll often pull off tremendous shots that you've got little chance of returning. But then they'll follow them up with stupid faults. Chances are you'll win most of your early matches thanks to faults rather than actually performing good shots yourself.
On the whole, there are enough changes for the better to elevate Tennis World Tour 2 from being a sub-par to a decent tennis game. Graphically it's still not going to wow players, and there's still some work to be done on the animation and AI side if Tennis World Tour 3 ever comes to fruition, but Tennis World Tour 2 is at least now somewhat enjoyable. Throw in a considerable amount of extra content and next-gen consoles not only now have their first tennis game, but also one that's worth considering.
---
Tennis World Tour 2 (PS5) Review: GameSpew's Score
Tennis World Tour 2 is available on PS4, PS5, Xbox One, Xbox Series X/S and PC. We reviewed the PS5 version with a code provided by the game's publisher.