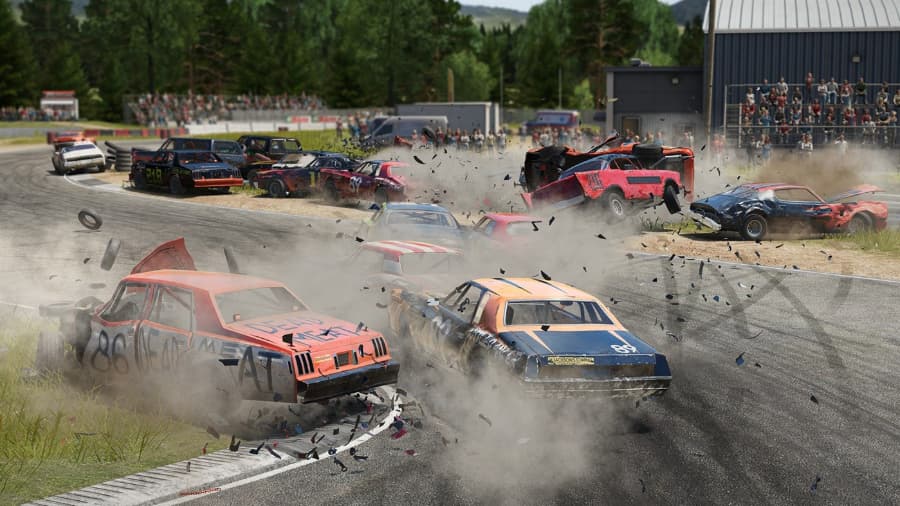 Wreckfest is absolutely brilliant.
Released on PC in 2018, then on PS4 and Xbox One in 2019, it appeals to those of us who like their racing action to be a bit rough. It's basically the modern day equivalent of Destruction Derby for those who remember the PlayStation classic. And it's developed by Bugbear Entertainment, creator of the FlatOut series. They did the first couple of games, which were absolutely brilliant.
A PS5 version of Wreckfest is set for launch on 1st June, featuring 60fps gameplay at up to 4K resolution. It will also benefit from enhanced visuals, shorter loading times and more, which should make it the best version available on consoles yet. And in an unexpected twist, PS Plus subscribers will be able to play it nearly a whole month before anyone has a chance to buy it.
The PS5 version of Wreckfest has been revealed as one of the games being offered to PS Plus subscribers this May. Anyone who owns a PS5 and has a valid PlayStation Plus subscription will be able to claim an enhanced copy of the game between 4th and 31st May then play it for free as long as their subscription is active. However: the official release date for the PS5 version of Wreckfest – i.e. the date it actually becomes available to buy – remains as the 1st June.
PS Plus subscribers, then, essentially have exclusive access to the PS5 version of Wreckfest for nearly a month. So, if you want to play it as soon as possible, you might want to consider subscribing. For those who don't mind waiting though, the PS5 version of Wreckfest will become available to purchase on 1st June, for the reasonable price of £34.99/$39.99. Those who own the PS4 version of the game can also upgrade to the enhanced PS5 version for just £9.99/$9.99.
Want to know more about Wreckfest? Check out our review of the Xbox One version, or watch the new PS5 trailer for the game at the bottom of this post. You can also pre-order a physical copy of Wreckfest for PS5 using the Amazon link below.