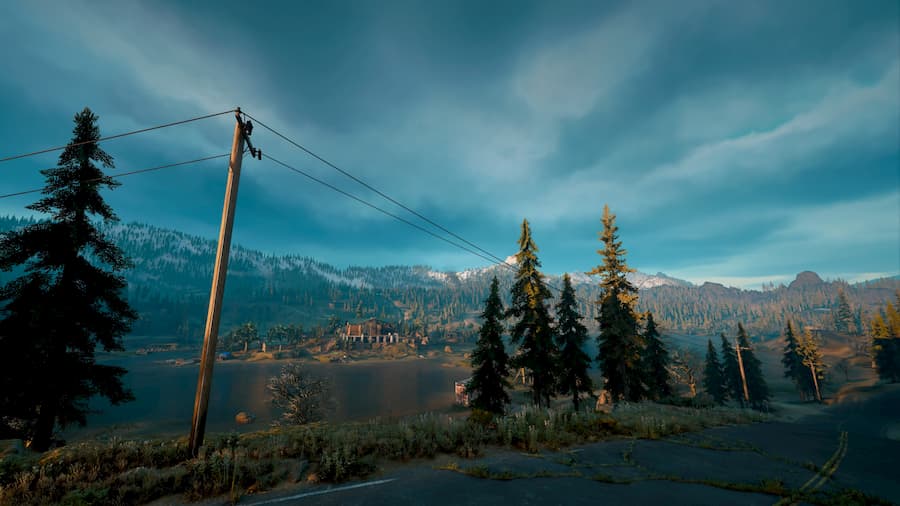 Two years after its initial release, Sony's previously PS4 exclusive apocalyptic adventure Days Gone is now available to play on PC.
I loved the game the first time around; my initial review gave it an 'outstanding' 9/10, saying "Don't write Days Gone off as 'just another generic open world game'; it's so much more than that". I still agree, though playing it again, perhaps under a slightly more critical lens than I possessed in 2019, it's harder to ignore its biggest problem.
It's unfortunate that the early hours of Days Gone are the weakest hours of the game. Deacon takes some warning up to, and many of the early missions can feel like busywork. You're also bombarded with too much information too soon. Go visit this outpost, make an alliance with that outpost, clear out this swarmer nest, power up this old NERO checkpoint. All the while you're overwhelmed with messages coming through on your walkie-talkie; Boozer-this, Radio Free Oregon-that. There's not a moment of peace and, with any meaningful narrative still a few hours away, it can be hard to find a reason to keep going.
Of course, having already played the game to completion back in 2019, I already know it's worth persevering with. Other than building on the relationship between Deacon and his brother Boozer, Days Gone's story takes some time to get going – but when it does, it's that which will keep you playing. Deacon's love for his wife, Sarah – who he believes is dead – forms the backbone for a story that's both gripping and emotional.
On the surface this might appear to be a game about surviving in the apocalypse, and while that's true, it's also one of the greatest love stories to be told in a video game. As gruff and emotionless as Deacon may appear in those first few hours, when you learn about his wife and their relationship, a new side of his character starts to emerge; a side that's much softer, more easy to relate to. To say much more about how Deacon and Sarah's relationship unfolds will spoil much of Days Gone's story, but through Deacon's hope and the flashbacks of their previous life together, it makes for a heartwarming story, perfectly juxtaposed against the hellish apocalypse you find yourself a part of.
And when you get into the groove of playing Days Gone, it's more than just the story that keeps you there. What at first felt overwhelming will eventually feel welcome; the map is peppered with optional objectives, so you're never far from something to do. Whether you're clearing out a nest of zombies by setting fire to them, or exploring an abandoned government outpost in the hope of finding a new upgrade, every side activity feels meaningful, even if they are slightly repetitive. It also helps that Days Gone's world is so beautifully realised. Yes, it's grim, often dark and depressing, but it's also a joy to explore. The wildlife, the green of the forest, the remains of survivor camps; it's all brought to life with incredible detail.
Of course, playing on PC, that detail is even more beautiful than ever. With an unlocked framerate, improved draw distances, up to 4K resolution and ultrawide monitor support, Days Gone's world can look better than ever – if your rig is up to it. There's a wealth of options available to allow you to tinker to get the perfect settings. On a RTX 3070 graphics card paired with a Ryzen 5 3600 processor, I was able to run the game with everything maxed out. 4K resolution was perfectly serviceable, but the framerate fluctuated at times between 50 and 60fps, causing a bit of stutter. At 1440p however, I was getting a consistent 100+ frames per second. And when 1440p upscales so well, it seems to be the optimal choice. It's a shame there's no DLSS support, as that would have no doubt helped when playing at 4K, but it's hardly a dealbreaker.
If you've already played Days Gone on PS4 or PS5, you won't get a great deal more out of the PC version. Yes, it looks noticeably better than it does on a base PS4, but compared to a PS4 Pro or PS5 it's not a night-and-day difference. There's nothing new here, either, though it does include all extra content added since launch, including the challenges mode and additional difficulty modes. They're all unlocked from the outset, too. But if you're an exclusive PC gamer and you're about to play Days Gone for the first time, you're in for a treat.
The PC version of Days Gone is a solid port of a great game. It doesn't go above and beyond by delivering anything extra, and some additional features such as DLSS support would have been nice, but as it is, it performs just fine. Stick with it past its mediocre first few hours, and Days Gone is an excellent open world adventure. Beautiful yet bleak in equal measure, its world is a pleasure to explore – and once it gets going, its story won't let you go.
---
Days Gone PC Review: GameSpew's Score

This review of Days Gone is based on the PC version of the game, played with a code provided by the publisher. It's available on PS4 and PC. For more information, read our original PS4 review by clicking here.