Zombies aside, how similar is Days Gone's virtual Oregon to the real thing?
Kevin McAllister, Bend Studio's Online Community Specialist, decided to find out. McAllister is a long time Days Gone fan who, after creating an online blog dedicated to the game and moderating Reddit's Days Gone community, graduated to working for the game's creators, Bend Studios.
He recently rode through Chemult, a town featured in the game and, having already taken a wealth of in-game shots, decided to capture some pictures of the real life town. He then posted the comparisons on Twitter and, as it turns out, the locations are near identical.
Its likely that Bend Studios originally went to Oregon and took some reference pictures, but it's still eye-opening to see the virtual locations in real life. The names of the locations are changed, so Chemult's "The Burger Stop" is "The Burger Mart" in-game, but you can quite clearly see it's the same building.
In fact, we're tempted to leap on a plane and drive over to Oregon just to check it out. Ever since reading Dave Gorman's America Unchained we've wanted to go on a road trip and, keeping away from big cities, just roam small town America. Still, there's always Google Maps.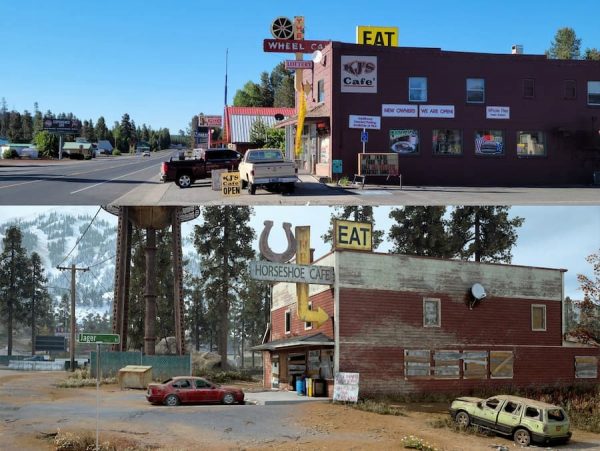 You can see Kevin's superb comparison shots on his Twitter account. Days Gone is available now for PC and Playstation 4. Check out our review of the PC version here.