It's been six years since the last mainline release in the Disgaea series, and with Disgaea 6: Defiance of Destiny, developer Nippon Ichi Software has taken the opportunity to change things up a little.
It's still a strategy RPG, but as always there's a whole new story featuring a colourful cast of characters. Disgaea 6: Defiance of Destiny introduces us to Zed, a zombie intent on defeating the God of Destruction. It is revealed that he has indeed completed the task at the start of the game, with you then playing through the events that lead to his victory. What may surprise you is that he dies plenty of times along the way, but thanks to his Super Reincarnation ability and sheer determination to succeed, he always comes back for more.
Of course, throughout his adventure Zed meets a range of other odd individuals, some of which will aid or even accompany him. Your team is generally padded out with characters created by you though. Returning Disgaea players will be disappointed to find that while there are some new character types available in Disgaea 6: Defiance of Destiny, such as Mecha Girl and Psychic, quite a few from previous games are absent. It's perhaps because of the move away from a traditional 2D sprites to 3D models.
On paper it sounds like blasphemy – the Disgaea series' 2D sprites have been charming players since the fantastic Hour of Darkness launched in 2003. When you start playing Disgaea 6: Defiance of Destiny, however, chances are you might begin to appreciate the change. Each character model has had a great amount of love poured into it for one, bringing the characters to life like never before. And while there's no lip-syncing, story scenes using in-game models are now more engaging. But there's a price to pay.
Two graphics modes are available on Switch: Quality and Performance. If you play Disgaea 6: Defiance of Destiny in handheld mode, Quality results in a game that looks great and plays rather well, while Performance makes the visuals a bit blurrier for the sake of extra smoothness. When you play docked, however, the framerate when using the Quality setting is atrocious. Needless to say, you'll be wanting to use the Performance setting when playing docked, then, but on a large screen the drop in resolution is even more noticeable. It feels like there should have been a nice compromise between the two.
Aside from the switch from 2D to 3D character models, there are some other significant changes, too. There's a new auto battle mode, for instance, allowing you to let the CPU fight for you. You'll not want to use it all the time, but it at least makes grinding a bit less of a tiresome task as you can just leave the AI to do the work for you. You also don't need to worry about healing outside of battle, as it's now done automatically for you. The Infirmary is still in the game though – it just now simply serves as a place to collect some rewards.
Other tweaks include monsters now being able to equip weapons like human units, and the removal of weapon skills. The level cap has also been increased to 99,999,999, allowing players to do damage in excess of 10,000,000,000,000,000. I don't even know what that number is. Inflated numbers are a theme of Disgaea 6: Defiance of Destiny, however, with characters capable of hitting for tens of thousands of damage right from the get-go, and gaining levels at an alarming rate. I believe by the end of the game's first chapter I was already level 100.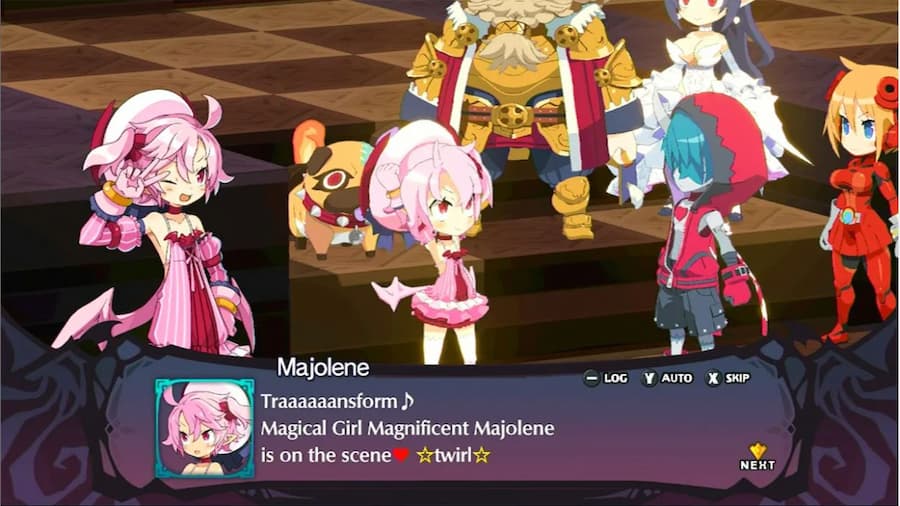 For the most part though, this is the Disgaea that fans have come to know and love; a strategy RPG that feels familiar but in a nice, reassuring way. There's an entertaining story to follow, which some players will complete then consider themselves done with the game. Others, however, will dive into it with both feet, spending copious amounts of time in the item world and using the Dark Assembly to tweak the game to their will. There are even cheats available to further modify certain aspects. You get out of Disgaea 6: Defiance of Destiny what you put into it.
It's easy to recommend Disgaea 6: Defiance of Destiny to series fans, especially if they plan on playing in handheld mode which alleviates most of the performance issues. Thanks to some efforts to streamline certain aspects of the game, and the new auto-battle mode, however, it also serves as a great entry point for those keen to find out what the fuss is all about. It may not have the best story in the series, and some gameplay changes might not seem so favourable, but overall Disgaea 6: Defiance of Destiny continues the series' legacy of providing enjoyable strategy gameplay alongside plenty of laughs.
---
Disgaea 6: Defiance of Destiny Review: GameSpew's Score

Disgaea 6: Defiance of Destiny is available on Nintendo Switch. Code was provided by the game's publisher to facilitate this review.