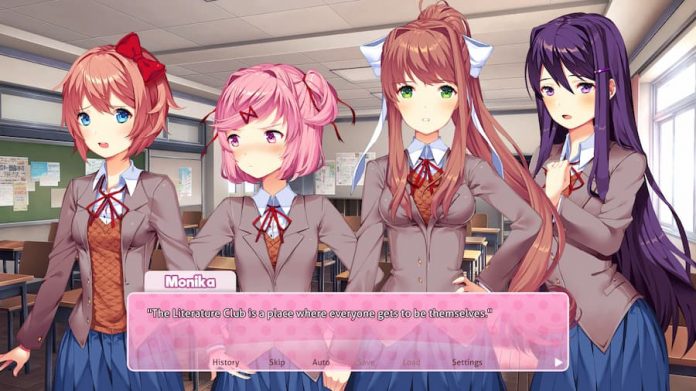 You get the most out of Doki Doki Literature Club Plus! if you go into it knowing as little as possible.
To that end, if you're a fan of visual novels, have the stomach to deal with disturbing images, and aren't sensitive to issues such as depression and anxiety, do yourself a favour and stop reading this review right now, pick the game up and enjoy the roller coaster ride that it takes you on. If you need more convincing before you splash your cash on Doki Doki Literature Club Plus!, then read on.
Like many visual novels, Doki Doki Literature Club Plus! is all about wooing the ladies. Or at least, it is on the surface. Playing as an ordinary boy, you agree to join a literature club after being dragged there by your childhood friend – a passionate girl called Sayori. You aren't a fan of literature at all, but after meeting the other members of the club – just three attractive girls – you decide that there's worse ways to spend your time.
Monika is the leader of the club, a seemingly level-headed person who's confident and wants to make the club a success. Then there's Yuri, a quiet but very intelligent girl who's also somewhat of an enigma. And finally there's Natsuki, a girl who's brash on the outside but a bit of a softy when you get to know her better. All of them, as well as Sayori, will vie for your attention, and who you choose as a potential partner will direct where the story goes.
Being a visual novel, you don't do much else other than read and tap a button to proceed in Doki Doki Literature Club Plus!. As visuals novels go, however, this is more accessible than most due to being fairly short; it's the perfect game with which to dip your toes into the visual novel waters, so to speak. Also, as you'll find if you do decide to play Doki Doki Literature Club Plus!, after an hour or two the tone of the game totally changes, and suddenly you're compelled to see it through to its end.
With the events of the game spread over numerous days, you'll initially be attending the literature club, interacting with its members, and then going home to prepare a poem to share the next day. Don't worry though; you don't have to actually put together a poem – you simply choose 20 words that determine its theme. The words you choose each resonate with one of the girls in particular, so if you want to woo Natsuki, for example, you'll be wanting to choose the ones that sound cute. Then, back at the club, your poem might result in you sharing more time with Natsuki.
Things take a turn for the worse when the girls decide to organise an event, and it's up to you who you help with their preparations. Needless to say, you probably won't be prepared for what follows, and things just get stranger and more disturbing from there. Put it this way: the saying 'never judge a book by its cover' also applies to people, and Doki Doki Literature Club Plus! demonstrates it with aplomb. Each of these girls has some very real issues that they all try to hide.
Eventually, Doki Doki Literature Club Plus! even breaks the fourth wall, bringing you personally into the story. It's the kind of move that's a double-edged sword; on the one hand it's clever and a neat way to bring the story to a close, but on the other, it detracts from the serious issues that the game raises. Still, as the credits roll, you can't help but be left impressed – and weirded out – by what you've just experienced.
With Doki Doki Literature Club! being a game originally launched for free on PC back in 2017, this updated Plus! release undergone a visual upgrade, and has additional content and features to make a price being stuck on it seem fair. Also, it's the first time the game has been made available on consoles, allowing it to reach a wider audience. Extras include six additional side stories to unlock, each letting you get to know the game's girls a little bit better; over 100 pieces of unlockable art; and a built-in music player that allows you to enjoy 26 music tracks, 13 of which are new to this release.
Doki Doki Literature Club Plus!'s additional content, its side stories in particular, will no doubt be a great attraction to those who are already fans of the game. They're worth playing through, too, as they really flesh out its characters. Thanks to being available on more formats, however, it's those that have never experienced the game before that will reap the most benefit out of it. It's a game that subverts expectations to great effect, though unfortunately that means its first couple of hours do play into typical dating visual novel tropes.
If you're a visual novel fan, or at least open to them, you should definitely give Doki Doki Literature Club Plus! a try. What initially seems like a fairly run-of-the-mill dating visual novel soon takes a turn, and from there you're left on the edge of your seat, wondering what's going to happen next. It won't be for everyone thanks to its subject matter and the fact that it is indeed a visual novel, but those who do venture out of their comfort zones and see it through to its end will no doubt find it to be a memorable experience.
---
Doki Doki Literature Club Plus! Review: GameSpew's Score

This review of Doki Doki Literature Club Plus! is based on the PS5 version of the game, with a code provided by its publisher. It's available on PS4, PS5, Xbox One, Xbox Series X/S, Switch and PC.