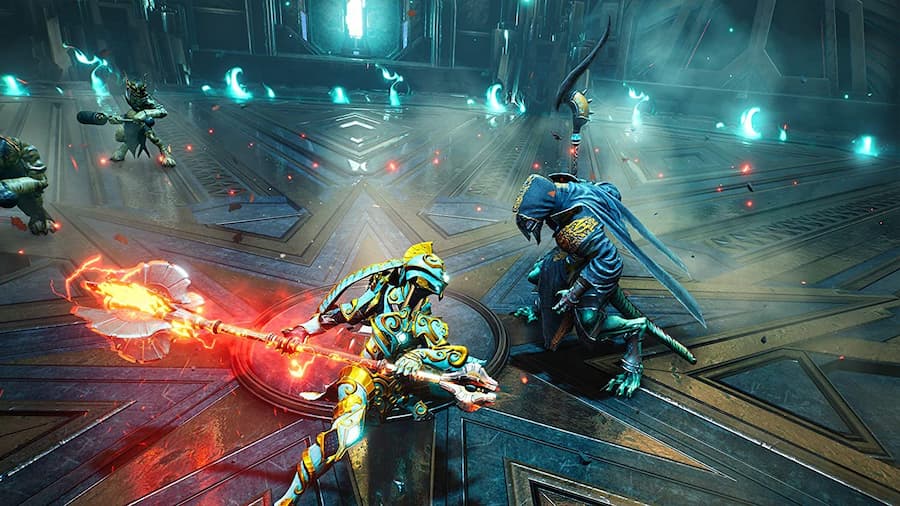 Godfall is coming to the Playstation 4, along with new paid and free content.
No, that's not a mistake. Every week there's news of a Playstation 4 or Xbox One title getting a free next gen upgrade, but Godfall's case it's getting a last-gen downgrade. As announced by Gearbox at their E3 showcase, Godfall, once a Playstation 5 only title, will be coming to the PS4.
They're not specified how the action-RPG's PS4 incarnation will differ from the PS5 version; we're expecting 1080p textures and a lower framerate, but it will open the game up to a wider audience. Those who purchase the PS4 version will get a free upgrade to the PS5 version though we doubt the reverse will apply.
The PS4 version of Godfall will be launched alongside two pieces of content. The first, Lightbringer, is a free update, while Fire & Darkness is a paid chunk of downloadable content. The latter will feature new enemies, a new realm, new loot and more.
We don't anticipate a wave of Playstation 5 titles following suit, but it's curious to see Godfall take a step back. It's received mixed reviews and it may be that Gearbox is hoping it'll find a wider audience on the PS4. Both the Playstation 4 version and the new content will launch this August 10th.
See all our E3 2021 and Summer Game Fest coverage by clicking here.