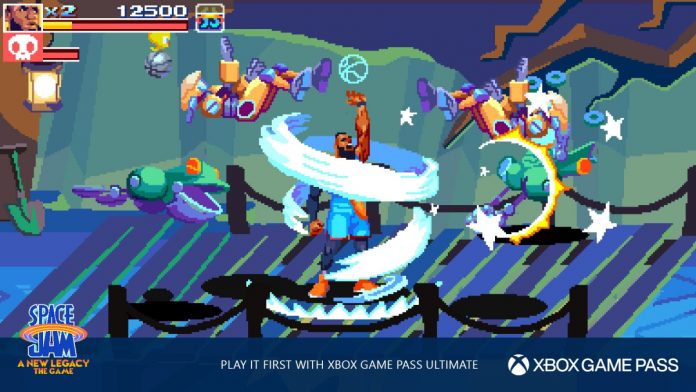 Space Jam: A New Legacy, the sequel to 1996's sports comedy Space Jam, is becoming a free-to-play Xbox Game.
If we're honest, we're having a tough time wrapping our heads around this upcoming movie and the fact it's becoming a game is only causing us more confusion. No, we're not talking about twenty-five year gap between the original Space Jam, nor are we irrationally offended by a fictional rabbit's design change.
What's making our brains hurt that, as driven home by Space Jam: A New Legacy – The Game's announcement, is that Bugs Bunny and friends are the Looney Tunes, or the "Tune Squad". We could have sworn it was Looney Toons, and always has been. What's going on? Are we going to open a window and see Nelson Mandela running around with C3PO's silver leg?
We may never reconcile that brain-wrong, but we can tell you that Space Jam: A New Legacy – The Game is a basketball beat-em-up that sees Bugs Bunny, Lola Bunny and LeBron James taking on a rogue AI. Microsoft have yet to specify how many players it will support but given that there's three characters and they're also promoting a set of three special Space Jam controllers, three players seems like a reasonable bet.
The game does, in fact, have some usual roots. Microsoft had a competition, inviting would-be game designers to submit their ideas for a Space Jam arcade-style title. Space Jam: A New Legacy – The Game draws upon ideas from two winners, Narayan from India and Ricky from the United States. It's being developed by Digital Eclipse who have been responsible for bringing a range of retro and retro-style games to current platforms, including the Street Fighter 30th Anniversary Collection.
It's also free-to-play which, normally, means a game is crammed with microtransactions but going from what we've seen so far we suspect it's just going to be free, full stop. Why? Because there's not only is this an Xbox console exclusive, it's a timed Xbox Game Pass Ultimate exclusive. It wouldn't much of a "perk" to launch Space Jam and find it's trying to empty your wallet.
Space Jam: A New Legacy – The Game will launch this July 1st at which point it'll be available for two weeks to anyone with an Xbox One, Xbox Series S/X or a Windows 10 PC. Then, from July 15th, it'll be free to play on the Xbox and, through the Microsoft Store, on Windows 10 PCs.