Gaming is an expensive hobby, isn't it?
That's the perception, at least. But in reality, it doesn't have to be. Big releases are often heavily discounted within weeks or months; and services like Xbox Games Pass means you can play tonnes of games for a minimal monthly fee. But if you don't want to pay anything for your games, there are options for you too.
Believe it or not, Xbox One has 50+ games that can be downloaded and played, absolutely free. Some of them are online-focused, meaning you'll need an active Xbox Live Gold subscription, however. And some have optional in-game purchases – but you don't need to buy anything to enjoy everything the games have to offer.
We've rounded up 10 of the best free games on Xbox One. Give them a download and see what you think. After all, they don't cost anything to try!
Path of Exile
Here at GameSpew we absolutely love Diablo. While Diablo costs money to buy, however, you can have a very similar experience for free thanks to Path of Exile.
Path of Exile is a brilliant free-to-play action RPG that allows you to explore, loot and level up your character at your leisure. Whether playing alone or in co-op, you can tackle a huge number of quests while following the game's story.
If you'd like to give the developer some money for this fantastic piece of work you can purchase equipment or extra stash space on the Xbox store, but otherwise Path of Exile really is a free game. In fact, it might just be the best free game you can play on Xbox One.
Crossout
If you've ever wanted to live out a Mad Max fantasy, Crossout is the game to do it with.
Crossout lets you build your own vehicle of war – your own Magnum Opus, if you will – and use it to do battle in both PvE and PvP events. As you play, you earn the respect of your faction as well as new vehicle parts and scrap that can be used to make purchases.
There are a number of DLC packs you can buy to give you a head start in Crossout, but you really don't need buy any of them to have fun. If you've not tried it yet give it a go. Crossout is one of the best free-to-play games available on Xbox One.
Fallout Shelter
Originally released on iOS and Android, Fallout Shelter is a 2D management game set in the Fallout universe that is absolutely free.
In Fallout Shelter, you play as an Overseer of a vault where people live after an apocalyptic nuclear war. These vaults protect their inhabitants from the harsh radiation and monsters living on the new dry Earth. As the Overseer, it's your job to expand the vault and keep everything running like clockwork.
Things start out fairly relaxed, but give it time and your Overseer duties will have you run off your feet. It's fun though, and terribly addictive, making Fallout Shelter a great game to download for absolutely free.
Fortnite
Presumably Fortnite needs no introduction; since its release in 2017, it quickly became one of the most popular games in the world. Originally, the free-to-play part started off as a separate element of a paid game, distinguished as Fortnite Battle Royale, but now it's simply Fortnite, and it's all free.
It's essentially a more colourful and playful PlayerUnknown's Battlegrounds, but it runs better and is a lot more fun to play. Providing you enjoy multiplayer games, that is.
If tense multiplayer battles where danger lurks around every corner are your thing, you should probably give Fortnite a try. It's definitely one of the best free games you'll play on Xbox One.
Gems of War
Gems of War is a free-to-play gem matching puzzle game from the creators of Puzzle Quest.
RPG and strategy game elements ensure that Gems of War has considerable depth as you travel around a map, completing quests and gaining new troops and weapons as you go. And when playing against the computer gets a little stale you can try taking on real opponents too.
Like many other games on this list, you can spend real money on booster packs, but it's not necessary. We've spent many hours thoroughly enjoying ourselves with Gems of War, and for free, we're sure you will too.
A King's Tale: Final Fantasy XV
Remember games like Streets of Rage, Final Fight and Golden Axe? A King's Tale: Final Fantasy XV is just like them, only not quite as good. But it's free, so we're not going to complain.
A King's Tale: Final Fantasy XV places you in the shoes of King Regis, Noctis' father, and is set 30 years before the events of Final Fantasy XV. Essentially an over-the-top bedtime story, it has you hacking and slashing a ridiculous number of enemies as you hurry to meet up with King Regis' friends and seek to discover the reason behind a surprise enemy attack.
Pixelated graphics, an old fashioned soundtrack and repetitive gameplay collide in this free-to-play Xbox One game set in the Final Fantasy XV universe, but it still manages to be rather entertaining, somehow.
Neverwinter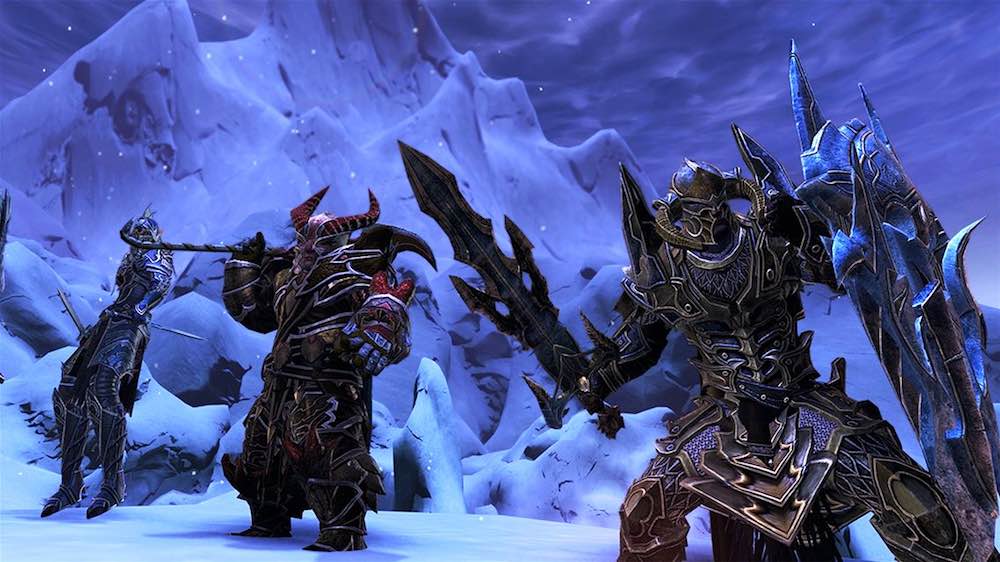 Featuring fast-paced combat and a whole lot of dungeons to explore, Neverwinter is one of the finest massively multiplayer online RPGs on Xbox One. Oh, and it also happens to be free-to-play.
Set in the Dungeons & Dragons universe, you're free to create your own character from a combination of races and classes before embarking on your epic adventure. And it's an experience that's made all the better when you have the company of your friends.
Expanded with new content over the last few years, Neverwinter is one of the best free-to-play Xbox One games worthy of your time.
Phantom Dust
Originally released on the OG Xbox, Phantom Dust has been enhanced for Xbox One and made available for free on the Xbox store.
An interesting mixture of third-person arena-based combat and collectable card game, most of your time playing Phantom Dust will be spent collecting skills and improving your powers. But that's no bad thing. There's a reason why Phantom Dust has been remastered for Xbox One; because it's great fun to play.
Featuring a 15-hour solo campaign for you to play through as well as online multiplayer options, Phantom Dust is up there with the best when it come to free games available on the Xbox One.
Warframe
One of the most popular free-to-play games available right now, Warframe is a third-person shooter that allows you to go it alone or team up with up to three friends in co-op.
Since launch, the game has constantly been supported with free upgrades and new content. That means there's plenty to stick your teeth into without ever having to pay a penny. Not only that, but it's bloody good too.
While there's plenty of paid-for content to supplement your Warframe experience, you don't need to buy any of it to enjoy the game. It'll just take you longer to unlock stuff, that's all.
World of Tanks
As one of the world's most popular free-to-play games, does World of Tanks really need an introduction?
If you fancy engaging in tank battles with other players from around the world, then World of Tanks is the game for you. While there's a range of premium packs available to buy on the Store, they really are optional.
It's not the most welcoming game for new players, but World of Tanks is still worth spending some time with to find out if you dig it. Give it some time to learn the game's intricacies and you'll soon be having fun. After all, being in charge of a hulking tank really is exhilarating.