For a long time most superhero video games were, to put it bluntly, a bit shit.
It was an endless procession of reskinned side-scrolling action games, with the odd ineptly executed platformer thrown in. At some point, two things changed. One, games consoles became more powerful; allowing developers to create believable worlds where players could conceivably fly faster than a speeding bullet. And two, a new generation of filmmakers ploughed millions of dollars into making superhero movies that were, you know, actually good. This made the entire genre cool (and lucrative) in a way it never was before.
Fast forward to now and we're in the privileged position where there are a whole bunch of games that make us feel superhuman. There are a lot of games that let us live out our childhood fantasies, but here are our favourites. Click on through to see the five best superhero games on PS4.
Marvel's Spider-Man
A PS4 exclusive, Marvel's Spider-Man gives gamers the chance to do whatever a spider-man can. Superhero games don't come much better than this. You'll swing from web to web in a detailed and vibrant recreation of New York City. As you engage in a well-written narrative, you'll complete numerous quests and fight the likes of Rhino, Doc Ock and the mysterious Mr Negative.
It has a great combat system, an exciting plot and memorable characters. But what developer Insomniac really nailed is the web swinging. There are very few games that make simply getting around quite so much fun; but in Spider-Man, it's a real joy. Going from one mission to another is fluid and acrobatic, and it's these moments that you really do feel like a superhero.
And if one dose of Spider-Man simply isn't enough for you, you can dive into the standalone expansion, Spider-Man: Miles Morales. Is it better than Spider-Man? It's hard to say – but it's certainly just as much fun.
Batman: Return to Arkham
Released in 2009, Arkham Asylum was arguably the birth of the modern superhero game. British developer Rocksteady went bigger in both Arkham City and Arkham Knight, but tight narrative and steady pacing of Arkham Asylum is unbeatable. Despite being developed for PS3 and Xbox 360, the game is available on PS4 as part of the Return to Arkham collection.
The story here is classic Batman, with the caped crusader trapped inside the notorious super prison and forced to fight his way out. He's placed in that compromising scenario by Mark Hamill's Joker, one of the all-time great videogame villains; a psychotic whirling dervish that's equal parts playful and deadly.
Arkham Asylum also marked the debut of a fantastic combat system that's since influenced pretty much every AAA action game that's followed; a fluid, rhythm-based mechanic that incorporates gadgets, kicks, punches and those all-important counters to beautifully replicate Batman's ferocious offence. Batman: Arkham Asylum is without a doubt one of the best superhero games on PS4; it's a true classic.
Read our review of Batman: Return to Arkham
Injustice 2
Giving NetherRealm Studios, the developer behind the Mortal Kombat, the keys to the DC universe was a weird, but wonderful idea. The Injustice series sees assorted DC superheroes and villains slapping seven shades out of each other in a Mortal Kombat-style beat 'em up; and it works incredibly well. The concept was established in the first Injustice, but Injustice 2 turns everything up to 11.
It's a beautiful, hyperkinetic explosion of OTT violence. Where else can you see Superman, Batman, Green Arrow and countless others knocking their foes through walls and windows? Stages are multi-level, so punching Catwoman off a precarious platform will see her tumble to an whole new area of the stage. Injustice 2's super moves are its true highlight, though; they involve vehicles, spaceships, robots and all sorts of craziness. It's also one of the simpler beat-em-ups to learn, making it the perfect choice for a quick virtual scrap with your mates. Bare-knuckle fisticuffs might not exactly be in the true superhero spirit, but Injustice 2 is still one of the best superhero games on PS4.
Read our review of Injustice 2
Infamous: Second Son
Infamous: Second Son is arguably the single best superhero game on PS4 – despite not featuring a 'famous' superhero. You play as part Native American punk Delsin Rowe, whose petty teenage rebellion is interrupted by his acquisition of mutant superpowers. As such, he finds himself being targeted by the anti-mutant government army known as the D.U.P.
What makes Infamous: Second Son so much fun is the fact that as you progress, you'll absorb different powers. By the end, you'll be able to basically fly, run up walls as a neon blur, and summon creatures to fight on your behalf. It's a great game, brimming with wonderful ideas. If you love superheroes, it's a definite must-play.
Megaton Rainfall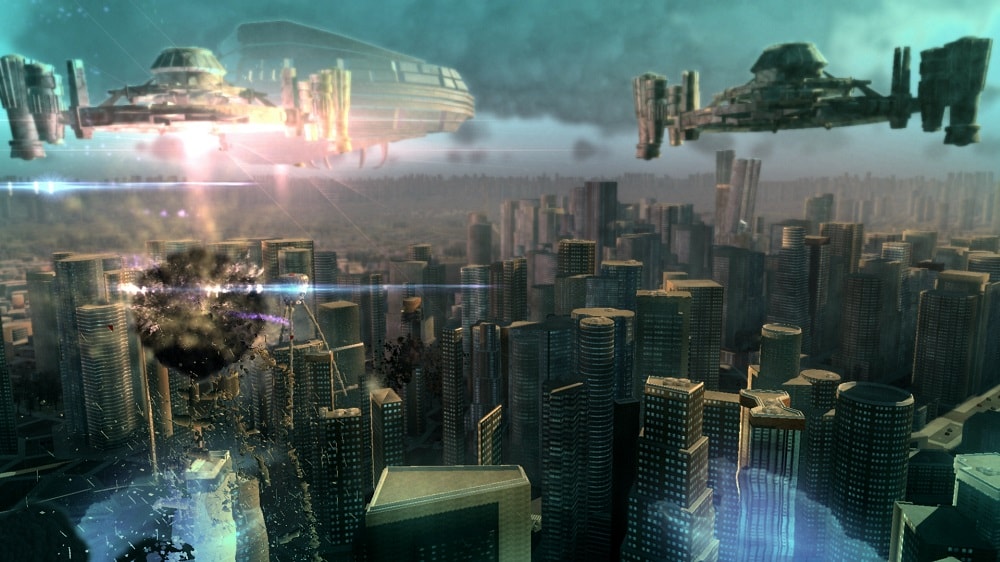 There's every chance that you won't have heard of Megaton Rainfall, but this independent Spanish title is the closest you'll get to being Superman without being born on Krypton. Played in first person, you fly across forests and deserts, plunge into oceans and zoom to other planets at a startling, dizzying speed; fast enough to really make you feel like the Man of Steel.
Your mission in Megaton Rainfall is to protect a planet under attack, using energy blasts to destroy missiles that are raining down. This part is easy, but your success or failure is based on how many lives are lost. You may be basically invulnerable but the same can't be said of those tiny citizens far below. And if you really want to get lost in the fantasy offered by this superhero game, you can even play in VR.