Hot on the heels of Wrath of the Druids, the first expansion for Assassin's Creed Valhalla, is the second, The Siege of Paris.
Taking inspiration from real historic events, The Siege of Paris finds Eivor travelling to Francia in order to secure the future of her clan. You see, the kingdom of Francia has been unified under one ruler for the first time in a hundred years. That doesn't sound bad in itself, but the ruler in charge, Charles the Fat, has been waging war on the Norse. Once he's driven them out of Francia, could England be next? Eivor doesn't want to chance it.
Like Wrath of the Druids, you don't need to have completed the main story of Assassin's Creed Valhalla to access The Siege of Paris. Instead, it becomes available rather quickly after you've settled in England, though it's recommended you have a power level of 200 to tackle it. Start the new questline and you'll find yourself in Francia in no time, though the scenery isn't all that different from what you're already used to. It is perhaps a little more picturesque, what with its colourful flowers and more affluent towns, but for the most part it's just more countryside.
What perhaps might surprise you is that the map for The Siege of Paris is somewhat smaller than that of Wrath of the Druids. It's nothing to be alarmed by, however; it simply means the action is more focused and concise. The Siege of Paris feels less like an exercise in ticking menial tasks off a list. You don't need to capture outposts and collect materials to develop a town, or complete requests to further the story. There's less friction as you move through it, allowing you to enjoy your journey in Francia at your own pace.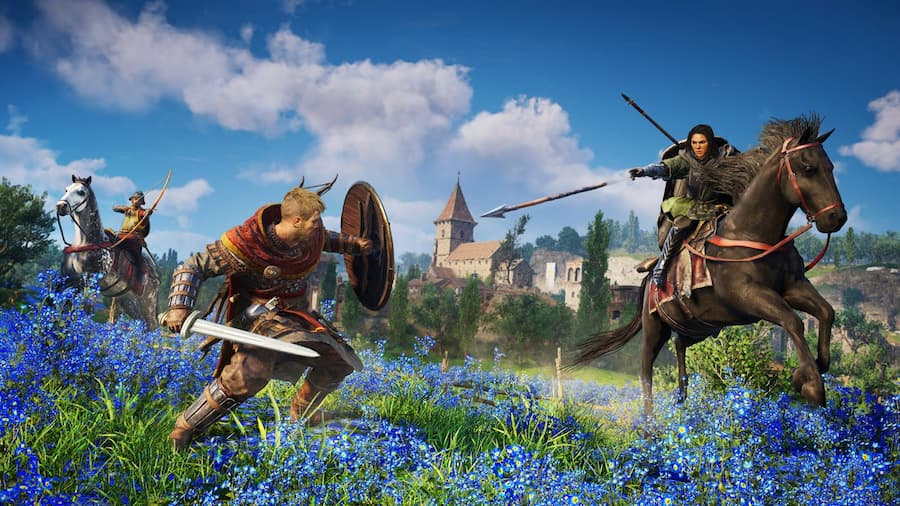 Even better, the story at the heart of The Siege of Paris is simply more engaging than that of Wrath of the Druids. It feels like there's more at stake, and Eivor has to do some real soul-searching. It also presents one of the most interesting Assassin's Creed villains in a long while, along with a bunch of henchmen. Needless to say, by the time the DLC is done, it will feel like Eivor has grown somewhat.
Perhaps what's most notable about The Siege of Paris is that in a nod back to earlier entries in the series, it presents players with multiple meaningful assassination missions. With targets hidden away in locations such as villas, churches and underground lairs, it's up to Eivor to find a way to gain access to them, before making a final decisive move. Some players may want to follow up on leads, revealing information on hidden tunnels, passwords or keys that will get them closer to their targets undetected. Others may just want to brute force their way in. Either way, it's nice to be given a choice, and it brings social engineering and stealth more to the forefront which many will appreciate.
Those who charge straight through The Siege of Paris' story may find themselves done with it in around ten hours. There's plenty more to do in Francia, however. Along with yet more wealth to be collected and mysteries to be solved, there are many Rebel missions to undertake, which see you accompanied by friendly units. Increase your Infamy level by completing them, and you'll unlock new items to purchase. There are some secrets left by the Hidden Ones to find as well.
In many ways, Assassin's Creed Valhalla: The Siege of Paris feels like the Assassin's Creed of old. A smaller affair with a story that actually feels like it has stakes, its characters are interesting and a little more fleshed out in some cases, making the twists it sends your way more impactful. Throw in the engaging assassination missions, and you have a brilliant piece of DLC that's not to be missed. If you own a copy of Assassin's Creed Valhalla, you owe it to yourself to play The Siege of Paris.
---
Assassin's Creed Valhalla: The Siege of Paris DLC Review: GameSpew's Score

This review of Assassin's Creed Valhalla: The Siege of Paris DLC is based on the PS5 version, with a code provided by the game's publisher. It's available on PS4, PS5, Xbox One, Xbox Series X/S and PC.