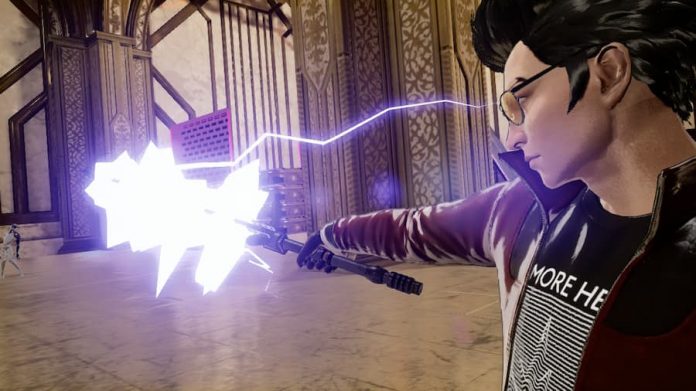 The game doesn't explain it very well, but No More Heroes 3 features a Death Glove system that allows you to tweak Travis' abilities somewhat.
You're able to start using the Death Glove system of No More Heroes 3 a little way into the game, once you've unlocked the option to travel down the pole in Travis' room back at the motel in Santa Destroy. Simply travel down the pole into Dr. Naomi's lab to get started.
Once you're in Dr. Naomi's lab, find and interact with the supercomputer and you'll be presented with the option to either equip or create Death Glove chips, which provide a range of effects. One chip makes you take more damage while increasing your attack power by a higher amount, for example, and you can stack them to increase the effect. Another makes collectibles easier to find out in the open world. Simply craft the chips that sound useful to you, and then equip up to three of them to complement your playstyle.
To craft chips, however, you need junk for raw materials, and UtopiCoins to pay for development costs. Junk is dropped by enemies and earned by completing missions – try to get higher grades for better junk. There's a device in Dr. Naomi's lab that lets you replay completed ranked battles which is useful for that. UtopiCoins, on the other hand, can easily be earned throughout the game. Keep checking back at the supercomputer, too, as more chips become available to craft as you play through No More Heroes 3.
Need more help with No More Heroes 3? Click here for the rest of our guides