So, you've got a PS5. The next thing you might want is a fancy custom controller to go with it.
Enter Mega Modz, a company that will let you design your very own custom PS5 DualSense controller and then ship it to you. If you want to get ahead of the competition they'll mod it for you, too, providing a wealth of benefits in titles such as Call of Duty: Modern Warfare. Just be aware that it's not cheap.
We've grown quite fond of fancy controllers over the years, thanks to Microsoft's very own Elite controller and other companies getting into the premium market. We play a lot of games for long periods of time, after all – why not have the comfort of something special, along with added durability? Of course, Sony doesn't offer its own Elite controller competitor yet, and so it falls to third party companies such as Mega Modz to offer something that's out of the ordinary. And the results can be pretty impressive.
Going through the options on the Mega Modz website, we put together a PS5 DualSense controller that was mostly what they call 'Vampiric Red' in colour. That essentially means our controller came with a metallic red back, trim, and buttons. For the main body we choose the option called 'Joker' – you can probably guess what that entails. His laughing face is emblazoned on the left handgrip, his maniacal laughter on the right. Underneath it all is a neat black and white checkerboard design that would normally be on the touchpad, too, but we also chose to have that in Vampiric Red. Overall, it looks snazzy in our opinion.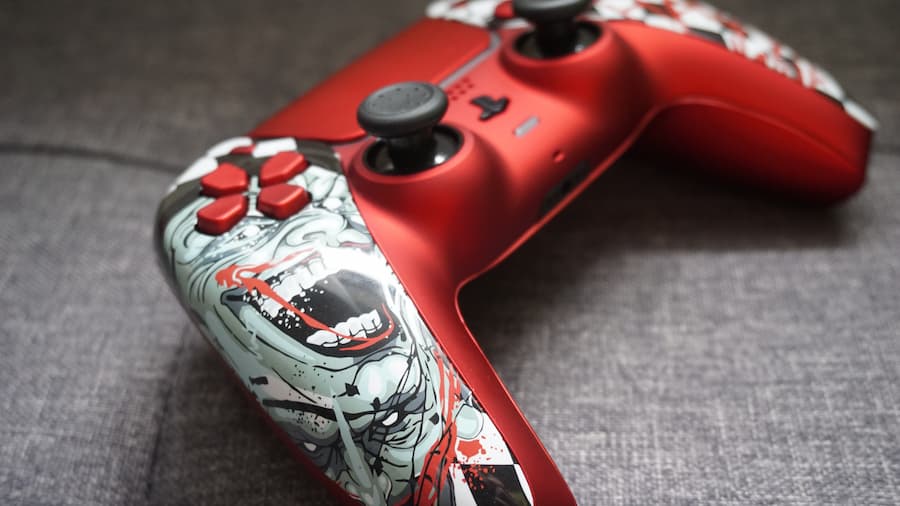 Your controller could be very different, however. There are nine colour options for the body alone, for example, as well as 12 custom designs like Joker. You could go for an antique wood look, or be inspired by traditional Japanese art. The trim, back and buttons can all be individually coloured, too, allowing for a hundreds, if not thousands, of permutations. The texture of the back can even be defined. You're in control, though every option has a cost.
When it comes to other options, we went with interchangeable thumbsticks. That means our controller came with a range of thumbsticks of multiple lengths that we can attach and remove at our leisure. They range from 11mm to 17mm, with the taller ones allowing for a bit more accuracy when it comes to aiming. Opt for non-interchangeable thumbsticks and not only will your controller be cheaper, but you can have them fully coloured, too.
Then there are the mods. If you're a keen Call of Duty player, there are wide range available each offering a tangible benefit in combat. One of them makes sprinting easier, for example, while another shoots both handguns at once when dual-wielding. Chances are many of them will work in other first-person shooters, too. We don't condone them, but if you want to pay for them that's up to you. There's even a Juggernaut Package that bundles up 12 pre-selected mods at a reduced price.
At least wanting to test the mod options, we went with rapid fire. That means our controller has a tiny button on the right handgrip, as well as four small LEDS on the top. By holding the small button and pressing the right trigger we can instantly enable rapid fire, useful for reducing recoil in first-person shooters. It could also prove to be quite handy in other games where you need to press a button quickly. The rapid fire function even has numerous modes, allowing you to define how many times the button is pressed in a second, and easily enable and disable it by quickly double-tapping the Triangle button. That's particularly handy when you have an automatic and a non-automatic weapon equipped.
If you do opt for Rapid Fire, just be aware that it locks out the option to have mechanical triggers. With mechanical triggers, there's much less travel distance – 0.5mm vs 1.2mm for L1/R1, and 2mm vs 7mm for L2/R2. That means you have much faster input and response times. Just be aware that it probably results in you sacrificing the adaptive trigger features of the DualSense though. In racing games you'll find it much harder to feather the throttle, and games like Returnal where you need to pull the trigger halfway or completely for different fire modes may not work correctly. Since receiving our controller, a new option for mechanical face buttons has also been added. That shouldn't have any drawbacks if you go for it.
So, should you buy a custom PS5 controller by Mega Modz? If you have the money to spare and want a controller that's a little different, we say go for it. It's certainly not cheap – just customising the colour of your controller is likely to result in something that costs $150 or more, while adding mods and interchangeable thumbsticks will probably take that price above $200. The finished product, however, is something that's yours, that feels expertly put together, and feels that bit more premium.
The standard DualSense controller is fine, but when we pick up our Mega Modz controller its soft, velvety rear caresses our hand, and it just looks stunning. That fact that we can take off the thumbsticks and replace them with others depending on the game we're playing, as well as the option of rapid fire are just the icing on the cake. They're not necessary, sure, but they're nice. Needless to say, a Mega Modz PS5 custom controller is a luxury, but if you're open to treating yourself, chances are you won't be disappointed.
A Mega Mods PS5 custom controller was provided by Mega Modz to facilitate this review. You can customise your own controller right here.