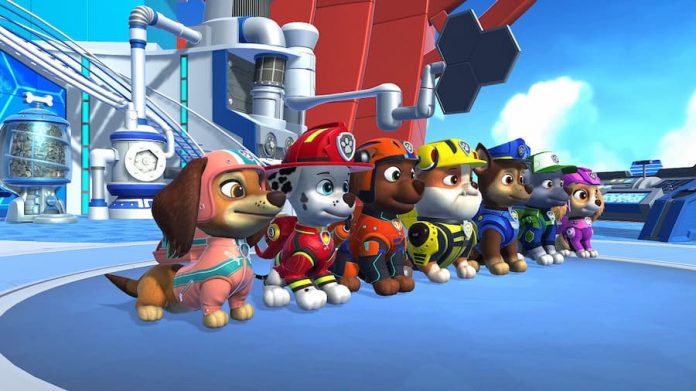 If you have a child under six years of age – heck, if you even know a child under six years of age – there's a chance you'll have been subjected to Paw Patrol at some point in your life.
An international phenomenon, this bright-and-happy children's cartoon focuses around a band of dogs and their boy-human leader Ryder – together, the Paw Patrol – as they solve a bunch of small-time mysteries and problems in their home town.
Hitting the silver screen, Paw Patrol: The Movie sees the pups leave the comfort of their small, scenic town of Adventure Bay and head for the big city. And although Paw Patrol The Movie: Adventure City Calls is clearly made as a tie-in to the cinema release, the game and film share little in common other than their core characters and settings. It doesn't rehash the movie's narrative; instead, it has eight of its own simple missions for players to complete, each seeing them tackle a problem around Adventure City.
Related: The Best Games for Kids on PS4
Developer Drakhar Studio has done a great job in delivering a game that hits its core audience – children under the age of seven – right on the nose. This is a game that manages to be incredibly simple while still throwing in enough gameplay variety and personality. That should be the most basic ask of any kids game, but it's surprising how many get those core fundamentals wrong. Paw Patrol The Movie: Adventure City Calls, on the other hand, delivers a package that any young fan of Paw Patrol should get a kick out of.
The eight core levels of the game see players make their way through various areas of Adventure City. These are simple 3D platforming affairs, with small hemmed-in areas that always lead players in the right direction. With only running and jumping to worry about, the controls are simple enough for even the youngest of players to get to grips with. For slightly older players, there's a collectathon element; each level has a number of badges and pup treats to collect. They're not necessary to move on, but it's another reason to play.
In between platforming sections, Paw Patrol The Movie: Adventure City Calls throws in a variety of minigames and quick time events to keep players engaged. Every level has a driving section (occasionally replaced with swimming or flying) where players move a vehicle across three lanes, avoiding upcoming obstacles. Then each pup has a handful of unique skills to use: Marshall can put out fires and chop up wood that occasionally forms an obstacle. New character Liberty can sniff out a trail. Rubble can drill through, well, rubble in order to clear a path. Completing any of these activities is usually a case of moving the thumbstick and pressing or holding 'X', but it's just the right amount of interaction for younger players. They also feel adequately spaced so they're never repetitive, but also break up the core platforming levels well.
Outside of the main story levels, players can also jump into any one of four minigames. These unlock as you play, so they're not all available right from the outset. There's Time Trial – the same vehicle challenges you'll find in the main levels, but this time with a timer; Collect-Them-All, where players must collect all pup treats in a small area against the clock; Obstacle Race, where players must run and jump through a number of markers across a small area; and Pup Pup Boogie, Paw Patrol's answer to DDR.
None of the minigames are groundbreaking, but they're solid enough and give players an option of instant gratification on a specific type of play rather than simply working through each level.
In both the main campaign and the minigames, Paw Patrol The Movie: Adventure City Calls can be played either solo or in co-op. In the game's main levels, a second pup always exists on screen. If played in single-player, it's AI-controlled, allowing the player to switch between characters to utilise their individual skills at any point. In co-op, a second player takes control, allowing players to navigate a level and pick up collectibles as a team. If two players are jumping into the minigames as a duo, it introduces a level of friendly competition.
There are some issues with Paw Patrol The Movie: Adventure City Calls, however. Playing on PS5 for review, we've experienced a couple of crashes that have required us to quit the game and reload. This may be an issue specifically with playing the game via backwards compatibility, but it's still something worth taking into consideration. Secondly, the game's AI leaves much to he desired. If the game is being played in single-player mode, the AI-controlled pup will frequently get stuck, appear from the completely wrong side of the screen and often get in your way. It's not game-breaking, but it is somewhat irritating. We'd hope a patch will at least address the random crashes, but we won't hold our breath.
Despite a few technical issues, Paw Patrol The Movie: Adventure City Calls nails its target audience without ever feeling patronising or asinine, as children's games have a tendency to do. This is one of the better games for young players we've seen in some time, and there's no doubt it'll be a hit with Paw Patrol fans. Obviously, there's not much here for grown-up players, but its simple mechanics, nice mix of gameplay and pleasant visuals make it a game for children we're confident to recommend.
---
Paw Patrol The Movie: Adventure City Calls Review: GameSpew's Score
This review of Paw Patrol The Movie: Adventure City Calls is based on the PS4 version of the game (played on PS5), via a code provided by the publisher. It's available on PS4, Xbox One, Switch and PC.