A racing game where you pilot planes, Skydrift Infinity feels like a blast from the past.
Arcade racers were all the rage just a few generations ago, letting us take control of everything from speedboats to outlandish futuristic vehicles. Now though, they don't come around all that often, and when they do, they frequently feel neutered. Enter Skydrift Infinity, an arcade racer with its heart firmly in the right place. It feels a bit old-fashioned, and that's partly because it is; the original Skydrift launched on PC and consoles back in 2011, and Skydrift Infinity is essentially a expanded remaster. So, if you missed it the first time around, here's another chance for some aerial fun.
A budget release, Skydrift Infinity isn't the biggest game in the world. Its single-player campaign mode features seven stages, each offering a handful of events; do well enough at the events offered in one stage and you'll unlock the next, just as you'd expect. As for the events, there are Power Races in which you'll be speeding around courses while making use of power-ups along the way; Speed Races in which flying through boost rings is pretty much necessary for success, increasing your speed dramatically; and Survivor events where whoever is in last place when a timer counts down gets eliminated until only one competitor is left standing.
With just six tracks, there's not a great deal of variety to the proceedings, but the gameplay of Skydrift Infinity is so unique and downright fun that you won't really care. Taking control of your plane of choice – there are 16 once you've unlocked them all – you'll soar through environments like a master pilot, speeding through tunnels and between obstacles like it's second nature. The controls are easy to get to grips with, but the courses can be fiendish at times, rewarding those who master the art of braking and rotating their plane to not only fit through small gaps, but also take sharper corners faster.
The power ups available in Power Race and Survivor events add a combative twist to the racing. Weapons like rockets, machine guns and mines can be employed to take out your opponents – they can be made more formidable by picking them up twice, too. With up to two power-ups able to be stored at any one time, however, it's also a good idea to keep a shield or repair power up at hand, just in case. Unlike in games such as Mario Kart, however, playing against the AI rarely feels cheap. Getting hit with a bevy of rockets on the final lap is rarely likely to cause you to drop from first to last.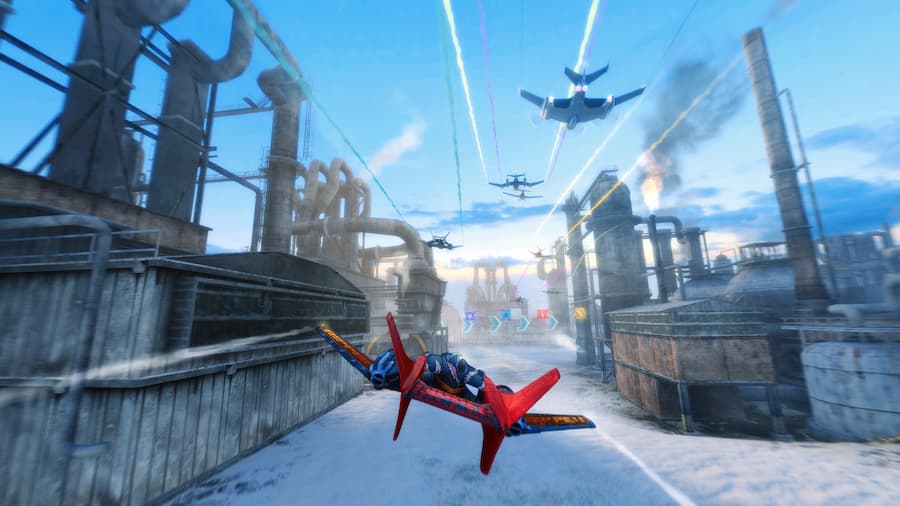 It's perhaps Skydrift Infinity's Speed Race events that get the adrenaline flowing the most, though. With boost rings scattered across the course, fly through a few of them in quick succession and you'll find your plane travelling at insane speeds. Needless to say, your piloting skills are subsequently put to the test, with obstacles and turns suddenly becoming all the more difficult to avoid or negotiate. Crash, and you waste valuable time as your plane is respawned.
Outside of the game's campaign, you can engage in local or online multiplayer. Jumping into the latter with the PS4 version, however, we found that no one seems to be playing it. Thanks to the power of friends we were able to test the multiplayer elements though, and they seem to work wonderfully. There are two additional events types in multiplayer, too; Deathmatch and Team Deathmatch. Both strip out the racing element of the game to focus on pure combat, offering yet more variety.
Visually, Skydrift Infinity isn't particularly impressive, but it's fairly nice looking. At the very least its courses and planes are varied, and also rather colourful. Its soundtrack isn't anything to write home about though, and chances are you might get a bit tired of the announcer repeating certain lines over time. Still, some will find that it adds a little to the old-school charm.
If you're a fan of arcade racers and are after something that will entertain you for a fair few hours on a budget, Skydrift Infinity is highly recommended. It may not have a massive selection of tracks or a particularly deep campaign but it offers unique, adrenaline-packed fun that feels like a blast from the past. And hopefully, once more people discover it, there might be the chance of having some enjoyable multiplayer races, too.
---
Skydrift Infinity Review: GameSpew's Score

This review of Skydrift Infinity is based on the PS4 version (played on PS5), with a code provided by the game's publisher. It's available on PS4, Xbox One, Switch and PC.