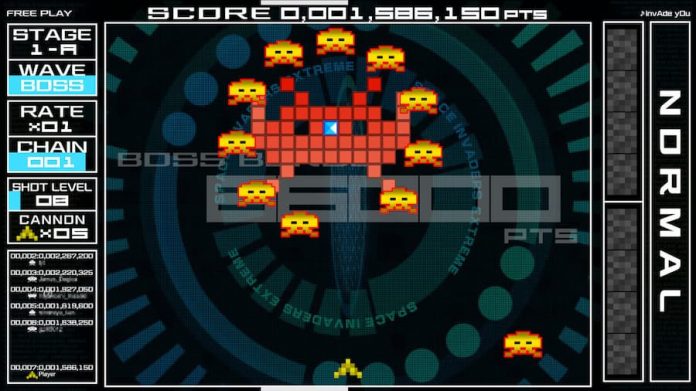 Space Invaders is legendary.
Launched way back in 1978, and spawning numerous sequels since, if you're of a certain age chances are Space Invaders was the first game you ever played. In my case it was a rip-off of it – Arcadians for the Acorn Electron. Still, since then I've played many a Space Invaders game, and its iconic sound effects remind me of family holidays long past. And so of course, I was keen to go hands-on with Space Invaders Invincible Collection.
The most comprehensive Space Invaders bundle yet, but by no means definitive, Space Invaders Invincible Collection, currently only available on Nintendo Switch, includes 10 Space Invaders games. Well, actually 11 – upon buying the collection, 2016's Arkanoid vs Space Invaders is also made available as a separate download. The games included in the main collection are both the black and white and colour versions of the original Space Invaders, Space Invaders Part II, Lunar Rescue, Space Cyclone, Majestic Twelve: The Space Invaders Part IV, Super Space Invaders '91, Space Invaders DX, Space Invaders Extreme, and Space Invaders Gigmax 4 SE.
As with a lot of retro collections, a few of those games are pretty much the same as others but with minor changes. The black and white and colour versions of the original Space Invaders from 1978 are surely self-explanatory. Space Invaders Part II from 1979 is pretty much more of the same, with just some minor differences. Then there's Space Invaders DX from 1993, which is essentially a faithful remake of the original game accompanied by a competitive two-player mode and a parody mode that changes the game's sprites for those from other Taito games.
When it comes to Majestic Twelve: The Space Invaders Part IV and Super Space Invaders '91, however, the difference between them is that Majestic Twelve allows players to chart their own path through the game via branching stages whereas Super Space Invaders '91 presents the levels in a linear fashion. Needless to say, it makes both of them feel somewhat unique. Other than that they're pretty much the same game, featuring two-player support and cow abduction bonus stages that add in a welcome bit of variety and humour. When they were released in 1990 they were a lot of fun, and remain so now.
It's the rest of the games in the Space Invaders Invincible Collection that are perhaps a bit more unique and interesting. 1979's Lunar Rescue, for example, tasks you with landing a ship while avoiding enemies, before blasting off back into space and shooting enemies down. Then there's Space Cyclone from 1980, a rare game that has aliens riding on meteors, assaulting you with more unpredictable attacks. If aliens manage to get to the bottom of the screen, they build a mech over time, too. If they finish it, it bounces around the screen, shooting you with hard-to-dodge laser beams.
2018's Space Invaders Gigamax 4 SE is the newest game in the collection, heavily geared towards multiplayer. With the screen stretched wide, four players can work together as a team, taking on a vast number of alien craft. What's neat about it is how it mixes up the gameplay in numerous ways, with enemies changing when you hit them, for example, and the presence of giant bosses. It's just a shame that you can't really play it alone – you can try, but unless you're a Space Invaders master chances are you aren't going to get far.
No doubt the best game in Space Invaders Invincible Collection, however is 2008's Space Invaders Extreme, a game that takes the original Space Invaders concept and adds in an interactive soundtrack twist. In Arcade mode players make their way through a number of stages, with the gameplay spiced up with power-ups, more elaborate enemy attacks, bosses and something called "Fever Time". Then, any stages completed in Arcade mode can be played in Free Play mode at any time. It's by far the most electrifying and entertaining take on Space Invaders yet, and is a must-play for fans of the series.
That's Space Invaders Invincible Collection's biggest problem though – Space Invaders Extreme is perhaps the biggest draw here, alongside Space Invaders Gigamax 4 SE for multiplayer fans. Both are included in Space Invaders Forever, also available on Switch, and for half the price of Space Invaders Invincible Collection. If you already own Space Invaders Forever, then, the value offered by Space Invaders Invincible Collection is greatly diminished. And if you don't own either yet, is it really worth playing double the price for a selection of older Space Invaders games? That's up to you.
At least there are plenty of additional features to make playing all of the games more enticing. There are leaderboards, most of the older games support save states, and some also have new challenge modes. So, if you do decide to opt for Space Invaders Invincible Collection over Space Invaders Forever, you are likely to get more out of it if you wholeheartedly jump in.
Ultimately, whether you should buy Space Invaders Invincible Collection depends on how much of an ardent Space Invaders fan you are. If you really do have fond memories of the original and feel like you could play it for hours again, as well as discover some more associated titles, it's probably well worth your hard-earned cash. Most, though, are probably better off opting for the cheaper Space Invaders Forever collection; it also includes Space Invaders Extreme, offering the same core gameplay wrapped up in a much more modern and enjoyable package.
---
Space Invaders Invincible Collection Review: GameSpew's Score
This review of Space Invaders Invincible Collection was made possible by a code provided by the game's publisher. It's available on Nintendo Switch.