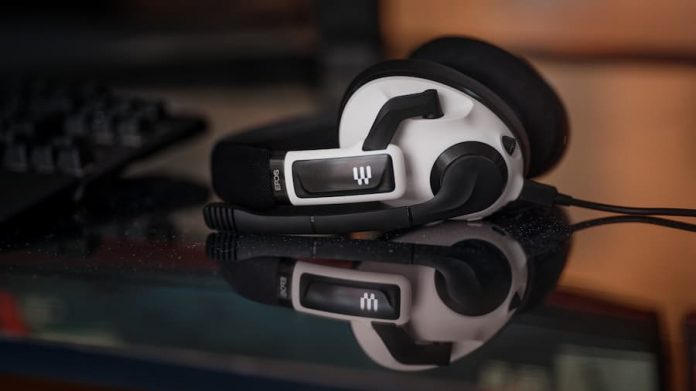 Earlier this year, EPOS brought out the H3 headset. We reviewed it, and found it to be an excellent-quality headset. But EPOS has decided to tinker with it.
The company's latest headset, the H3 Hybrid, takes everything that made the H3 so good – its comfort, build quality and audio clarity – and adds to it to make a headset that's better. A lot better in fact.
That 'Hybrid' name isn't for nothing. You see, while the H3 could only connect via 3.5mm jack, the H3 Hybrid can connect to a device via 3.5mm jack, USB and Bluetooth. I'm not sure I've seen another headset with so much versatility. It essentially means you can use this headset with practically any device, and with many, in a number of ways.
One very nifty feature that the H3 Hybrid packs in is something that many social gamers will be interested in. You can simultaneously use the headset's 3.5mm jack and its Bluetooth connection at the same time. So, you could have it plugged into your Xbox or PlayStation controller, playing the sound from your game. And you can also have it connected to your phone, where you're using a third-party app to chat with your friends.
It's also a headset that works as a gaming headset or simply as headphones to listen to music with. The microphone completely detaches, and a separate plastic cover allows you to cover up its connector, leaving you with nothing but a high-quality pair of headphones. If you're the type of person who has multiple headsets for multiple uses, this may be the perfect combination of them all.
It's a very chunky-looking headset, but in a way that screams quality rather than an unnecessarily over-the-top design. It's available in two colours – all-black ('Onyx Black'), or black and white ('Ghost White'). We've had our hands on the Ghost White version, which looks fantastic. The ear cups and head band are all black, but the outer ear covering and lower part of the band are white. Despite its chunkiness, it's lightweight enough to be comfortable on your head, even after extended use. The real selling point, however, is its audio quality.
Practically everything sounds fantastic through the EPOS H3 Hybrid. We've come to expect quality from EPOS products, and this one is no different. Sound is crystal clear no matter how you're connected; bass is full and rich, and the full gamut of sounds can be heard with no problem at all. Listen to your favourite music through it and you'll undoubtedly hear parts of the track you haven't heard through standard speakers.
There is one downside to the H3 Hybrid's functionality, though. Since it's a digital headset, it needs to be powered on even if you're using it through the 3.5mm jack. Thankfully, it boasts a good battery life; you'll get between 19 and 24 hours of playback on a single charge. And charging is easy to do – simply connect the USB cable to a power source.
The EPOS H3 Hybrid isn't a cheap headset; with an RRP of £149, it's significantly more expensive than the H3, which has just had a discount to £89. But for that extra £60 you're getting a great deal more functionality. This isn't just a gaming headset; it's an all-round high quality pair of headphones that can do just about anything you'd want them to. Connect them to your audio device, use them to game on whatever format you want – all bases are covered. Excellent headsets are never cheap, and we're fairly certain this one won't disappoint.