For over 50 years now, Hot Wheels cars have entertained youngsters from around the world. Though that's not the only demographic they're popular with – there are plenty of adult collectors, too.
Anything to do with Hot Wheels, then, surely has a large audience. And Milestone hopes to capitalise upon that with Hot Wheels Unleashed, the latest videogame based on the die-cast car sensation. With its colourful visuals, arcade-style racing and wealth of content, it's sure to go down a treat with kids and adults alike.
Hot Wheels City Rumble is the star attraction of Hot Wheels Unleashed; a career mode that has players making their way around a map full of events. There are races, where your aim is to fend off the competition while also avoiding a wide range of obstacles and negotiating sharp corners; time attack events where it's just you, the track, and a target time to beat; and finally boss events, which are effectively the same as races but with longer, more complex tracks and more heated competition. With over 80 events overall, there's plenty to go at.
And you will want to go at it, not only because Hot Wheels Unleashed is wildly entertaining to play, but also because completing events is key to unlocking yet more content and rewards. You'll earn gold which can be spent to buy new vehicles, and gears which can be used to upgrade them. Vehicles can also be obtained for free by completing certain events or locating bonus icons on the Hot Wheels City map. And that's not all: completing events also allows you to unlock customisation items for your Basement, as well as other goodies such as additional track parts for the game's track builder.
The Basement is just one of the six environments that races take place in, with the tracks themselves mostly suspended in mid-air. But unlike the other environments, which include a garage, a college campus and a skatepark, you get to customise it. You can choose what's on the shelves and what colour and material the walls are, for example. It's just a shame that you can't place new objects, but then that would mess up the tracks that run though it. In any case, it's a nice touch that some will appreciate.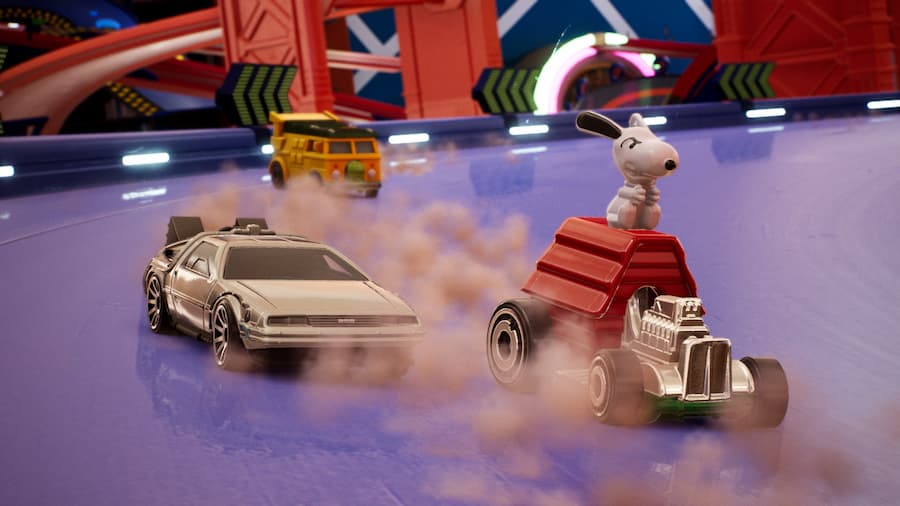 Outside of Hot Wheels City Rumble, all of the tracks and vehicles you've unlocked are available in Quick Race and Time Attack modes. There's multiplayer too, of both the online and offline split-screen variety. The latter, combined with Hot Wheels Unleashed's brand of drift-heavy racing action that's full of thrills and spills, might make it a local multiplayer hit. Especially so when you take the game's Track Builder into consideration.
Thanks to its work on games such as the Monster Energy Supercross series, Milestone is no stranger to the Track Builder business. Here though, it's really been able to let its hair down and go wild. It's easy to select individual pieces of track and then snap them together, eventually creating a track that's very much your own. And if you've made decent progress in Hot Wheels City Rumble, you'll have some additional pieces to place to add some more pizazz, like a giant robot with a mouth full of lava.
Ultimately, it's the combination of cars and tracks that make Hot Wheels Unleashed such an enjoyable and engrossing experience. There's real joy to be found in opening Blind Boxes, anticipating which new vehicle might be waiting for you inside. And if it's a duplicate, you can sell it, funding yet another blind box or an outright car purchase from the limited-time store. Then, moving to the track, there's the magic of finding out how your new vehicles handle.
As well as each car having its own (often outlandish) look, they also each offer their own range of stats covering speed, acceleration, braking and handling. Two boost types are also on offer – a bar that fills up over time that you can use as little or much of as you like, and numerous pips that each grant a sudden burst of speed. Sometimes a car may look great on paper, but when you get it on the track it just doesn't suit your race style. And so trying them all definitely pays off.
Mastering your vehicle is just the first step to success in Hot Wheels Unleashed, however; you also need to learn to master the possible hazards that might be thrown at you on each track. Loop-de-loops are fun, for example, but only if you can keep enough momentum to make your way through them safely. There are also spiders that try to ensnare you in their webs – get caught and you'll lose valuable seconds. Other hazards include barriers, snapping dinosaur mouths, unfortunately-placed boost pads, and a whole lot more.
As for the negatives, well, there are a couple. The first is that the game only offers one single view – a chase cam. It's maddening because during replays the camera does switch to both bonnet and bumper views, so why can't you switch to them during gameplay? The second is that while there is a difficulty option, it only affects the AI of your competitors. Get stuck on a Time Attack event and there's not much you can do other than try, try and try again until you're good enough. It won't be an issue for all, but those keen on unlocking everything in the game might find it troublesome. It's generally only the second, more stringent target, which offers a bonus reward on top of event completion, that requires some serious driving skills.
It may be based on a particular brand of die-cast toy cars aimed at kids, but Hot Wheels Unleashed is a fun arcade-style racer suitable for all ages and, for the most part, skill levels. Bursting with content, it'll be a while before you've grown tired of its many tracks and unlocked all of the 60-plus cars that it offers. Throw in online and offline multiplayer, a track builder, and gameplay that's easy to pick up but has some additional depth for more skilled players, and you have a package that's easy to recommend.
---
Hot Wheels Unleashed Review – GameSpew's Score

This review of Hot Wheels Unleashed is based on the PS5 version, with a code provided by the game's publisher. It's available on PS4, PS5, Xbox One, Xbox Series X/S, Switch and PC.
Buy Hot Wheels Unleashed on Amazon