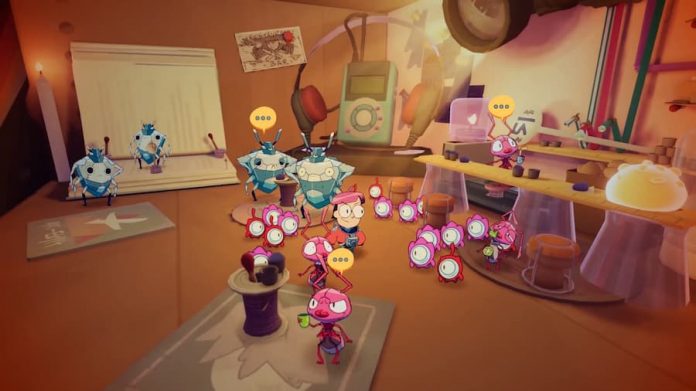 Tinykin, an indie action puzzler that sees you controlling a horde of tiny, adorable creatures, is arriving Summer 2022.
We first covered Tinykin back in June, when it was revealed at Future's PC Gaming Show but it's now been revealed that, aside from landing on the PC, it'll also be getting a console release. What tickles us in particular is that it'll be released on the Switch which, unless Nintendo makes a surprise announcement, will mean it'll pip Nintendo's own Pikmin 4 to the post.
Because, while it has a charm all its own, Tinykin is heavily influenced by Pikmin and we're okay with that, particularly since, while the latter took place on an alien planet, Tinykin's hapless pilot has landed on ours. Running around a massive house strikes as more interesting than exploring strange swamps and forests, and Tinykin's cartoony art style has real appeal.
Aside from revealing the release window and platforms, developers Splashteam have also put out a narrated video that explores Tinykin's mechanics, such as the way you can stack the little creatures to make a ladder. Milo, your protagonist, will also be able to surf around on a skateboard made of soap which seems like a fun way of getting around, if a potentially hazardous one.
There's no news on a demo as yet, but we wouldn't be surprised if one turned up between now and Tinykin's release. You can wishlist Tinykin on Steam, and get your hands on it when it arrives Summer 2022 on PC, Xbox Series S/X, Xbox One, PlayStation 5, PlayStation 4, and Nintendo Switch.