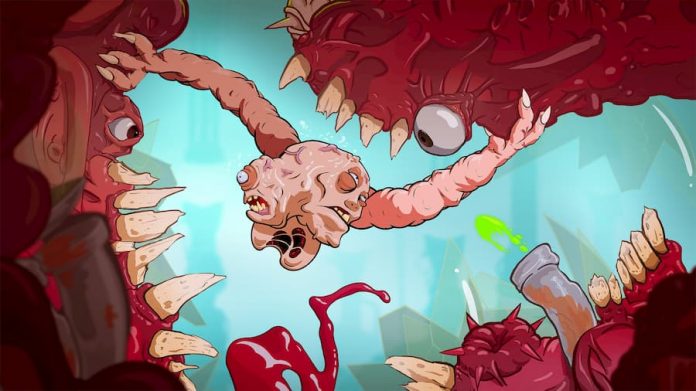 Despite the global pandemic that's been ongoing for the last 18 months, life for many of us still goes on as normal.
One area in particular that's coped very well in light of drastic changes is game development. Indeed, 2021 has been a strong year for games despite everything. But that's not to say that developers haven't faced challenges. Games have been delayed left, right and centre, and practically every games studio in the world has had to pivot to work at home. I've been interested to see how this impacts developers, particularly smaller teams.
I recently spoke with Denis Simard over email, the co-founder of Chasing Rats Games, and art director of the studio's latest game, Struggling. Struggling is a couch co-op game where players must work together to control a rather grotesque creature known as Troy through a range of environments. It originally released on PC and Switch back in August 2020 – the height of the pandemic – and a year later, it's now available on PlayStation and Xbox.
I was particularly interested to learn how Covid-19 had impacted Denis and his team, and how they adapted their working conditions to allow them to continue despite facing challenges. And of course, I wanted to learn more about Struggling, its wonderfully ugly protagonist, and how it all came to be.
You can read my Q&A with Denis below. Thanks, Denis, for taking the time to speak with me.
---
GameSpew: Thanks very much for taking the time to answer my questions, Denis. Any detail you're able to provide is greatly appreciated.
Denis Simard, co-founder of Chasing Rats Games: You're welcome! Struggling is basically my child, so of course I'll always be interested in talking about it, probably up to the point of annoying my friends and family with it.
'Struggling' feels like a very apt title for a game made during Covid-19! How has your team had to adapt to working during the pandemic?
Struggling indeed feels like a good parallel to living through a pandemic; trying to accomplish basically anything just feels slightly harder than it is supposed be. That being said, just like everyone else in the industry, we've had to adapt to work from home. This was, if we're being honest, really not that bad compared to some other jobs that had to make the switch.
We moved to Discord for all our communications and bought webcams for the whole team, a few of us had computers delivered at home to make sure we could keep working without issue. To be fair, being a small team made things way more manageable than it potentially could've been.
What challenges have you faced that you've had to deal with in a different way due to Covid-19?
Well obviously, despite a proper setup, online communication isn't like interacting with colleagues in person. You can't just pop by someone's desk to ask a question or drag someone along when you take a break. So, to me, one of the biggest challenges was the social side of things.
We tried to emulate that with multiple rooms on our discord server, everyone has their own desk where they stay connected during their working hours. This way you can actually just jump in if you have a question instead of pinging them and waiting for an answer. It's not like the real thing, but it's better than nothing. We're working things out and trying different strategies right now.
Is there anything you had to cut back on during the development of Struggling – i.e. might some parts of the game have been different had it not been for the pandemic?
We didn't have to cut anything from Struggling due to the pandemic, anything that was cut was from us over-scoping the game before the pandemic was even a thing. That's a trap that pretty much every new game developer will fall into at least once.
Have there been any positives to the changes you've had to make to how you and the team work? i.e. are there any measures you'll keep in place going forward, even when – dare I say it – things are back to 'normal'?
We definitely have become way more organised in the past year and a half. Chasing Rats Games is still a young company, so we've been learning how to be more efficient as a team progressively throughout the pandemic.
As for keeping up measures that we established during the pandemic once the world is back to normal, I think it's things we'll be doing subconsciously. Most systems we put in place were to replace what we can't do in person anymore, such as meetings and brainstorming.
The one thing we will keep, though, is the ability to work from home every now and then. We've obviously seen that some employees thrive while working from their home by saving time not travelling or because they get to spend more time with their families. I personally get to spend more time with my recently rescued cat, so I hope we can keep doing this in small doses.
What has been the hardest part about Struggling's development?
About halfway through production we realised that pretty much everything we built, tech wise, was extremely fragile and prone to breaking. This led to us pretty much rebuilding every system from the ground up.
The initial feeling was that we had wasted a lot of time with our first iteration of the game, but we quickly realized that we even if we redid a lot of things, Struggling would not be the same without that first broken prototype.
Fun fact: we turned the arms breaking off from the body into a mechanic because it's also a bug fix.
Looking back on the last 18 months, is there anything you wish you'd have done differently early on in the pandemic?
We should have taken the time to develop a proper online mode for Struggling. Online multiplayer pretty much exploded during the pandemic and our game, being couch co-op only, was a bit difficult to approach for most people. Though to be fair, there was still Steam Remote play available for people wanting to play from afar.
What has been your favourite part of working on Struggling?
Designing the levels was my favourite part of the project. The beauty of working on a game such as Struggling is that you can really dig deep to find ways to either have your players die a lot or leave them in utter confusion. We always want to try our hardest to gather a reaction from our players.
One of my favourite parts of the game is called Cacti Canyon. It is probably the hardest section of the game; it's not unfair in any way, but it is ridiculously difficult to cross when you're not an expert at Struggling. Combine that with the fact that the zone that precedes it is a playground that allows the player to spin and jump as high as possible, granting them more freedom than at any other point in the game, you suddenly have two very contrasting experiences back-to-back that give the player extreme feelings of amusement and frustration.
Knowing that you are directly responsible, as level designer, of the player's experience during these moments is one of the most satisfying feelings you can have as a game developer.
Where did the idea for the game – and such a grotesque protagonist! – come from?
The initial idea behind Struggling was simple: What happens when you put two players on a single character? The game has evolved a lot since then.
Troy's a bit of a special boy! He's definitely not what your standard protagonist looks or sounds like. I'm personally a fan of body horror and adult cartoons; David Cronenburg, Guillermo Del Toro, Rick and Morty, Ren and Stimpy were all direct inspirations that culminated into whatever kind of abomination our main character is.
What's your personal highlight of the finished game?
Struggling is filled with memorable moments. We intentionally designed these encounters to break away from the game's main systems and give players an opportunity to explore different gameplays. One of these moments is a dating simulator sequence.
After going through probably the hardest part of the game, you end up going on a date with the multiple heads of a gigantic abomination. The three of them rotate in and out of the date as you try to convince them of your worth. They have wild personalities inspired by popular anime tropes present in dating simulators. The gameplay itself isn't that exciting, but the sheer confusion that it inspires in players brings me so much joy.
What do you hope people take away from playing Struggling?
Sometimes the smallest accomplishments require the biggest efforts, it only matters that you keep trying until you get there. Troy is the prime example of this.
That's the cute and inspirational answer to that question.
On the other side, I hope people realise that sometimes video games are just about having developing arthritis and yelling at your screen in confusion. You don't need deep cohesive lore, AAA graphics or competitive games to just have fun.
---
Struggling is available now on PC, PlayStation, Xbox and Switch. You can read more about the game by clicking here.