Combining mystery, a bit of detective work, and a deep and intriguing Lovecraftian-inspired plot, Hermitage: Strange Case Files is a visual novel worth keeping your eye on if you're a horror fan.
Out today on PS4, PS5, Xbox One, Xbox Series X/S, Switch and PC, Hermitage: Strange Case Files originally started life in 2018. It's a Chinese-developed game, and first released only in its native language. It's since been translated, allowing English speakers to enjoy this twisting and turning narrative. Has it been worth the wait? Well, if you enjoy getting lost in a visual novel, you'll find a lot to enjoy.
We've only spent a few hours with Hermitage so far, and so we've only scratched the surface of its rich story. It focuses around an unnamed bookshop worker. His store, Hermitage, is home to a weird and wonderful selection of books – many of which are hand-written and have never actually officially been published. When a young school girl wanders into the store wanting to buy an ancient text, the shopkeeper gets suspicious; it seems something strange is afoot. And so, as the schoolgirl and the shopkeeper speak, a dark mystery begins to unravel.
You see, the schoolgirl has been having very strange dreams, brought about by burning incense. They aren't just any dreams, though; she's having visions of events that have actually happened. And when she has a vision of her best friend laying in a pool of blood, she gets spooked, and heads to the bookshop to try to find something that can help her.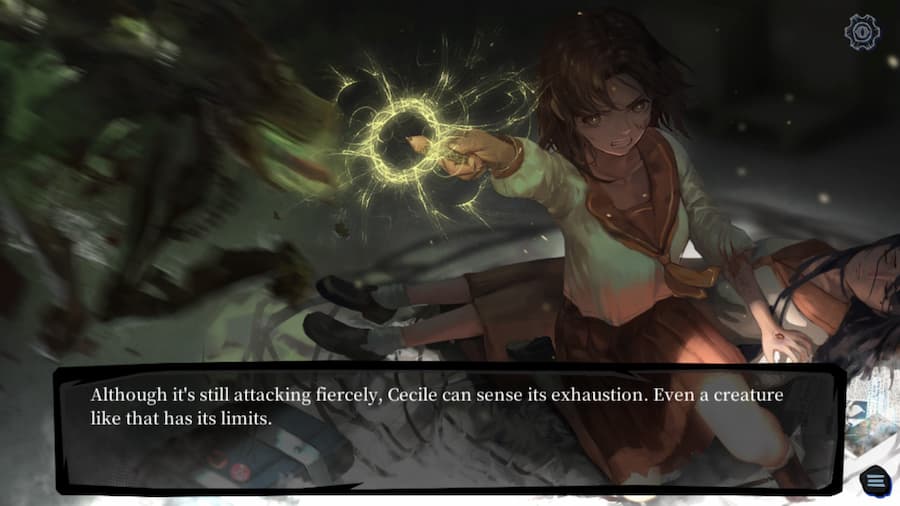 That is just the tip of the tale that Hermitage: Strange Case Files has to tell. Through talking to characters, browsing the internet, reading the books that Hermitage stocks and messaging contacts on your phone, you'll find yourself embroiled deeper into a mystery that delves into horrific accidents, supernatural horrors and Lovecraftian-themed terror.
It's thankfully not all pure text, either. You'll get the chance to sort through evidence, piecing together the mystery yourself as it unfolds. These gameplay sections are a welcome relief – while we're enjoying the narrative so far, it's certainly long-winded. If you're new to the visual novel genre, you might want to start with something a little lighter first.
It looks fantastic though; we're loving the game's art style, with detailed characters, a rich variety of locations and lots of attention to detail. So: if you like the idea of delving into a rich mystery that's filled with horror and intrigue, set against a backdrop of sumptuous artwork, Hermitage: Strange Case Files may well be worth your time.
It's available now on PC and consoles, priced at around £16 or your local equivalent. If you want to try before you buy, there's a free demo available on Steam.