It first released last year on Switch and PC, but Story of Seasons: Friends of Mineral Town is now available on PlayStation and Xbox consoles.
Story of Seasons: Friends of Mineral Town is actually a remake of a 2003 Game Boy Advance game, Harvest Moon: Friends of Mineral Town. Yes, if you have fond memories of Harvest Moon, Story of Seasons is what the series has become. Confusingly, Harvest Moon does still exist, but it's another franchise using the name. But none of that is important. What is important is that Friends of Mineral Town offers wholesome fun in a package that never holds your hand or tries to lead how you play.
The lack of direction here might actually put some people off. You're given some basic tutorials, but you'll learn the ropes of Story of Seasons: Friends of Mineral Town as you play. And exactly how you play is down to you too. Maybe you want to concentrate on simply planting and harvesting crops. You've got plenty of land to do that, and it's a great way to make money. Or maybe you want to raise cows, sheep, llamas or chickens – animal products like eggs, milk and wool can all bring in a pretty penny too. Not to mention grooming your cow as a bonding exercise is seriously joyful; those cows are adorable.
It's not all just about your farm, though. There's a whole town to explore with plenty of people to meet. And there are regular events to take part in as well as secrets to uncover. Spend enough time socialising and you can make friends and even forge relationships. Marriage is possible, too, when you've formed a bond strong enough.
Needless to say, then, there's a lot to do in Story of Seasons: Friends of Mineral Town. But to see the fruits of your labour come to fruition, there's a lot of hard work to be put in first. There are no shortcuts here, everything from planting seeds to pulling your crops when they're ready needs to be done by hand. And it can get tedious – you'll need some patience to get far. It's worth it in the long run, though. Seeing your farm thrive, alive with animals and crops, is wonderful. And the money you earn can be spent on upgrading your farm and your tools.
I've been playing the PS4 version, and while it's an identical experience to the Switch version, it's nice to have sharper resolutions on a big screen. It doesn't exactly push any technology to its limits, but it's a pleasant looking game with wonderful animations. The control scheme works well too; despite having a lot of options to toggle through, it's easy to get to grips with.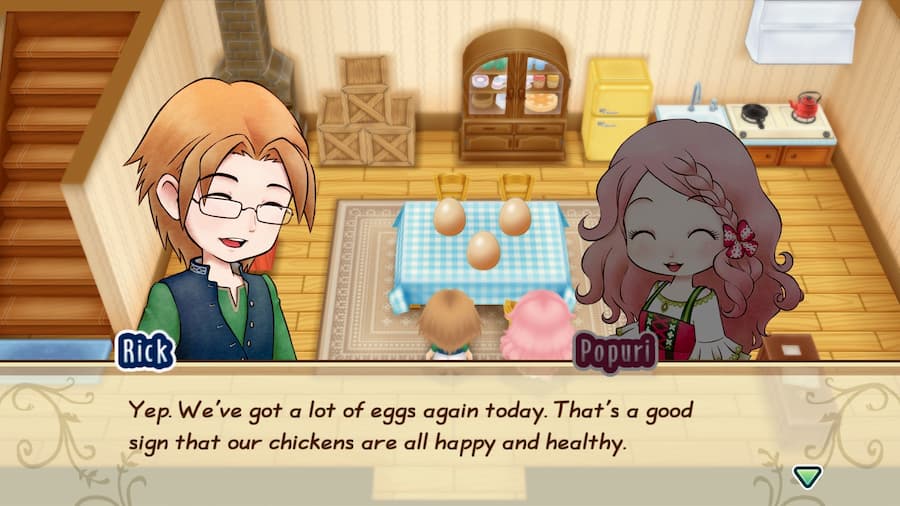 As I summarised in my Switch review last year, Story of Seasons: Friends of Mineral Town isn't a game for everyone. I went on to say that "it requires patience and perseverance. Progress feels much slower and measured than something like Stardew Valley, but it also means it offers potentially more longevity. If you're looking for something to sink hours into and enjoy a slow, steady stroll rather than an action-packed sprint, Story of Seasons: Friends of Mineral Town might just be for you."
It's a perfect summation, and on spending more hours with the game on PlayStation, I still couldn't put it any better. Give my full review a read for more information on Friends of Mineral Town. But if you enjoy cute farming simulators that don't hold your hand, you'll really enjoy this one.