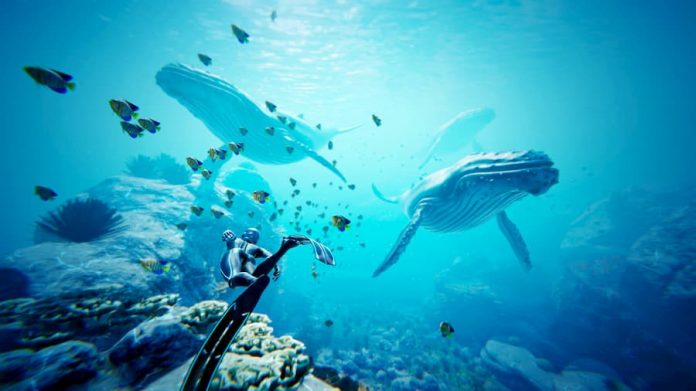 Fancy taking a dip into the ocean with your Nintendo Switch?
No, not literally; God no, please don't take your Switch into the ocean, or indeed any body of water. It's not waterproof. That's not what we meant at all. Rather, the ocean-diving game Beyond Blue has today launched on Nintendo's eShop, allowing Switch players to enjoy the majesty of underwater life from their handheld.
From E-Line Media, Beyond Blue first launched on PC and consoles in 2020. Completely free of combat, it's a game that has you diving to the depths of the ocean, scanning creatures and learning about marine life while you do so. It was made in partnership with BBC Studios, so offers an experience based on reality, despite some uses of futuristic technology. We'll allow a bit of creative freedom in exchange for an immersive, fun yet educational experience.
Alongside learning about whales, rays and dolphins, you'll get to experience a grounded narrative that plays out between your protagonist and the other members of the 'OceanX' initiative that you're a part of.
Here's what we had to say about it when we reviewed Beyond Blue on Xbox back in June 2020:
"I loved my time with Beyond Blue. It's incredibly relaxing being able to swim through the ocean, and mesmerising to reach depths that many of us will never see in real life. From its interesting story, fantastic soundtrack and admirable inclusion of educational elements, Beyond Blue is an excellent title that a wide gamut of gamers will enjoy. It isn't free of issues, but they don't deter from the magic of diving into an unexplored underwater world."
So far, our time with the Switch version lives up to that experience. Of course, the game runs at a lower resolution, but it's silky smooth to play – and exploring the ocean remains just as mesmerising on the small screen. Check back in on Monday when we'll have a full review.
For now, if you fancy playing Beyond Blue on Switch, it's available on the eShop for £15.09 or your local equivalent. Give the launch trailer a watch below.