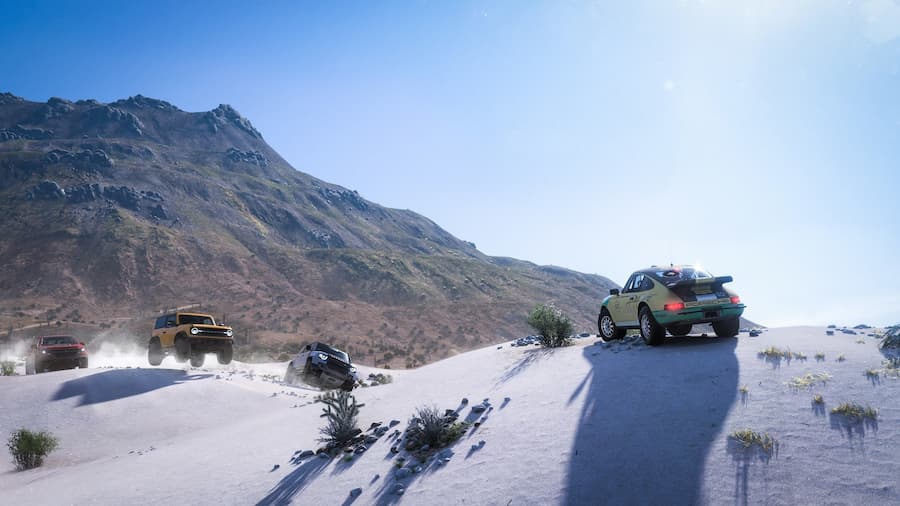 Anyone that has played Forza Horizon 4 will know that Super Wheelspins are very nice indeed. And the good news is that they return in Forza Horizon 5.
Beefed-up versions of Wheelspins, which allow you to spin a wheel to win either a new car, a cosmetic item or a wad of cash, Super Wheelspins offer triple the rewards. Unlike standard Wheelspins which are pretty easy to come by, however, Super Wheelspins are pretty rare. There are a number of ways you can get them, however.
Complete Accolades
Some Super Wheelspins can be gained by completing Accolades. Take a look at the accolades page and see what rewards are on offer. You can then target specific accolades to unlock Super Wheelspins.
Buy Houses
Super Wheelspins are also often given out as a reward for buying houses. If you have a wad of cash, take a look at the houses available to buy and consider buying one of them. The most expensive house, in fact, gives you one Super Wheelspin every day. It's just a shame that it costs 5,000,000 credits.
Become a VIP
It costs real money, but buying VIP status pays dividends in Forza Horizon 5. As well as earning double money in-game, and getting a house for free that nets you double Forzathon points, you'll also be gifted Super Wheelspins fairly regularly.
Spend Skill Points
As you drift and perform stunts in Forza Horizon 5 you accumulate skill points, and these can then be used to unlock perks and other bonuses for the cars that you drive. What you might not realise is that some of the cars you have in your garage will have Super Wheelspins to offer. If you have plenty of skill points to spare, be sure to unlock them.
The Forzathon Store
Perhaps the most reliable source of Super Wheelspins, outside of becoming a VIP member, is the Forzathon store. You can gain Forzathon points by taking part in Forzathon events as well as completing various daily and weekly objectives. Your Forzathon points can then be exchanged for Super Wheelspins or other goodies.
Simply Play the Game
While you can target objectives etc. to get Super Wheelspins, they will simply come naturally as you play. So, our advice is to just play Forza Horizon 5 and enjoy it. You'll gain plenty of standard Wheelspins for levelling up and completing other objectives along the way, and a decent number of Super Wheelspin, too.
Need more help with Forza Horizon 5? Click here for the rest of our guides