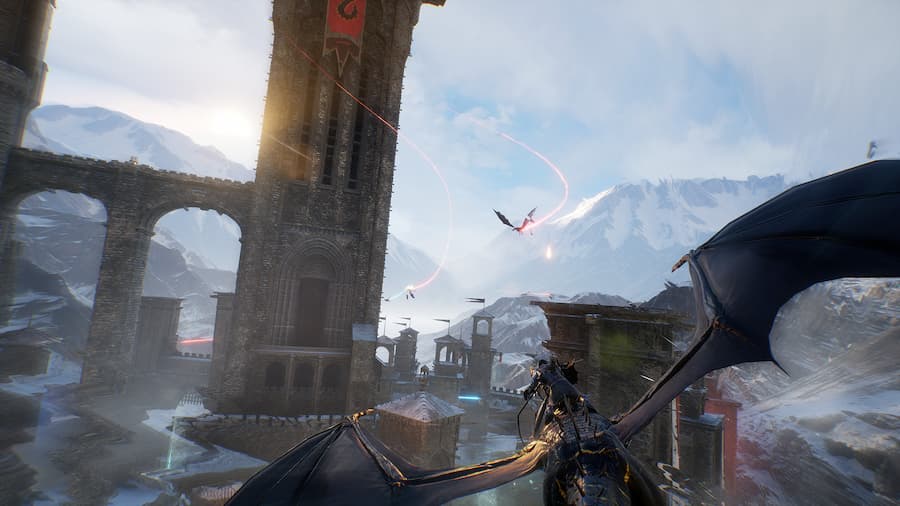 Want to take control of a dragon and fly through the air, breathing fire on your opponents and all who stand in your way?
Of course you do. And you can, as Century: Age of Ashes is out now on Steam. We previewed this game back in February of this year, and thoroughly enjoyed it. "It's how Century: Age of Ashes plays that truly has us most excited for its launch," Rich said in his early impressions. "Its dragons are wonderful to control, giving you confidence to try and fly through narrow chambers and squeeze through small gaps. They can turn quickly, too, allowing for heated dogfights filled with balls of flame and heated breath. Throw in some stupendously good visuals and solid performance, even at this early stage, and developer Playwing LTD appear to be onto a winner."
Better yet: Century: Age of Ashes is free to play. Yes, completely free. There are premium DLC packs to purchase, but you can join in the fun of the game, taking control of your very own dragon, without having to lay down a penny.
There are multiple game modes to get involved in, ranging from 3v3 matches to 6v6. Carnage mode puts two teams of six players against each other, with everyone out to destroy the other team. Spoils of War, on the other hand, is about stealing gold from the enemy team while protecting your own stash. And Gates of Fire pits two teams against each other, earning points while flying through gates and trying to hold on to the flag.
Yes, those modes sound rather familiar to anyone who's played a recent team-based multiplayer game. But did those other games have you riding a dragon? Didn't think so. And that's where Century: Age of Ashes stands out. There isn't much cooler than a dragon, is there?
So, yes: jump into Century: Age of Ashes now on PC. It's free – you might as well give it a go. And good news for console players – it'll be landing on PlayStation and Xbox next year.
Download Century: Age of Ashes on Steam now.