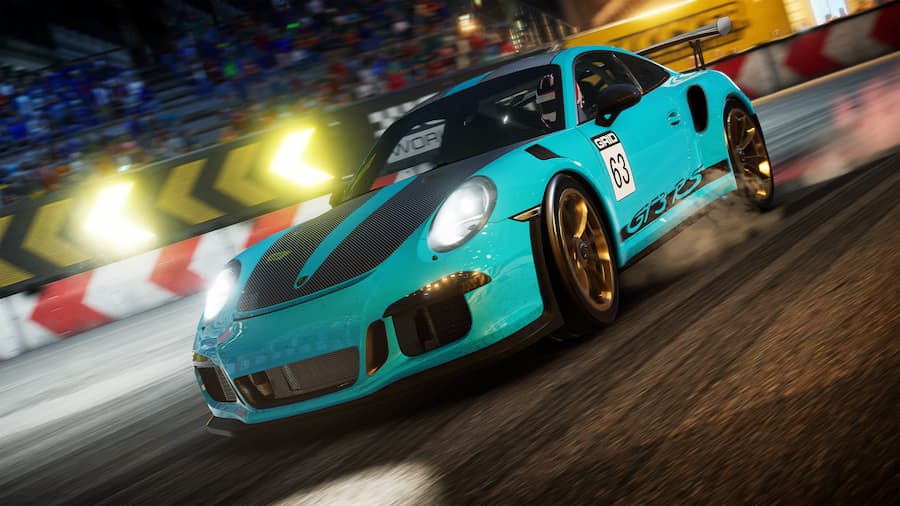 The first quarter of 2022 is looking good for racing fans. We've got GRID Legends launching in February, with Gran Turismo 7 hot on its heels – or should that be wheels – in March.
It might seem like a bit of a bad time for GRID Legends to launch; the Gran Turismo series is an absolute Juggernaut. But after going hands-on with it, it's clear to see that it offers a very different racing experience, and that there's room for both of them to not only survive but thrive in what appears to be a busy period.
A story mode called Driven to Glory is perhaps the headline act of GRID Legends. Like Braking Point in F1 2021, it will allow players to step into the racing suit of an upcoming driver, though this time they'll be faceless. Codemasters want players to feel like they are the star, so they'll just become Driver 22, a reference to the fact that 22 cars make up a race's playing field.
Inspired by the Netflix show Drive to Survive, Driven to Glory promises to be a dramatic affair, with story scenes filmed using the same techniques employed in the hit Disney+ show The Mandalorian. It will be linear, last around 8-10 hours, and will present players with numerous racing events in which they'll need to complete objectives. What's curious is that it's just the start – for those who want more story-driven racing action, four DLC drops will be available post-launch.
GRID Legends is more than just a story mode, though; it also has a sizeable career. Over 250 racing events will be available, with each putting players behind the wheel of one of over 130 cars. Covering eight classes, there's everything from trucks to lightweight open wheelers, ensuring variety as you move from one race to the next. A wide selection of tracks across 22 locations help with that, too, including three locations that are new since 2019's GRID: London, Moscow, and the fictional Strada Alpina.
We went hands-on with a selection of career events, and found them all to be incredibly exhilarating. We cut our teeth in a Ginetta G40 GT5 on a London track, speeding around streets while trying to safely pass our competitors. It reminded us of Project Gotham Racing, with points being awarded for actions such as drifting around corners, safely passing other cars, and more. We quickly encountered GRID Legends' enhanced Rivals system, too.
Your actions on the tracks will affect your relationships with others, potentially having an impact on future races. Hit someone one too many times, for example, and they'll become a rival, vying to beat you on the track. They may even take a swipe at you if you get too near. Take a things a step further and you may get yourself a nemesis, hellbent on taking you down. These rivalries will now last multiple races until they simmer down, making your career feel more immersive and consistent. Overall, it may pay to try and be friends with everyone.
The truth is, though, that GRID Legends is better when there's drama. Unlike games such as Gran Turismo and Forza Motorsport, your opponents don't just drive around the track like drones. They make mistakes, such as spinning out on tricky corners, or rolling after poorly approaching a jump. Taking some Super Trucks for a spin on a track laden with ramps, we had some very close calls dashing under competitors involved in some spectacular accidents.
Sitting squarely between a sim and an arcade racer, GRID Legends wants you to follow the racing line and brake appropriately, but it also eggs you on to drive aggressively and trade some paint. Sparks fly as you scrape the barriers at the side of the track, and jostling for positions is an exciting affair where you may come out on top or you may end up spinning out. It's unpredictable, which makes really nailing an event all the more rewarding.
After trying out plain old circuit racing and the unwieldy Super Trucks, we raced Super E cars complete with boost, and wrangled with a Shelby during an arduous Elimination Event. We also took control of a Renault Clio in the snow, and tried our hand at drifting in a Mazda RX-7. By far the most exciting, though, was getting behind the wheel of a light open wheeler in a mixed class event. Starting at the rear of the pack some 20 seconds after the trucks up front, it was all about playing catch-up. After making our way past a pack of Volkswagen Beetles, the trucks were in sight. But their large stature made finding a safe place to get past them tricky.
Outside of career mode, you're free to create any event you like using the robust Race Creator. We quickly put together a circuit race around Brands Hatch during a storm, which looked absolutely phenomenal – just like the rest of GRID Legends at max settings. Aside from being able to tweak things like the time of day and weather, you can even add other modifiers like boost pads and jumps if you wish, though it may limit the disciplines and other variables available.
On the multiplayer side of things, Codemasters is going all-out with GRID Legends. Introducing hop-in, players will be able to join other players' career and Race Creator events with just the touch of button, replacing any gaps filled in by AI bots. So, you could feasibly play the entire career in co-op with your friends. There will also be weekly and monthly events.
Overall, we're much more excited about the release of GRID Legends in February now that we've had some hands-on time with it. After F1 2021's Braking Point, we're looking forward to unravelling the gripping story that Driven to Glory has in store for us. But beyond that, GRID Legends is set to be the biggest GRID game yet, with more variety bolstering the tried-and-tested gameplay that values the drama of racing rather than just the technicality of it.