The PS5 has been available for just over a year now.
It might not seem that way, thanks to a chip shortage restricting supply – you still can't simply walk into a shop and guarantee you'll come away with one if you wish. Coronavirus hasn't helped, either, putting further stress on the console's manufacture and distribution, as well as the development of games for it. Despite everything though, the PS5 already has a vast library of games, many of which use its power to deliver absolutely beautiful visuals.
"But which games are the best-looking?", you might find yourself wondering. Or to put it another way, which PS5 games have the best graphics?
After all, if you've managed to get your hands on a PS5, you'll no doubt want to see what it's truly capable of. And while we might still be a few years away from games making full use of its power, there are already plenty that offer spectacular visuals that just wouldn't be possible on previous-gen consoles, as well as smoother frame rates and lighting fast load times.
So, what are the best-looking games on PS5? Read on to find out.
Ratchet & Clank: Rift Apart
The latest entry in the Ratchet & Clank series is undoubtedly the best yet, with plenty of third-person shooter action mixed with platforming and a whole lot more. It's also arguably the best-looking game on PS5 so far, with visuals that are pretty much Pixar quality.
Put the graphics in quality mode and Ratchet & Clank: Rift Apart really does look like an animated movie. The fur on Ratchet and co. is clearly defined, while ray-traced reflections and other advanced visuals effects immerse you in its lush, densely packed worlds like never before. We can't but feel that performance mode with ray-tracing is the best way to play though, offering 60fps gameplay with just a bit of a hit to overall picture quality.
In any case, if you have a PS5 and want a game that's fun to play and will really please your eyeballs, Ratchet & Clank: Rift Apart is a must have.
Read our review of Ratchet & Clank: Rift Apart
Returnal
It's hard to believe that Returnal is Housemarque's first AAA game. Putting players in control of a astronaut stranded on an alien planet after crash landing, it not only has fast and furious third-person shooter gameplay, but also an engrossing story and sublime visuals.
Trapped in a loop, as Selene you have to battle your way through numerous biomes in order to make it off the planet Atropos alive. Returnal is very challenging, and so if you die (which you will, many times) you'll find yourself back at your ship, forced to try again. The dynamic nature of Atropos means that each attempt to escape is different from the last, however, while the thick atmosphere of your surroundings makes exploration alluring yet also a little foreboding.
It's when you get into battle that Returnal really impresses though, with unique enemies attacking you with a cavalcade of projectiles. It's like playing the most expensive bullet-hell shooter ever made, and it's absolutely exhilarating. Running at a solid 60fps, the particle effects are out of this world, and overall Returnal is just a feast for the eyes.
Demon's Souls
Many consider Demon's Souls to be one of the greatest games of all time, though its challenging nature means that it's not for everybody. Those that are up to the task, however, are likely to be overjoyed by this PS5 remake.
Bluepoint Games has painstakingly recreated Demon's Souls to be as faithful as possible when it comes to gameplay, while making just one or two minor quality of life changes to improve the overall experience. Native PS5 features such as 3D sound and haptic feedback have also been implemented, further immersing you into the game's dark world like never before.
It's the visuals that impress the most, though. Textures are ultra detailed, and many effects are used to create areas that are just dripping with atmosphere. There's a choice of two graphics modes: quality, which emphasises graphical quality at the expense of frame rate, and performance, which runs at a steady 60fps while still providing plenty of eye candy.
Demon's Souls may have been a launch game, but it's still easily one of the best-looking games on PS5. It's likely to stay that way for a while, too.
Marvel's Spider-Man: Miles Morales
Essentially a standalone expansion for Marvel's Spider-Man, Miles Morales gave us our first taste of what the PS5 was capable of.
From the moment we sat down to play Spider-Man: Miles Morales, we were in awe. We were floored by the super-fast loading times, and when we finally got in-game, the visuals wowed us. There's a clear – and significant – leap up from the original Marvel's Spider-Man game played on PS4 Pro. It makes swinging through New York more of a pleasure than ever before, especially if you play with one of the graphical modes that has ray-tracing enabled.
You won't find yourself playing Marvel's Spider-Man: Miles Morales just because it's one of the best-looking games on PS5, though. Scratch underneath the surface, and you'll find numerous gameplay improvements, too. And so, while it might not be the biggest game in the world, chances are you'll stick with it until every crime has been solved, and every collectible discovered. Roll on Marvel's Spider-Man 2, that's what we say.
Read our review of Marvel's Spider-Man: Miles Morales
Assassin's Creed Valhalla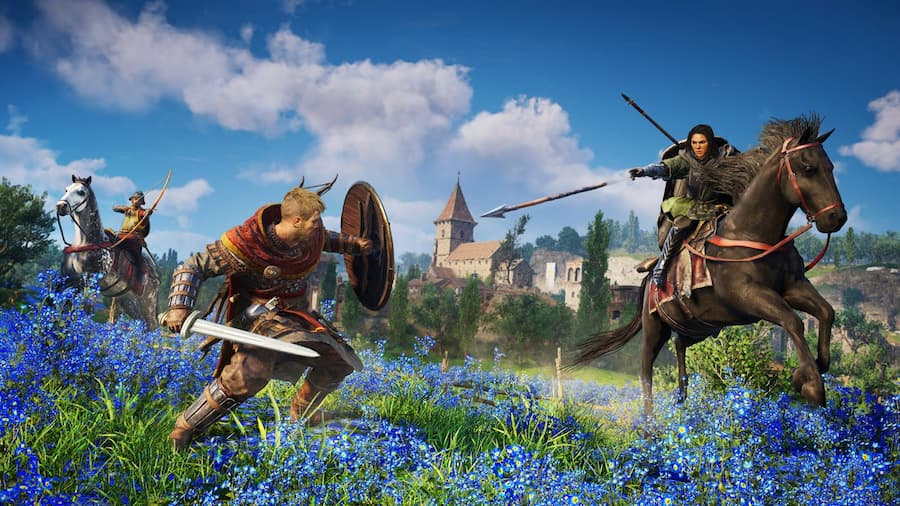 While the best-looking games on PS5 are exclusive to the format, made to take full advantage of its power, some third-party games can have their moments, too.
Take Assassin's Creed Valhalla, for example. It may be a cross-gen game available on nearly every format under the sun, but there are times where its visuals are simply breath-taking. Its character models might not be the most detailed, and it's a bit rough around the edges in general at times. Head on out into the countryside, however, and all of that is forgotten on PS5.
Assassin's Creed Valhalla's fields, hills and mountains are simply gorgeous to look at, especially when you also factor in the game's brilliant lighting and atmospheric effects. And so, while you might be tasked with hunting down an order member and taking their life, chances are you'll spend more time pushing the photo mode button so you can line up the perfect screenshot.
Read our review of Assassin's Creed Valhalla
Metro Exodus
Ray-tracing is considered to be one of the biggest advantages of next-gen when it comes to visuals, and no game demonstrates it better then Metro Exodus.
Originally released on PC, Xbox One and PS4 in 2019, Metro Exodus was enhanced for next-gen consoles and PC in 2021, fully leaning on the power of ray-tracing to provide a more immersive experience. On PS5, Metro Exodus Enhanced has ray-traced global illumination and a whole lot more, resulting in a game that truly looks next-gen. And it does this while also running 60fps – double the frame rate of the PS4 version.
If you own the PS4 version of Metro Exodus, you don't even need to take our word for it. A free PS5 upgrade allows you to play the PS5 version at no extra cost, and if you put the two side-by-side the improvement is obvious. Astounding, even. So, if you have a PS5 and are looking for the game with the best graphics to wow you, make sure you give Metro Exodus a try.
Read our review of Metro Exodus
Kena: Bridge of Spirits
Kena: Bridge of Spirits is the first game from Ember Lab, and that makes it all the more impressive considering its absolutely phenomenal visuals. Though it perhaps becomes a little more understandable when you learn that the studio has been creating high-quality animated commercials, and more, for a number of years.
Combining old-fashioned adventure-platforming with healthy portions of puzzles and combat, Kena: Bridge of Spirits is an absolute joy to play. There's no denying, however, that its utterly gorgeous visuals are the main draw. Kena herself is a wonderfully animated character who gains the companionship of over 100 little creatures called Rot on her journey. They come in very useful, too, helping her traverse the environment and overcome enemies.
Chances are you'll fall in love with Kena: Bridge of Spirits within minutes of beginning to play. Its detailed world draws you in, and there's an emotional story at its hearts that grips you. Factor in the enjoyable gameplay and stupendous visuals, and you not only have one of the best-looking games on PS5, but also one of the best games available on it overall.
Read our review of Kena: Bridge of Spirits